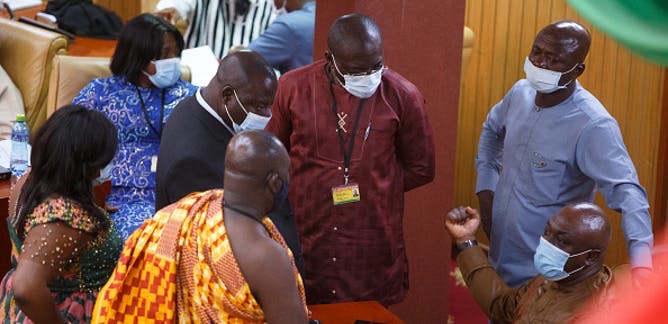 Women occupy about a fifth of parliamentary seats worldwide. This figure hides a somewhat unequal growth in Africa, with high numbers in countries like Rwanda (64 percent) and South Africa (47%). Ghana (14%), Botswana (10%), and Nigeria (11%) are at the other end of the continuum (3%).
Over the last two decades, there have been renewed attempts to encourage gender equity in political participation in the hopes that having more women in parliament will bring women's interests and concerns to the forefront of the political agenda and push policy interventions that promote gender equality.
In Ghana, attempts are only now being made to pass a bill that would ensure equal participation and representation in parliament. Women currently make up just 14% of the country's parliamentarians.Informal structures – shared norms and unwritten laws – are stubbornly rooted in both countries and continue to stifle substantive gender representation. In certain cases, these groups operate in opposition to or in collaboration with traditional institutions.
Ghana was the first country in Sub-Saharan Africa to create a female quota in parliament. It set aside ten seats for women out of a total of 114 in 1959. When Nkrumah was deposed in 1966, however, this effort came to an end.
With 275 seats in parliament, women's political representation in Ghana has never been higher than it is now, at 14%. An administrative directive was passed in 1998, during Jerry John Rawlings' presidency. The goal was to equip the National Electoral Commission with the tools it needed to encourage all political parties to field more female candidates, with a minimum of 40%. It never became a reality.
Affirmative action legislation has been in the works since 2011. Despite both the National Democratic Congress and the ruling New Patriotic Party's rhetorical commitments, it has yet to be adopted.
Women MPs point to a hostile atmosphere in which a politics of insults, ridicule, and rumor works against the election of more women to political positions. Women are subjected to a higher degree of scrutiny than men. Political critics often target them because of their gender, sexuality, and appearance. They've been called prostitutes and subjected to derogatory remarks about their make-up.
South Africa has a comprehensive set of state structures in place to promote gender equality. An office for the status of women, an empowerment unit in the Speaker of Parliament's office, a portfolio committee for gender equality monitoring, and an independent commission for gender equality are among them.
The first is what is known as "slate politics," which includes a predetermined list of candidates to be considered for nomination prior to an election. For example, various factions of the African National Congress (ANC) would have their slates ready with the names of party supporters before the elections. This does not always involve women in an equal and reasonable manner. As a result, women's representation suffers.
Finally, women must deal with the ANC Women's League, which organizes women on the ruling party's behalf. Loyalty to the party and patriarchal bargains that foster women's employment in government are the key mechanisms by which the league achieves compliance. 
The formal organs of parliament are often unable to alter this, as the Women's League sees itself as the gatekeeper to women's rights.
Content created and supplied by: BlitzNews (via Opera News )