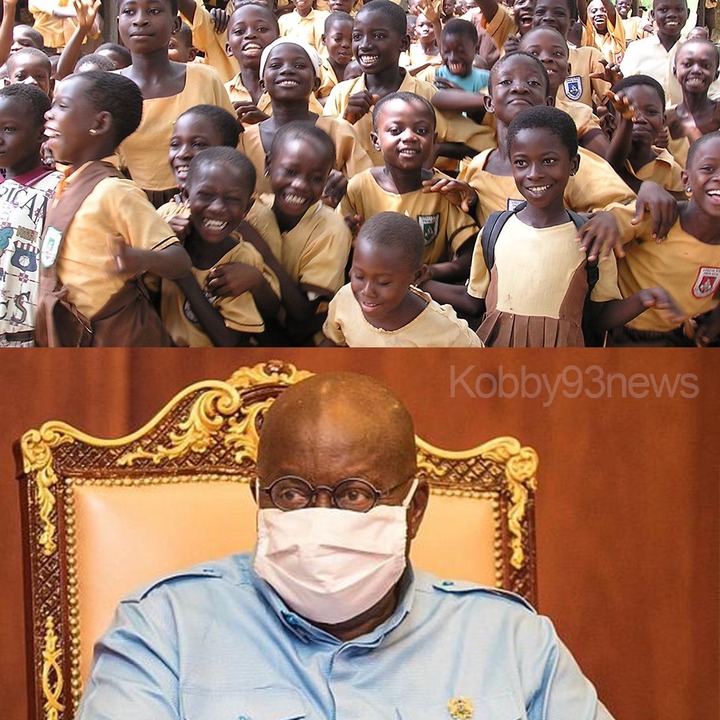 In as much as the electorates vote who they want to represent them in government, it is also good for the elected candidate to fulfill all the promises he made before he was voted into power. It's no news that the covid-19 has taken a second wave, and it hit African countries so hard as the right vaccine is yet to be administered.
All the same, we will continue to thank God for the gift of life and the opportunity of being in good health. However, we send our sincere condolences to those who have lost their loved ones in the course of this pandemic.
The president of Ghana, Nana Akufo-Addo will be giving his next national address soon and it's a thing of joy to note that we have a hardworking president, who always takes the interest of his people at heart. In my opinion, Akufo-Addo should address these three issues in his next address to the nation, regarding to the Coronavirus pandemic.
1. Closure of all Basic Schools:
The children in Basic schools are way too little to observe covid-19 protocols. Just today, I saw a trending video of a little boy who was groaning in pains on a hospital bed. I got to realize that he was down with the virus, so what is the way forward?
Should we let the Basic school students stay at school and endanger their lives? No! The schools should be shut down till further notice.
2. Call for a second Lockdown order:
While we pray to God to keep us safe, we also have our part to play. Since the vaccine is not yet available, I think the country should go on a second Lockdown. It can be made possible only if the president gives an order, but on the other hand the prices of goods and services should be cut down so that it can be accessible to all.
This is because the amount of crowded and congested areas I see these days is quite alarming. It seems more like people don't believe that this virus exists. Yes! it does.
3. All social gatherings should be banned:
In other to make people obey this particular rule, penalties should be fixed for offenders. We all need to remain safe and alive, and the only way to do that is to obey instructions and do the needful.
All social and public gatherings should be banned for now, while the country is trying to make available safe measures for the benefit of all.
Please my dear readers, what do you think about the points I made above?
Should the Basic school students be sent home or should they continue learning?
Will embarking on a second Lockdown and banning of social gatherings help matters?
Drop your comments below, hit the share button, like, and follow me up for more.
Content created and supplied by: News_mystique (via Opera News )