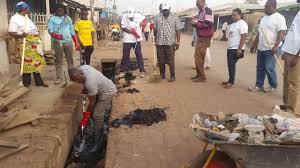 The coronavirus pandemic is seriously ravaging the world in its entirety; health, businesses, education, and sports, etc, have all been affected hugely. The world over, everybody is doing what he or she can to ensure the world overcomes this phase of life.
Governments have instituted measures and, in some cases, have enacted laws rot ensure the right thigs are being done to ensure that everyone plays his or her role in ensuring that their respective countries stay safe, and come out of this pandemic safely.
Ghana is no different. The country, last year, through Executive Instrument, passed the Imposition of Restriction law making it compulsory for everyone to wear nose masks - failure to do so will attract a court fine. But many Ghanaians have complained about the punishment regime, and have asked for more better ways to go about it.
So what are the Assemblies doing?
Authorities at the Effia-Kwesimiintsim Municipal Assembly (EKMA) have taken the enforcement of the law regarding the wearing of nose masks to the next level by compelling people who are seen not to be wearing the nose mask to desilt gutters in the municipality.
In a video sighted by DAWURO, some men are seen desilting a gutter Effiekuma No.9, a suburb in the municipality with city guards supervising the work. In all, twenty-one people were made to desilt gutters.
The Municipal COVID-19 Taskforce, led by the NADMO Director for the EKMA, Henry Kuofie, has pledged to deal ruthlessly with people seen to be disobeying the COVID-19 safety protocols after research by the Ghana Health Service revealed that places in the municipality topped the list of areas where people are not adhering to the wearing of nose mask protocol.
According to DAWURO sources, around 5 - 7pm yesterday, the Taskforce whilst ensuring compliance to the protocols around the No.9 area, ensured that those who had flouted the nose mask wearing protocol desilt the gutters.
Content created and supplied by: Dawuro (via Opera News )