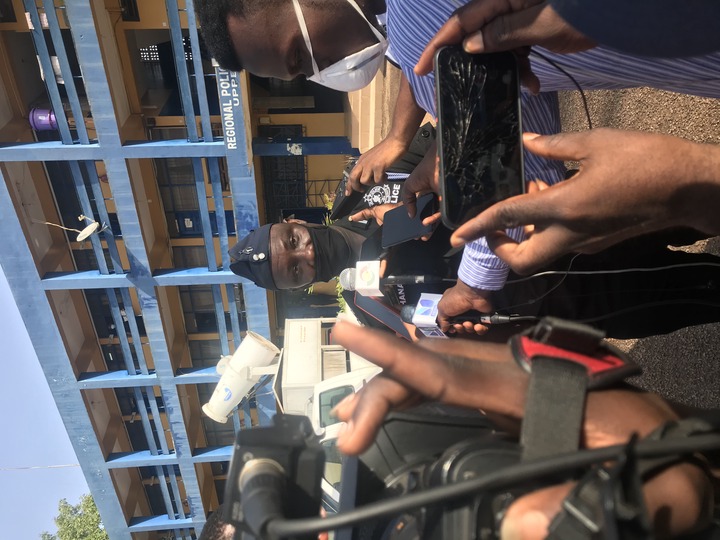 The assistant superintendent of police for the Upper east region, David Fianko Okyere has said that the covid 19 law enforcement on mask wearing does not mean the police should go about arresting offenders.
In his explanation, the law requires that offenders of the coronavirus safety protocols must first be cautioned and educated, after which subsequent offenses attract a penalty.
He said this during an interview in the ongoing national disinfection of police stations in the Upper East region.
According to ASP David, the virus is still with us, and residents of the region must take the safety precautions very seriously.
The punishment according to the law on enforcement ranges between 1000 penalty units , equal to 12000 Ghana cedis to 5000 penalty units.
For people who cannot afford to pay, prison sentences can range between 10 to 12 years.
According to ASP David, the punishment is quiet harsh and therefore, residents must take the safety protocols very seriously in order not to be caught by the law.
He also said that his outfit has been engaging in public education of residents in the safety protocols as well as mask wearing directives.
"Some residents keep the masks in their bags and only wear them when they see the police. They must realize that mask wearing is a protection of their health and not a preventive measure against arrest" he said.
He took the opportunity to thank government and Zoomlion for the disinfection of their facilities, as that will help in ensuring that their facilities are safe for both the police and the public.
It will also ensure that the police facilities do not become a source of spreading the virus.
The ongoing disinfection exercise is a government initiative through the ministry of local government and rural development, the ministry of sanitation and the ministry of health in partnership with Zoomlion Ghana Limited.
Content created and supplied by: Buatsi (via Opera News )