It is another wonderful day, and it's good we all know what is happening in the country, on that note, I will be sharing with you some top and trending news in Ghana today, read below.
1. Mrs Sarah Adjoa Safor opinions on legalizing LGBTQ in Ghana.
The Minister-Designate for Gender and social protections, Mrs Adjoa Safor has air out her own opinion on the support or legalisation of Lesbians, Gays, Bisexual, Transgender and Queer (LGBTQ) in Ghana, in a video interview with citi newsroom, she stated her own views on such acts, she even quoted the constitution and said the Ghanaian constitution prohibit such act's, because its a criminal act, and she also said that our culture frown upon such act and that is what she actually stands for. Which means, she is also against the support of such act by the European Union (EU). However, the statement she made in the video interview, read thus, (Photos).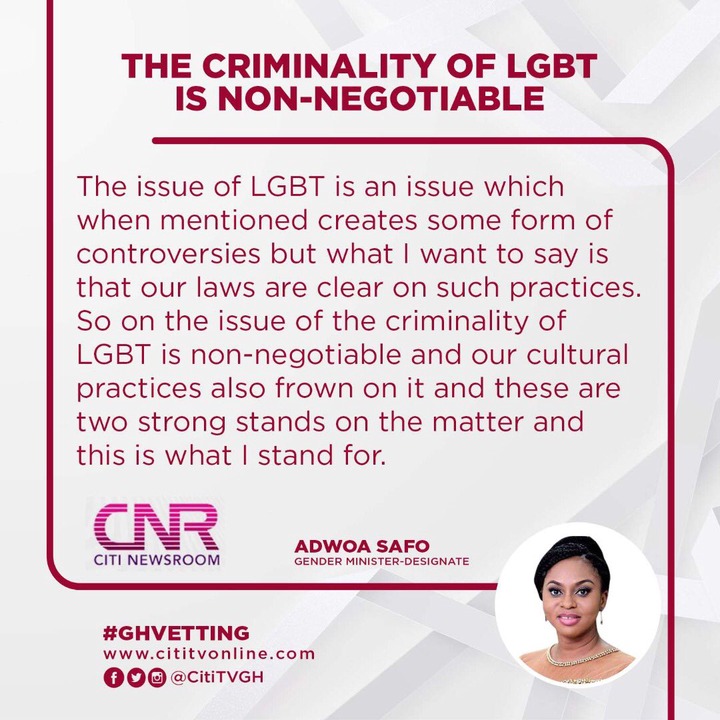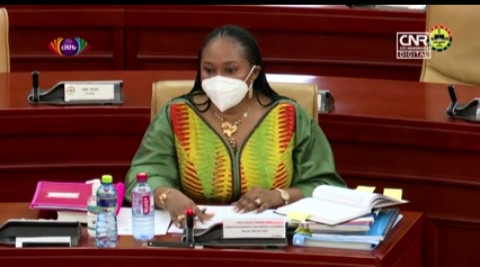 2.The Executive secretary of National coalition for proper human mate right and family, Mr Moses Foh-Amoaning has also spoken on the same aspect of LGBTQ Legalisation in the country.
Mr Moses spoke boldly with confidence and authority during an interview with Ghana web, he said that such act will not be tolerated in Ghana, and as such, Ghanaians will not respect and abide to such decision made by the European union (EU). Mr moses said so many things concerning the LGBTQ that already has an office in Ghana. In a statement as issued by Ghana web, he also said,
"This will never happen, the current generation of Africa is wiser and shaper, the practice of homosexuality is deadly, and the potential to spread STD, the EU cannot force Ghanaians to tolerate (LGBTQ)". He also added.
"The presidency, the ministry of foreign affairs, and the Inspector General of Police (IGP) have every right to investigate that office and close it down immediately, and arrest and persecute those people involved".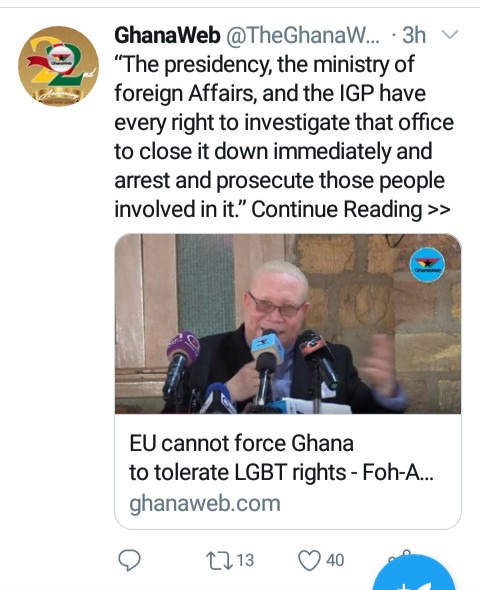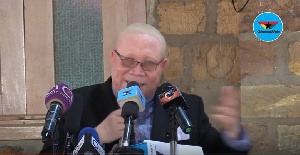 So far, Mrs Safor and Mr Moses have spoken very well, and I believe Ghanaians really love the decision they took. Read more interesting news below.
3. Akufo-Addo won the 2020 Elections, tell your supporters the truth - Lawyer Egyapa Mercer tells NDC.
Member of Parliament (MP), for sekondi constituency in the western region of Ghana Andrew Kofi Egyapa Mercer has called on the leaders of the opposition party to tell their supporters the truth, that President Nana Akufo-Addo won the 2020 presidential General election, he made this information known to the public during a panel discussion with Peace FM.
Lawyer Mercer believes that NDC knows they lost the election, but have failed to tell their supporters the truth, but rather giving them misconception about the election, he also said that Akufo-Addo won the election without rigging nor through foul means.
Mercer further added that, the election petition is a waste of everybody's time, and he urge the opposition party who has refused to accept defeat to do so.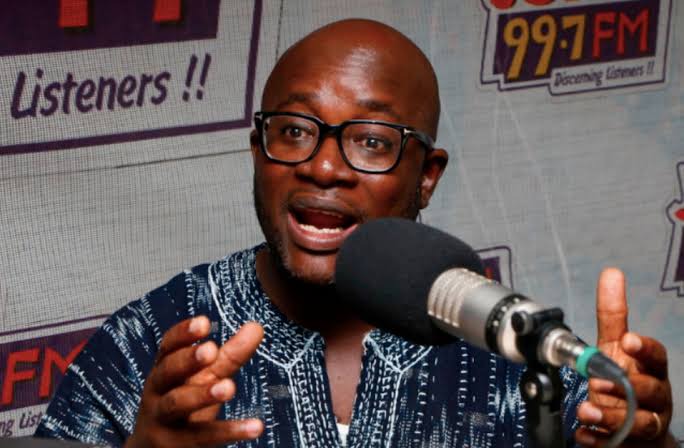 Source :Peace FM.
4.Ghana's Covid-19 update.
The Ghana health service has released another update on the cases of Covid-19 in the country, in a statement issued on its twitter account some hours ago, the Disease Surveillance Department has recorded a total of 7,931 active cases, with a total of 78,271 confirmed cases, and 523 new, with 565 total deaths, bringing the total numbers of recoveries/discharged to 69,775.
See Photos of the information below (Photos)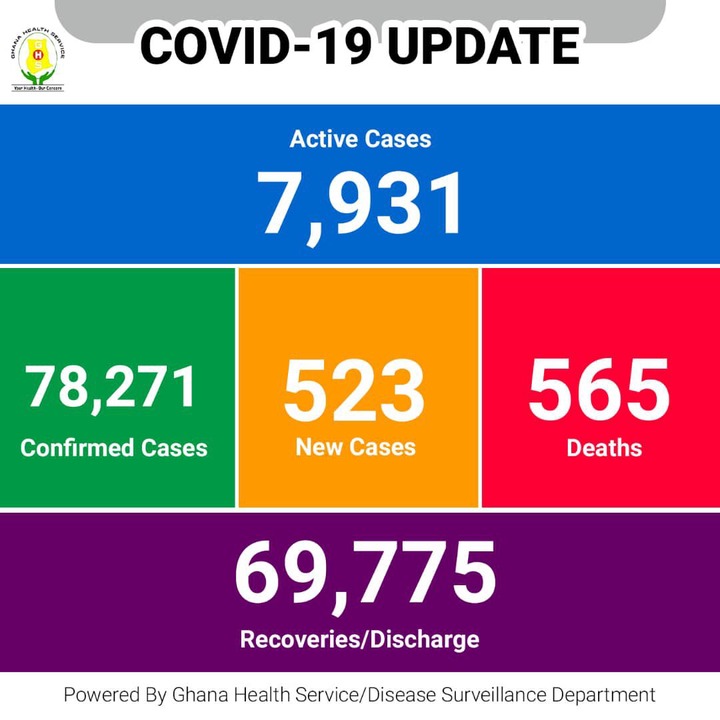 The four news above is a summary and concrete explanation of what is going on in the country presently.
Do you think LGBTQ should be legalize in Ghana?.
Do you also agree with Lawyer mercer that Akufo-Addo won the 2020 election?.
Please tell me what you think in the comment section below, remember to share and follow me @Johnsupdate for more news.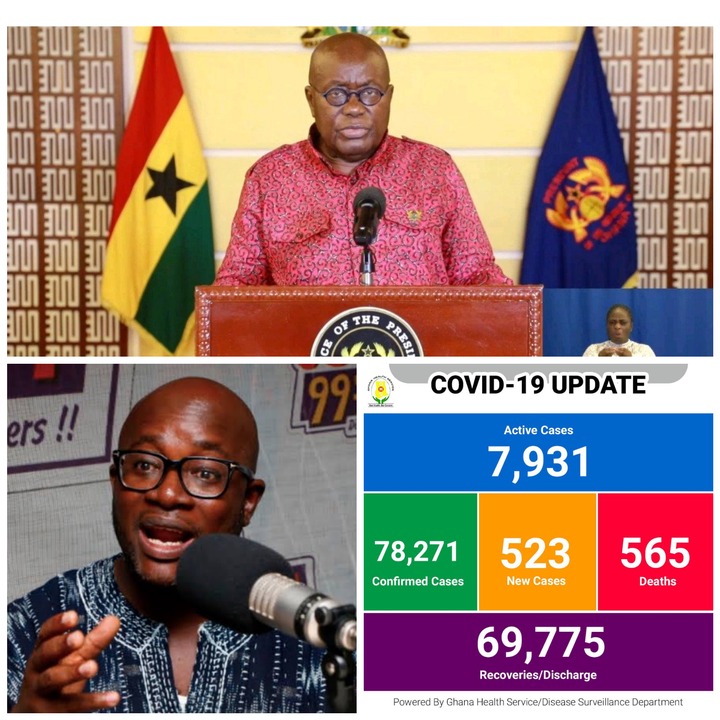 Content created and supplied by: Johnsupdate (via Opera News )