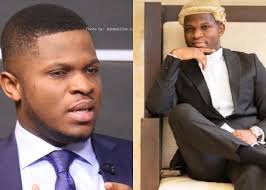 The National Communications Director of the opposition National Democratic Congress NDC Lawyer Sammy Gyamfi has been praised for becoming so calm after the Supreme Court dragged one of their counsels before it over contempt.
Perhaps he wanted to be cool in order not to flout the orders of the Supreme Court. If we remember, Sammy Gyamfi told the whole world that it's never true that Lawyer Ayine has been invited by the Supreme Court of Ghana for contempt.
Sammy Gyamfi who spoke right after the verdict of Honorable Desmond Ayine looked very calm and well composed. Unlike his usual rants, he spoke politely to the press.
Many people suggested that he is afraid of been dragged of contempt because the court has vowed to deal with anybody who goes against their orders.
Hence Sammy Gyamfis decision to compose or conduct himself in that manner. If Sammy Gyamfi continues like this, he will gain the weight of respect from all and sundry
Content created and supplied by: Golden.News (via Opera News )