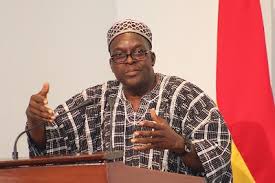 The members of parliament are currently undergoing a three day orientation at Ada.
The speaker of the 8th parliament which many described as hung parliament, his right Hon. Alban Bagbin addressing the meeting promised he will work very hard to make the current parliament an outstanding one.
He promised to work with the efforts and help of members of parliament, to see this through.
He called on all members of parliaments to put their hands on deck as this called for collective effort.
He how ever urged the new members of parliament, that's those that went to parliament for the first time, to copy from the old ones.
The meeting is slated for three days which will see member of parliament through and effective orientation into the new parliament often described as hung parliament.
People say Ghana have hung parliament because, both major parties NPP and NDC are reported to have equal number of seats with one independent seat.
Meanwhile through consensus, parliament has agreed on the ruling Party NPP to be the majority.
Following the announcement by the independent MP, that is the MP for Formina, to do business with the ruling Party, many people said it was obvious for the NPP to take the majority.
Content created and supplied by: Mr.Blazing (via Opera News )