Please follow this page to continue to get more interesting updates.
 "Bruce Springsteen and I asked each other a lot of questions on our podcast, Renegades: Born in the USA. But we also wanted to answer some of yours. We got some great ones about music, fatherhood, masculinity, and race. You can check out my answers here", these are the words of Former US President Barack Obama on his Facebook wall.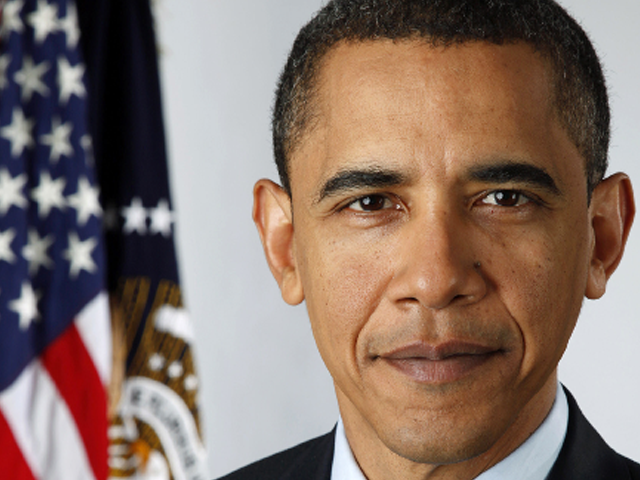 Former US President Barack Obama's step-grandmother, known affectionately to many as Mama Sarah, has died in Kenya at the age of 99. Sarah Obama was the third wife of the former president's paternal grandfather, Hussein Onyango Obama. She died early on Monday in hospital in the western town of Kisumu after a short illness.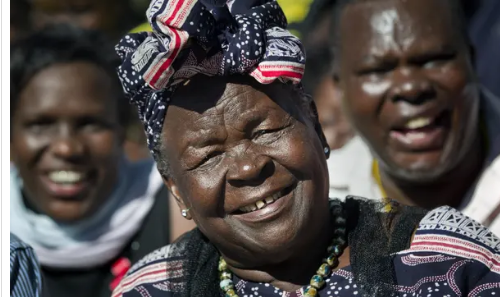 Following his grandmother's death, Mr. Obama shared a heart touching words of condolence to his grandmother on his social media pages. According to Mr. Obama, "my family and I are mourning the loss of our beloved grandmother, Sarah Ogwel Onyango Obama, affectionately known to many as Mama Sarah, but known to us as 'Dani' or Granny. We will miss her dearly, but we'll celebrate with gratitude her long and remarkable life".

To decorate his tribute to his Grandma, Mr. Obama shared an old photo of himself (at his young age) and his grandma in a village of Alego.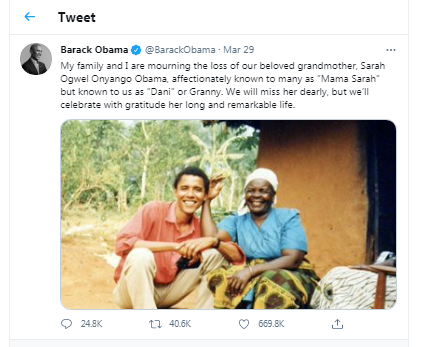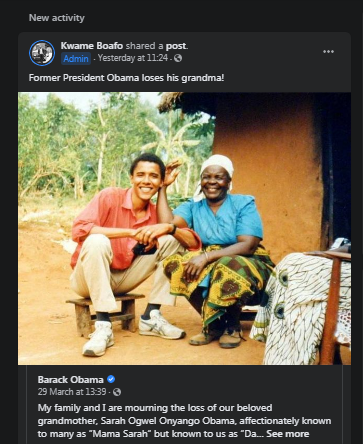 On his Official Facebook wall, the former US President wrote Obama wrote a heart touching biography about his grandma. According him, his grandma was "born in the first quarter of the last century, in Nyanza Province, on the shores of Lake Victoria, she had no formal schooling, and in the ways of her tribe, she was married off to a much older man while only a teen".
He added that, his grandma spend the rest of her life in the tiny village of Alego, in a small home built of mud-and thatch brick, without electricity, and that it was in this small home she raised eight children, tended to her goats and chickens, grew an assortment of crops, and took what the family didn't use to sell at the local open-air market.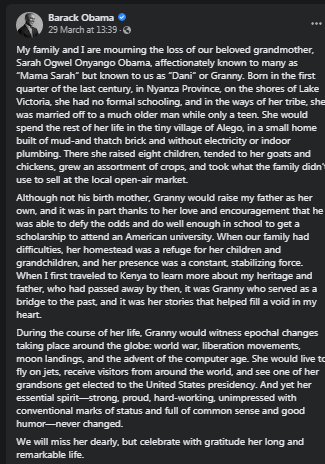 The former President Barack Hussein Obama is an American politician and attorney who served as the 44th president of the United States of America, from 2009 to 2017. He is a member of the Democratic Party, the first African-American president of the United States.
Being the 44th president of the United States of America, and, the first African-American president of the United States, Mr. Barack Obama was a leader who stands connected to the People always. He is very humble and an icon anyone can learn from.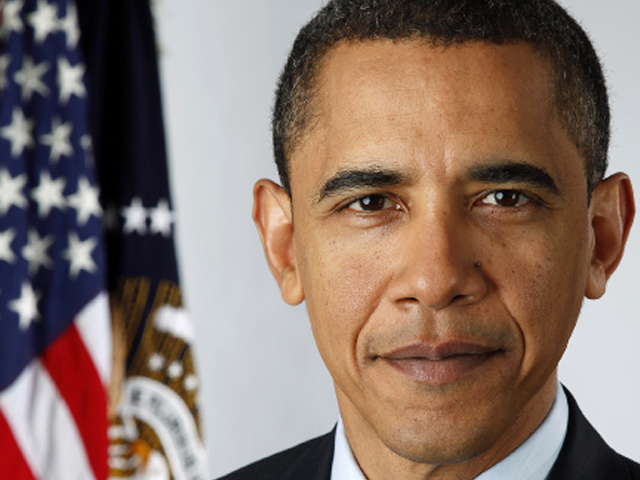 May the soul of Grandma Sarah Obama Rest In Peace.
Please share your condolences to Sarah Obama in the comment box below.
Remember to share this post; and follow this page for more updates.
Content created and supplied by: FastNewsNetwork (via Opera News )