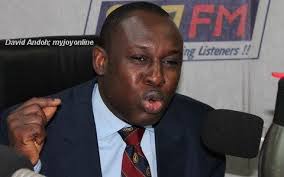 The vice president of IMANI Centre For Policy And Education Kofi Bentil has angrily reacted to the proceedings happening at the supreme court. According to Kofi Bentil, he doesn't understand why the supreme court judges are trying to use the law to defend Jean Mensah when justice demands she testifies.
"Unlike my brother judge here, who is concerned with law, I am concerned with justice."... Lord Denning. To my lawyer friends. The quote above by Lord Denning is my position." He said 
He added that people keep telling him the law supports the EC not testifying, he insist that Justice requires that she is scrutinized.
Regardless of whether NDC wins or loses, it is the proper thing to do. EC over the past decade has spent almost $10 Million a year, and yet they don't have a serious collation Centre when political Parties have collation centre's. 
If the Law allows her to get away, then the law is indeed an ass! He added
We must all be concerned about the professional culture at the EC. They are amongst the most expensive institutions yet they are allowed to do whatever they want and perform their job anyhow without serious scrutiny. We must all make sure the EC is improved regardless of our party affiliations. He wrote
Content created and supplied by: Building_house (via Opera News )