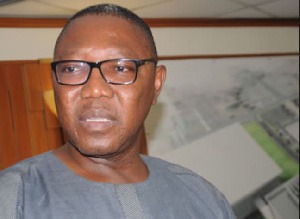 Apologize for saying that Ghana no longer imports tomato - Dr Apaak to President Akufo-Addo 
Forgiving Apaak 
Individual from Parliament for Builsa South Dr. Merciful Apaak 
Mon, 15 Feb 2021Source: Starr FM 
The Member of Parliament for Builsa South Dr. Forgiving Abas Apaak is requesting a statement of regret from President Nana Akufo-Addo over his cases that Ghana was done bringing in tomatoes. 
As indicated by him, the President lied do Ghanaians and should apologize. 
His explanation is that the Inspector General of Police as of late guaranteed tomato merchants and carriers of police and military escort to ensure them against a scam on the Kumasi-Bolgatanga-Burkina Faso interstate. 
The administrator is asking why tomato brokers would be going to Burkina-Faso to import tomatoes when the President had disclosed to Ghanaians that we presently don't import the product. 
In his last State of the Nation Address for his initial term, the President demonstrated that Ghana saw an extreme turnaround of the agric area because of his planting for food and occupations strategy. 
The approach he had contended affected the existences of Ghanaian ranchers and the nation turned into an exporter of fundamental food wares. 
"We have seen the emotional turnaround of our agrarian fortunes, because of the reformist strategies that have improved the expectations for everyday comforts of ranchers in the country. The brilliantly executed approach for Planting for Food and Jobs (PFJ) has established the framework for the horticultural change of our country. We can say that our nation is presently a net exporter of food, and we at this point don't need to import essential food sources like plantain and tomatoes." he said during the SONA. 
Nonetheless, Dr. Merciful Apaak says the President lied and ought to in this way apologize. 
He said the new strike activity by the brokers has demonstrated that Ghana was as yet a shipper of tomato. 
He portrayed this as an inconsistency to what the President told Ghanaians and all things considered, he should apologize to us. 
The IGP has vowed to give police assurance to tomato brokers on the Kumasi-Bolgatanga-Burkina Faso interstate. 
This was because of an appeal by the gathering following tireless assaults on the Kumasi-Bolgatanga-Burkina Faso course, prompting the passing of certain individuals. 
The four-day-old strike has brought about a deficiency of tomatoes available influencing the costs of the couple of ones accessible. 
Responding to this, the MP said: "Tomato merchants are as of now protesting because of burglaries on Kumasi-Bolga-Burkina Faso street. IGP promises to arrange police assurance for them, if necessary police-military. Evenso, the merchants are yet to acknowledge the offer. 
Doesn't this negate what President Akufo-Addo advised us; Ghana no longer imports tomatoes, or Burkina is presently essential for Ghana?" 
Dr. Apaak in January this year pummeled the President subsequent to conveying his SONA. 
He portrayed him as a liar and blamed him for neglecting to counsel comprehensively on the issue prior to making the declaration. 
"People, Did the friendly President SELECT say PFJ was soo fruitful that we presently don't import food things, for example, tomatoes! Truly? As normal Mr. Akufo-Addo is either being misdirected or is being misleading. 
In the event that Akufo-Addo's active Regional Minister of the Upper East Region and additionally his MCE for Chana-Paga or even the Customer Officer accountable for the Ghana-Burkina Faso line had been counseled, they would have disclosed to him that every day, at least 50 trucks hybrid to Burkina to carry tomatoes to Ghana available to be purchased. 
Oooh while at it, is Mr Akufo-Addo mindful of the lack of onions in Ghana? Indeed, I'm certain Dr. Bawumia has not gone to MalaMata market in quite a while." 
Source: Starr FM
Content created and supplied by: Apelele (via Opera News )