Seeking forgiveness from Allah with repentance is a virtue. Human beings are not perfect. Forgiveness is a critical aspect of Islam as everybody makes mistakes in life and unintentionally commits sins. Muslims believe that Allah is Merciful and Forgiving.
There are two kinds of forgiveness in Islam: Allah's forgiveness and human forgiveness. We as human beings are in need of both since we make mistakes in our relations to Allah as well as our relations to each other. In Islam, all that is needed is to recognize the mistake or sin, improve it and seek forgiveness from Allah Almighty and also from other human beings.
Forgiveness from Allah Almighty
In Quran, the word "Allah is Most Merciful" is repeated many times. In religion Islam, anyone who has committed sin can ask forgiveness directly from Lord, there is no one between Allah and the one who is asking forgiveness from Him. In Quran, Allah says: "God loves those who turn unto Him in repentance and He loves those who keep themselves pure." From this verse, we can conclude that if someone asked forgiveness with repentance then Allah will love him/her and surely He will forgive him/her but there is one condition and that is he/she should not commit that sin or mistake again.
Forgiveness from another Human Being
If someone did wrongs to another human being, the act must first be redressed with the wronged person or human being who should be asked for forgiveness before asking forgiveness from Allah. Islam teaches human beings to be forgiving and if someone sincerely asks for forgiveness, the wronged person should forgive him. Our beloved Prophet (SAW) said: "Whoever suffers an injury and forgives (the person responsible), God will raise his status to a higher degree and remove one of his sins." If we expect forgiveness from Almighty Allah then we also have the ability to forgive others.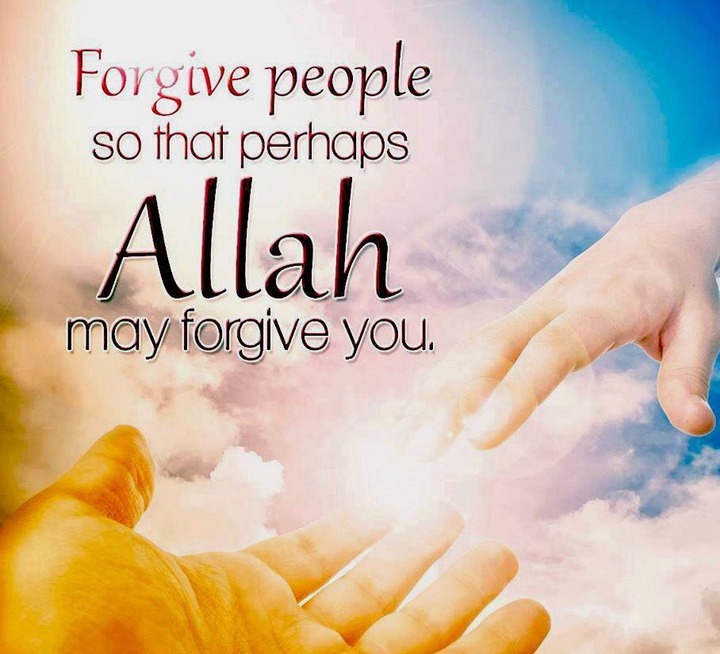 Forgiveness in the Quran
In Holy Quran "forgiveness" and "mercy "are mentioned around 100 and 200 times respectively. An entire chapter of the Quran is devoted to the quality of mercy that is (Surah Rahman). We all know that Allah is the Most Merciful and He forgives those who ask forgiveness with repentance. There are so many Ayahs related to forgiveness in Quran some of them we will discuss below:
In Holy Quran Allah Almighty says: ". . . And let them pardon and overlook. Would you not like that Allah should forgive you? And Allah is Forgiving and Merciful." (Quran 24:22). In this ayah we are given the greatest motivation to push ourselves to forgive; it's Allah's forgiveness.
In another verse of Holy Quran, Allah Almighty says: "The reward of the evil is the evil thereof, but whosoever forgives and makes amends, his reward is upon God." (Quran, 42:40). Whoever forgive others from the heart then Allah Almighty will give him reward and we know Allah's rewards are best from all.
Content created and supplied by: [email protected] (via Opera News )