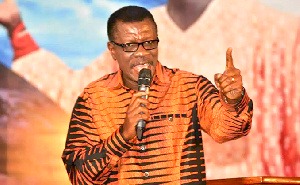 Pastor Mensah Otabil the founder of the International Central Gospel Church headquartered(ICGC) in Accra and also a theologian, motivational speaker and entrepreneur has sent an assurance to every Ghanaian.
He made this public through his daily teachings that airs on many media platforms.
He took his scriptures from Joshua 1:6 which reads that "Be strong and of good courage, for to this people you shall [a]divide as an inheritance the land which I swore to their fathers to give them."
He was talking about Joshua's encounter with God, the moment when God told him he was going to be victorious.
According to pastor, he was a little bit afraid so God went on to tell him that, he should be strong and courageous because the case ahead of them is already won.
Say this prayer "Heavenly Father, You are my strength and my courage. Help me to  walk in the power of Your Word and guide me by Your Spirit. In Jesus name."
To pastor Mensah Otabil,We Thank you so much for the Word of God. God richly bless and keep you. Shalom!
link to watch the video https://fb.watch/3rnwrC8ydF/
Content created and supplied by: HarrySports (via Opera News )