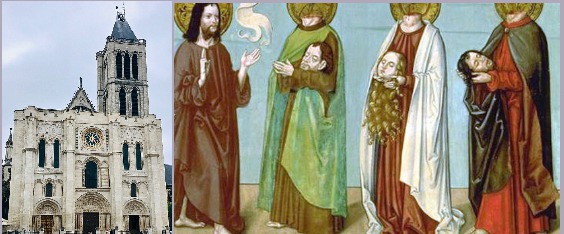 Beheaded Saints Still Praying Or Preaching While Holding Their Heads 
Decapitation, commonly known as beheading is a way of killing akin to the old way of execution used on victims of death sentence. Now history has it that a lot of holy men and women of God also called saints have died in this manner because of their religious faith. 
In the bible we see how that John the Baptist was beheaded in prison, because he spoke against the adulterous affair of King Harold, who took his brother's wife and married her .
Since that time ,church history has recorded so many accounts of Saints of God who also suffered this art of decapitation in the hands of idol worshippers and pagan nations. 
Out of this act of decapitation, appears another miraculous occurrent ,which is called cephalophory, where the detached head remains alive and talking.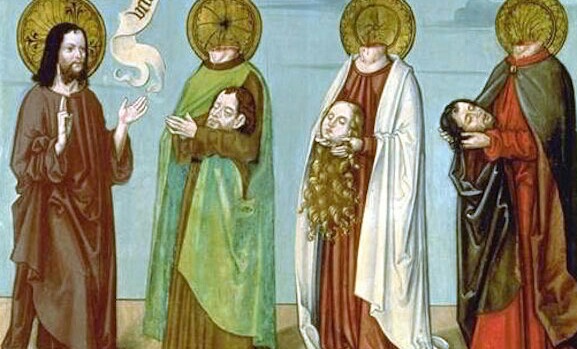 Most at times the headless body would hold the head with the two hands while the head is praying, preaching or giving farewell message. Hence, those kind of head-carriers are referred to as cephalophores. 
 A cephalophore is Greek word for "head-carrier", and is a saint who is generally depicted as carrying their own severed head. In Christian art, this was usually meant to signify that the subject in question had been martyred by beheading.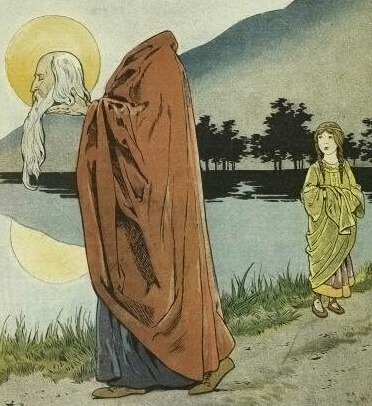 The following are a few examples of cephalophores ,who managed to use their decapitated head to commune to God in prayer or preach to people .
 Nicasius of Rheims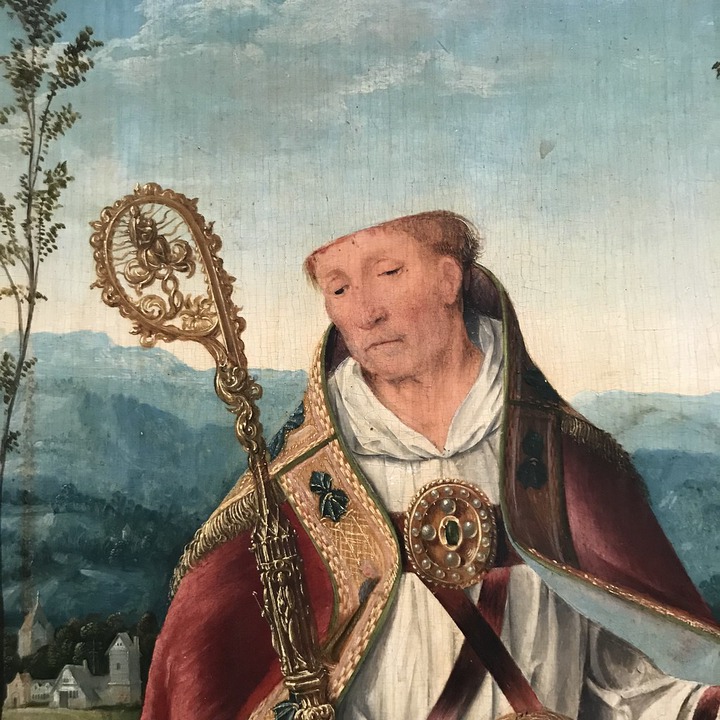 A cephalophoric legend of Nicasius of Rheims accounts that at the moment of his execution, Nicasius was reading Psalm 119 When he reached the verse that says "My soul is attached unto dust" which is verse 25, he was decapitated at that instance .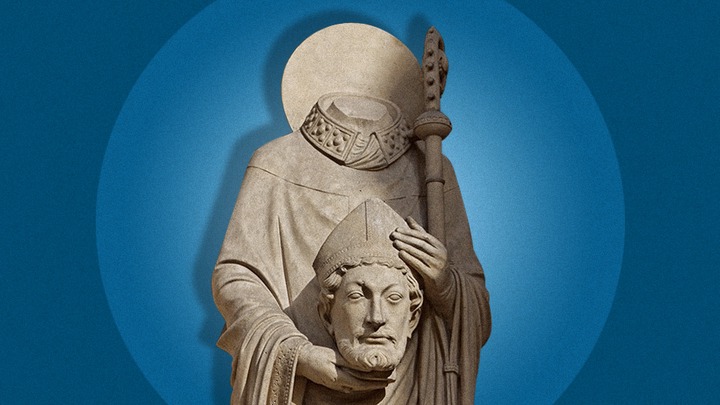 After his head fell to the ground, Nicasius' head continue to complete the end of the verse by adding, "Revive me, Lord, with your words" afterwards he became mute.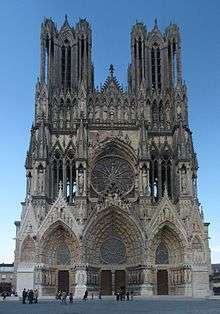 Nicasius Cathedral ,to honour his martyrdom .
Saint Justus of Beauvais
The next Saint who carried his head with the decapitated body was Justus of Beauvais.Saint Justice was nine years old when he became Christian .
He was incriminated by the French government then in the 18th century, for being a Christian. During that time it was a crime to be a Christian in France .
 Consequently , soldiers were ordered to behead this lad. However ,after he was decapitated the hands pick up the head and the soldiers in their fright took to their heels .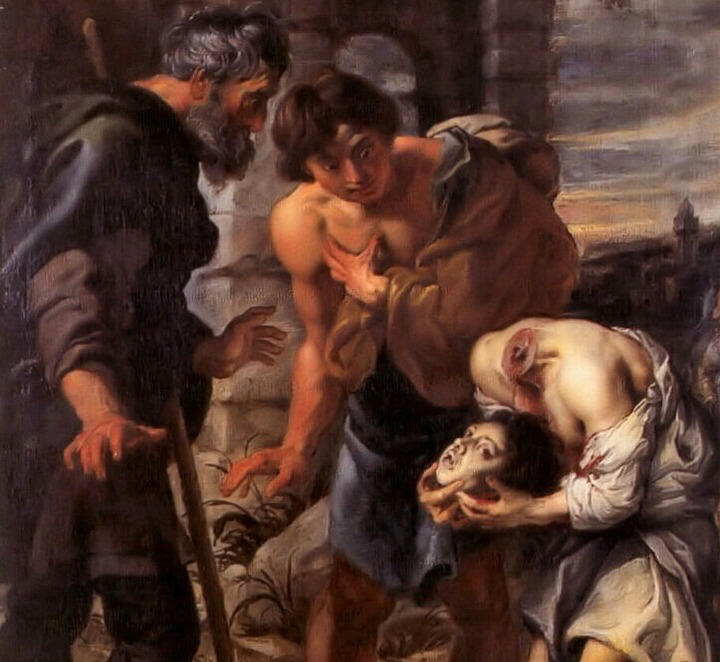 Later his father and brother found the corpse sitting with his head in his lap. Giving the head to his father, the head of Justus spoke to the father asking him to carry it to Auxerre,and give it to his mother, Felicia, who should kiss it, before they buried it .
Saint Dennis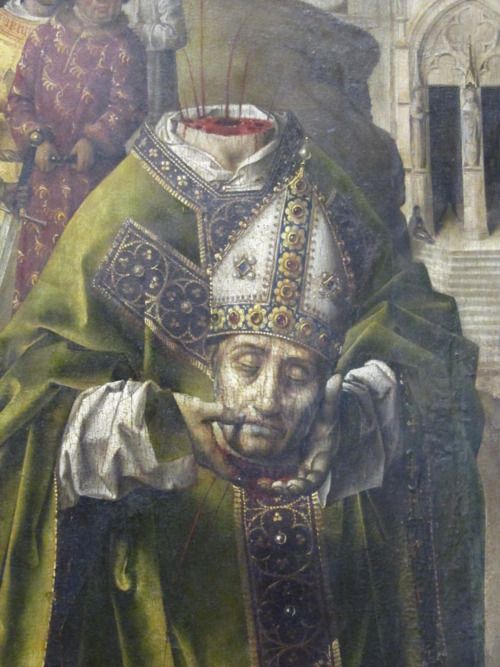 St. Denis, of Paris, is considered the most famous, for carrying his head the six miles from Montmartre, where he was killed, to the spot where his basilica, the resting place of French kings, would later be built.
 Denis is the most famous cephalophore in Christian legend, with a popular story claiming that the decapitated bishop picked up his head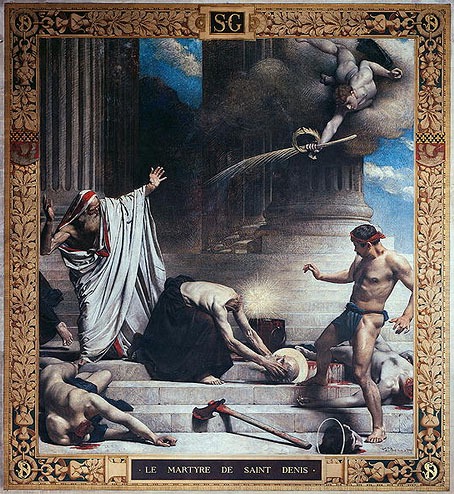 and walked several miles while preaching a sermon on repentance.
 He is venerated in the Catholic Church as the patron saint of France and Paris and is accounted one of the Fourteen Holy Helpers. 
A chapel was raised at the site of his burial by a local Christian woman; it was later expanded into an abbey and basilica,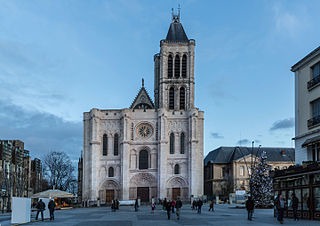 around which grew up the French city of Saint-Denis, now a suburb of Paris.
Aphrodisius of Alexandria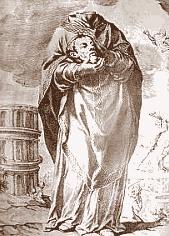 legend of Aphrodisius of Alexandria was transferred to Béziers, where his name was inserted at the head of the list of bishops. 
In the hagiographic accounts, Aphrodisius was accompanied by his camel. As he was preaching, a group of pagans pressed through the crowd and beheaded him on the spot.
 Aphrodisius picked up his head and carried it to the chapel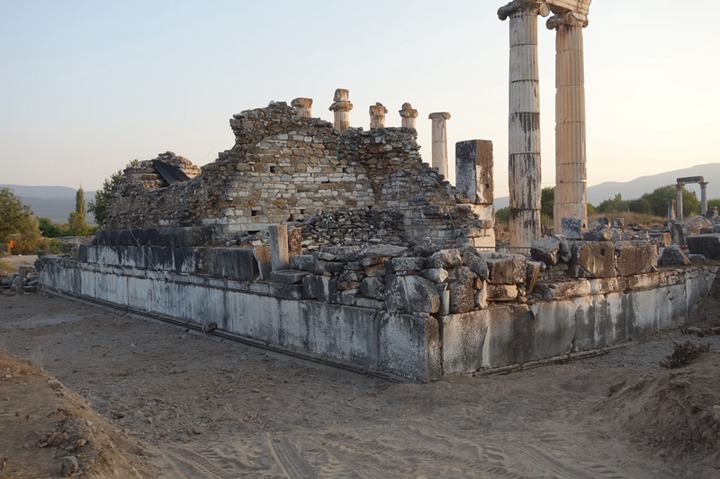 which he had recently consecrated at the site. It is identified today as Place Saint-Aphrodise, Béziers.
Saint Gemolo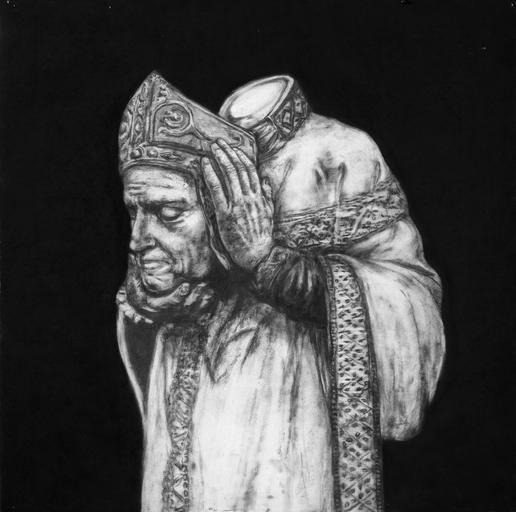 Saint Gemolo is said to have survived his decapitation and, after collecting his head, climbed on horseback.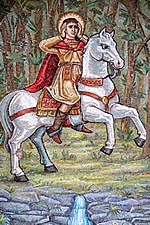 He rode to meet his uncle, who was a bishop, on a small mountain before he finally died.
Saint Ginés de la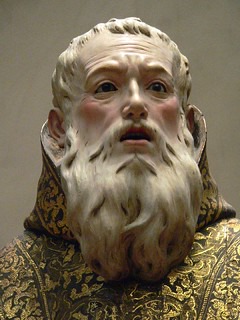 A legend associated with Saint Ginés de la Jara states that after he was decapitated in southern France, he picked up his head and threw it into the Rhône.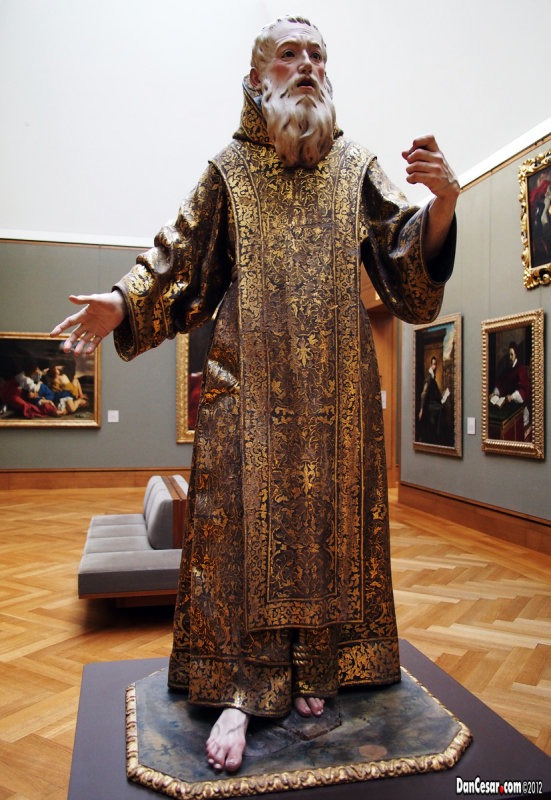 Consequently, the head was carried by the sea to the coast of Cartagena in Spain,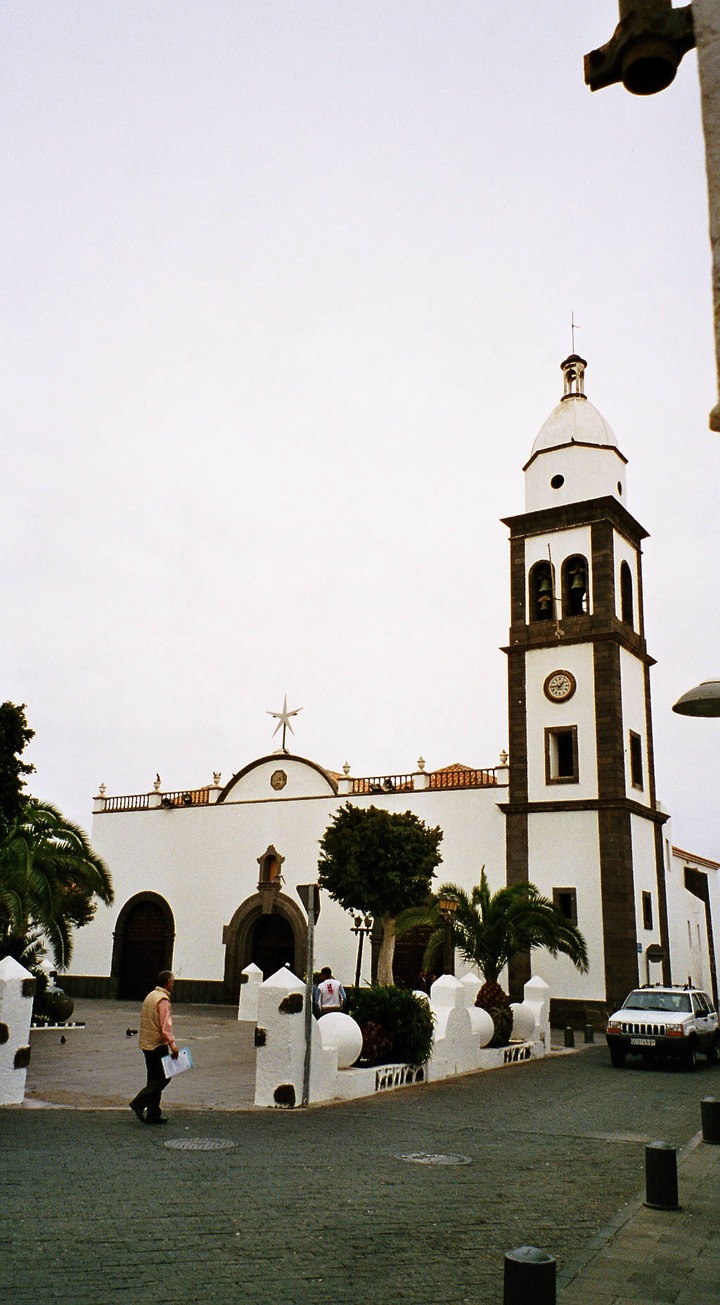 The church built to honour this saint .
where it was venerated as a relic .
Apostle Paul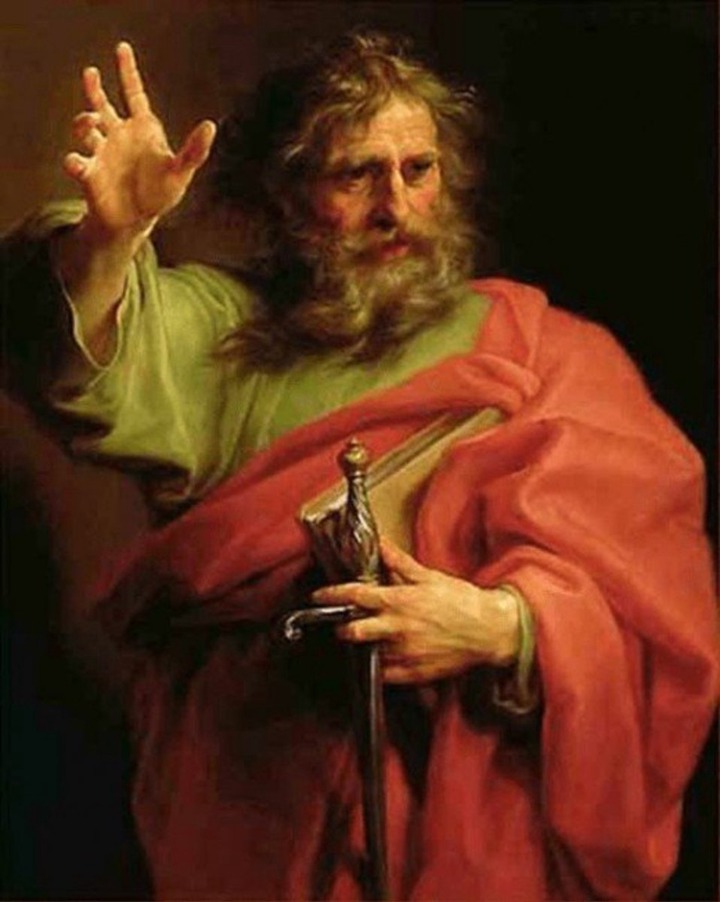 In The Golden Legend, Paul the Apostle at his martyrdom "stretched forth his neck, and so was beheaded. And as soon as the head was from the body, it said: Jesus Christus! which had been to Jesus or Christus, or both, fifty times."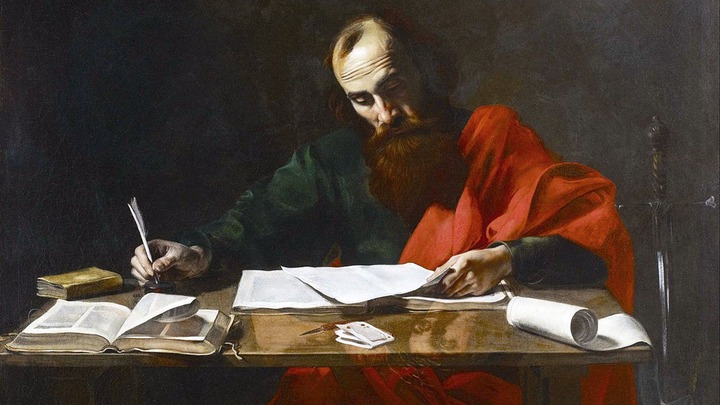 When the head was recovered and was to be rejoined to the body as a relic, in response to a prayer for confirmation that this was indeed the right head, the body of Paul turned to rejoin the head that had been set at its feet.
Saint Osyth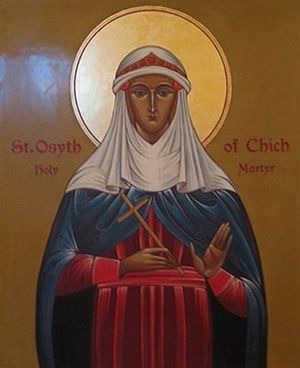 In legend, the female saint Osyth stood up after her execution, picking up her head like Saint Denis in Paris and other cephalophoric martyrs, and walking with it in her hands, to the door of a local convent, before collapsing there.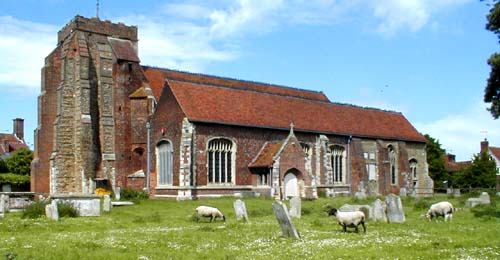 St. Osyth church
Valerie of Limoges
Similarly, Valerie of Limoges carried her severed head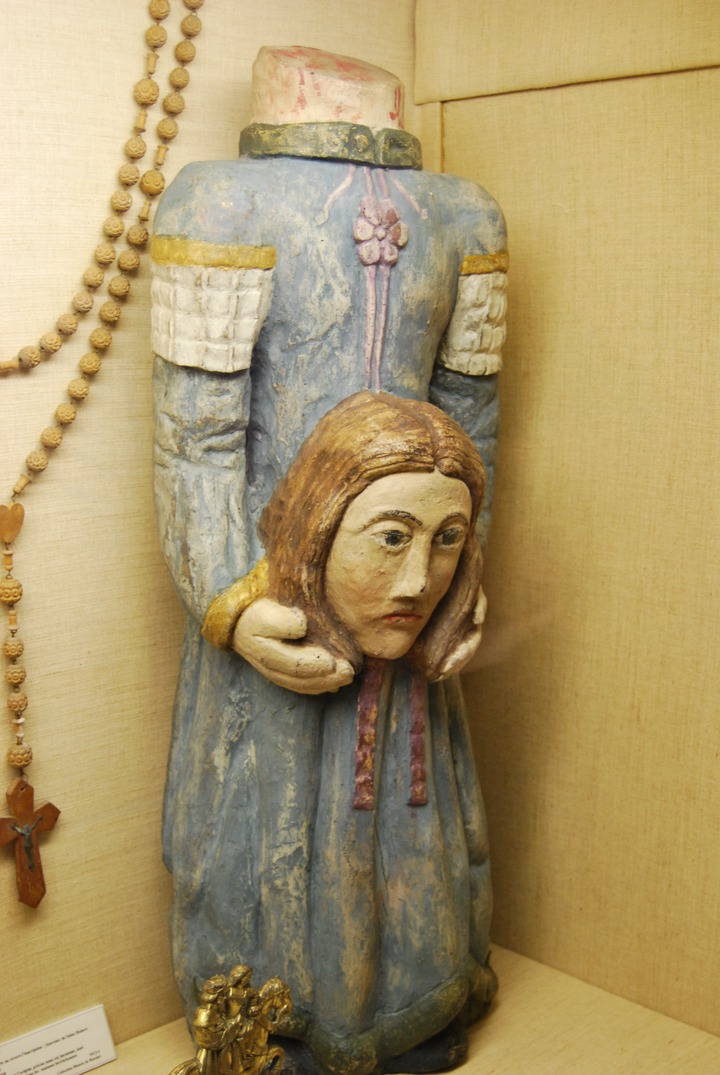 away to her confessor, Saint Martial.
Winifred Of Wales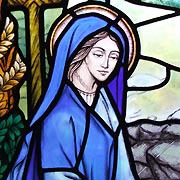 The oldest accounts of the saint's life date to the 12th century.According to legend, Winifred was the daughter of a chieftain of Tegeingl,Welsh nobleman, Tyfid ap Eiludd. 
Her mother was Wenlo, a sister of Saint Beuno and a member of a family closely connected with the kings of south Wales.Her suitor, Caradog, was enraged when she decided to become a nun, and decapitated her.
A healing spring appeared at where her head fell. Winifred's head was subsequently rejoined to her body due to the prayers of Saint Beuno, and she was restored to life. 
Seeing the murderer leaning on his sword with an insolent and defiant air, St. Beuno invoked the chastisement of heaven by praying . In answer to that prayer Caradog fell dead on the spot for the ground opened and swallowed him up.
 Winifred, of Wales,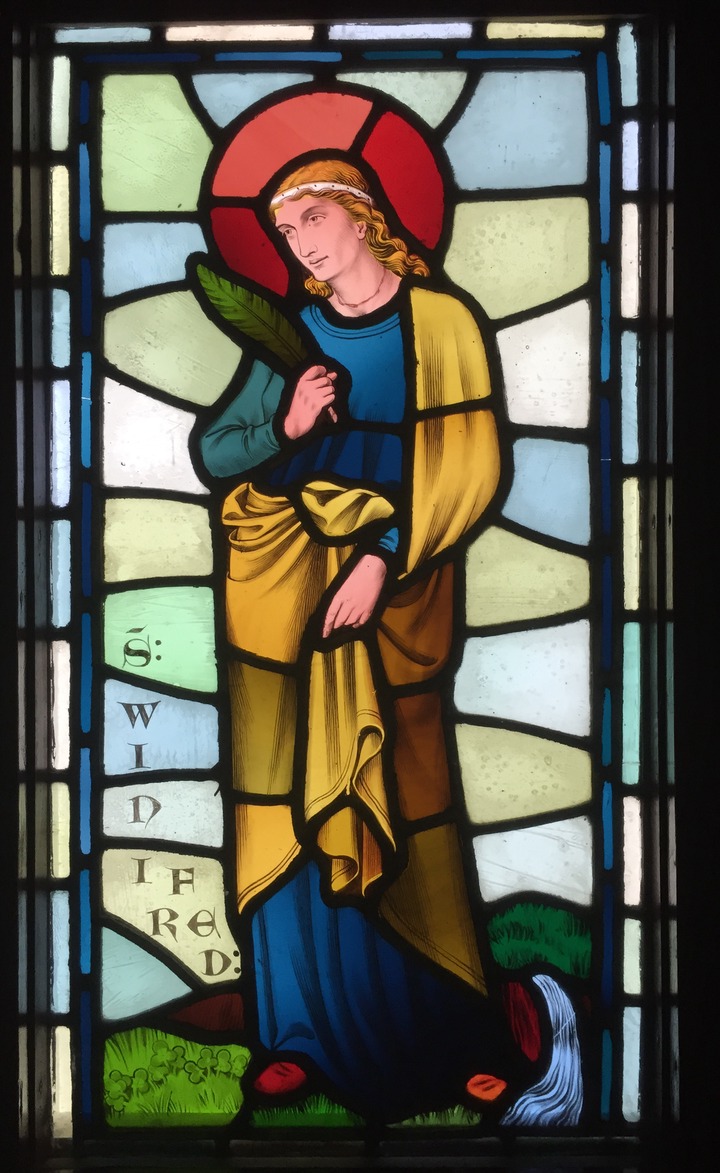 really made history, when head rolled down a hill and was later reattached to her body because of prayer .
But these are just some of the most well-known of the cephalophory ( head-carriers ). In total, there are approximately more than 120 such "cephalophores," who are martyred by beheading and yet their head still continue talking, praying or preaching for a while before their death.
These Christian saints whose headless bodies have been endowed with life, were used to illustrate the resurrection power of God. The fact that their severed heads still retained the power to speak is a prove that, they were actually dead in the flesh , but alive in the spirit. 
It also means you can destroy the body without killing the soul as Jesus said. " And fear not them which kill the body, but are not able to kill the soul: but rather fear him which is able to destroy both soul and body in hell. "
Matthew 10:28
This portion of scripture connects to these headless saints and explains the possibility of wrapping one's head around headlessness . When the soul of the person has not departed from the body, anything is possible. 
Finally, the bible said in Romans 8:36-37
"As it is written, For thy sake we are killed all the day long; we are accounted as sheep for the slaughter.
Nay, in all these things we are more than conquerors through him that loved us. "
Content created and supplied by: Yeshuanews (via Opera News )
Opera News is a free to use platform and the views and opinions expressed herein are solely those of the author and do not represent, reflect or express the views of Opera News. Any/all written content and images displayed are provided by the blogger/author, appear herein as submitted by the blogger/author and are unedited by Opera News. Opera News does not consent to nor does it condone the posting of any content that violates the rights (including the copyrights) of any third party, nor content that may malign, inter alia, any religion, ethnic group, organization, gender, company, or individual. Opera News furthermore does not condone the use of our platform for the purposes encouraging/endorsing hate speech, violation of human rights and/or utterances of a defamatory nature. If the content contained herein violates any of your rights, including those of copyright, and/or violates any the above mentioned factors, you are requested to immediately notify us using via the following email address operanews-external(at)opera.com and/or report the article using the available reporting functionality built into our Platform See More