The eagle is considered as the strongest bird in the jungle and when it comes to it battle with snakes for food, it has strategies on how to kill it without much struggle. This strategies will be good in the spiritual warfare if we Christians can applied it in our lives.
The eagle does not fight the snake on the ground but it rather aggressively picks up the snake into the sky. As Christians our battle are always won in the spiritual realm before it can manifested physically. For this reason, Christians must choose prayer as their tool for fighting their enemies.
The snake has no stamina, no power and no balance in the air. It is useless, weak and vulnerable unlike on the ground where it is powerful, wise and deadly. To make your battle on this world easy, you need to break spiritual ground first before you can access to victory in life.
Don't fight the enemy in his comfort zone, change the battle grounds like the Eagle and let God take charge through your earnest prayer. You will be assured of clean victory. May this inspire and guide you in this wicked world. God bless you for reading.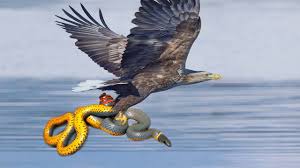 Content created and supplied by: GH_LoverNews (via Opera News )