Although mosques are obviously places of worship, the majority of them in the UK, including Wales, have not yet been officially registered as such, and so any Islamic wedding that merely takes place at a mosque has to be registered legally with the UK law as well, in order to be seen as valid in the UK.
For many Muslims, it is the Islamic marriage ceremony that counts as the actual wedding, and not the legal confirmation of that wedding in a registry office. For this reason, Muslims in Wales will have a Muslim ceremony first, and then marry legally in a registry office.
A Muslim wedding ceremony is known as a nikah, and is usually a simple ceremony. The bride does not have to be present as long as she sends two witnesses to the drawn-up agreement. Normally, the ceremony consists of readings from the Qur'an, and the exchange of vows in front of witnesses for both partners. No special religious official is necessary, but often the imam is present and performs the ceremony and gives a short sermon.
There are certain things which are basic to all Muslim marriages:
marriages have to be declared publicly
they should never be undertaken in secret
the publicity is usually achieved by having a large feast, or walimah - a party specifically for the purpose of announcing publicly that the couple are married and entitled to each other.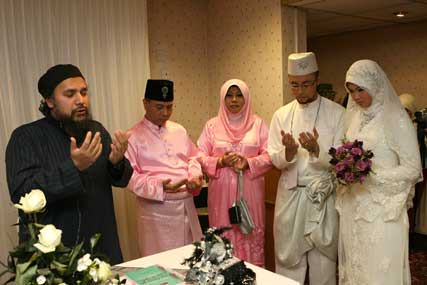 Many wedding customs are a matter of culture and not of Islam. The bride and groom may be obliged to sit on 'thrones' on a platform, to be seen by the guests. They may receive gifts, or money. The majority of brides favour a traditional white wedding dress.
Some Muslim weddings might consist of vast feasts with hundreds of guests, usually with the males in a separate room from the females. Other Muslims have simple celebratory parties with only close friends and relatives.
Content created and supplied by: [email protected] (via Opera News )