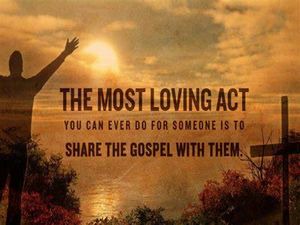 Primary Reason to Share the Gospel
1. The gospel generates fresh life.
This signifies that everybody who belongs to Christ has become a new person. The old life is gone; a new life has started (2 Corinthians 5:17 NLT)!
People God puts in our lives—family, friends, colleagues, neighbors, and many more—are either spiritually alive or dead. All have a lethal wound—sin. If they have not heard and reacted to the good news of Jesus, they will spend forever in a real location called hell (Matthew 25:46). (Matthew 25:46).
The gospel of Jesus Christ brings new life to lost people, justifying them by His righteousness so they may enjoy everlasting, abundant life in the right connection with God. This alone is the sole reason we need to spread the gospel.
But in God's Word, we are encouraged with at least 10 more reasons to preach the lifesaving and revolutionary message of Jesus.
10 More Reasons to Share the Gospel
2. Jesus made the gospel our mission.
And then he commanded them, "Go into all the world and proclaim the Good News to everyone" (Mark 16:15 NLT) (Mark 16:15 NLT).
This demand from Jesus could not be more unambiguous. Go. Tell. Every single disciple of Jesus has received this command. Then why do we sometimes hesitate? "Evangelism isn't my spiritual talent," we assert. "What if I say something wrong?" we fear. I confess that sometimes it seems uncomfortable to share the gospel. Obedience is not always simple. I believe that's why Jesus termed it "taking up our cross" (Matthew 16:24). (Matthew 16:24). But obeying is always correct. And it pleases God.
3. Sharing the gospel exposes the heart of God.
Rather, you must develop in the grace and knowledge of our Lord and Savior Jesus Christ (2 Peter 3:18 NLT) (2 Peter 3:18 NLT).
One way we learn more about God is through studying the Bible. But educators know that learning takes root when they force pupils to teach others what they know. In the same manner, teaching people what we have learned about Jesus enhances our awareness of God's heart. Sometimes individuals truly stump us with their queries about God. Isn't it the ideal chance to go into God's Word and uncover something new for ourselves as well?
4. Sharing the gospel grows and nourishes seeds of faith.
It's not crucial who performs the planting, or who does the watering. What's crucial is that God makes the seed grow (1 Corinthians 3:7 NLT) (1 Corinthians 3:7 NLT).
Every farmer can say they never harvest unless they consciously sow seeds and foster development. In His parable of the soils, Jesus likens the gospel word to seeds we ought to distribute generously. Sometimes, the gospel falls into a heart where it may bloom for the first time. Other times it feeds a blossoming connection with Christ. Either way, we must accept, like in agriculture, that certain components of good development are beyond our control. A farmer cannot manage the weather. Nor can we generate a spiritual crop. That accountability belongs to God.
5. God says a spiritual crop is ready.
He responded to his followers, "The harvest is vast, but the laborers are few" (Matthew 9:37 NLT) (Matthew 9:37 NLT).
What does God intend by this verse? It's not always evident to me who is "ripe" for spiritual harvest. In reality, from my perspective, most individuals don't confess a need for the gospel. But if God says He's prepared many to hear the message, then it's true. And, if we're accessible to Him, He will guide us to people who are ready to enter into His kingdom. Will you join the workers? There is nothing like the delight of watching God search and rescue a lost soul.
6. Sharing the gospel generates a heavenly celebration.
In the same manner, there is gladness in the presence of God's angels when even one sinner repents (Luke 15:10 NLT) (Luke 15:10 NLT).
The delight you experience in your heart when God grants new life to a dead soul is nothing compared to the enthusiasm in paradise. Jesus taught about this attitude in his parables dealing with lost things—a widow's misplaced currency, a wandering flock, and a prodigal son. In each, the consequence of the loss being recovered was a celebration. These tales demonstrate the response in heaven when someone repents and turns to God. What a pleasure it is to join the celebration!
7. Sharing the gospel connects God's followers.
We announce to you what we have truly seen and heard so that you may have communion with us. And our friendship is with the Father and with his Son, Jesus Christ (1 John 1:3 NLT) (1 John 1:3 NLT).
There is a particular link between followers of God that starts with the same Spirit residing inside each of us. The link grows as we work together to convey Christ's message. Striving for the same aim and objective promotes friendship among disparate persons who may never otherwise connect. The gospel connects God's children from every geographical region, ethnicity, race, culture, and class (Ephesians 2:14). (Ephesians 2:14).
8. We emulate Christ when we communicate the gospel.
You must adopt the same mindset that Christ Jesus had (Philippians 2:5 NLT) (Philippians 2:5 NLT).
Jesus' whole life concentrated on the gospel message. God loved broken and lost people so much that He sent His much-loved Son to earth to live in human form to settle their debt of sin by spilling His blood on a cross. By reviving Jesus, God revealed His power over death and provided everlasting life to all who will believe and submit. Living and spreading the gospel likewise demands us to lay down our lives to be like Jesus, albeit our degree of sacrifice is significantly less.
9. The gospel encourages Christians.
But to those called by God to salvation, both Jews and Gentiles, Christ is the power of God and the wisdom of God. This stupid design of God is wiser than the smartest of human plans, and God's weakness is stronger than the strongest of human power (1 Corinthians 1:24-25 NLT) (1 Corinthians 1:24-25 NLT).
Sure, we know the gospel is the message that gives salvation. But have you considered that the gospel is also a strength fa or everyday life, for daily development in God's wisdom? Gospel power helps us reject sin and accept Christ's righteousness. When we communicate about the gospel with other Christians, we encourage ourselves and them to live for Christ.
10. The gospel brings kindness to the world.
Salvation is not a reward for the excellent things we have done, therefore none of us can brag about it. For we are God's workmanship. He has made us afresh in Christ Jesus, so we may perform the good things he prepared for us long ago (Ephesians 2:9-10 NLT) (Ephesians 2:9-10 NLT).
We frequently wring our hands at this world's dreadful, wicked condition. We wonder whether one person can alter anything. And, certainly, the international news is horrible. But the wonderful news of Jesus will not be stopped. As we preach the gospel, some will react and become beacons of God's kindness and grace, lighting the darkness around them. That, my friends, is world-changing.
11. Sharing the gospel blesses God.
Bring everyone who professes her God, because I have formed them for my honour. It was I who created them (Isaiah 43:7 NLT) (Isaiah 43:7 NLT).
As we bring others to the foot of Jesus' cross, God is exalted. When some lay their confidence in Him, God is praised. Since we were designed to glorify God in whatever we say and do, spreading the gospel puts us in the sweet spot of success in our purpose for life.
Bookends of God's Purpose and Glory
While some of the reasons to share the gospel benefit us personally, we must never forget that the gospel is all about God's purpose and glory. That's why the list of ten additional reasons to share the gospel begins and ends with these priorities. These 10, coupled to the obvious reason that the gospel gives life to the lost, despairing, and dying, should exponentially enhance our desire and haste to tell people the good news of Jesus.
Content created and supplied by: Janet1 (via Opera News )
Opera News is a free to use platform and the views and opinions expressed herein are solely those of the author and do not represent, reflect or express the views of Opera News. Any/all written content and images displayed are provided by the blogger/author, appear herein as submitted by the blogger/author and are unedited by Opera News. Opera News does not consent to nor does it condone the posting of any content that violates the rights (including the copyrights) of any third party, nor content that may malign, inter alia, any religion, ethnic group, organization, gender, company, or individual. Opera News furthermore does not condone the use of our platform for the purposes encouraging/endorsing hate speech, violation of human rights and/or utterances of a defamatory nature. If the content contained herein violates any of your rights, including those of copyright, and/or violates any the above mentioned factors, you are requested to immediately notify us using via the following email address operanews-external(at)opera.com and/or report the article using the available reporting functionality built into our Platform See More