The Final Seven Things
The Scriptures indicate that at least seven things will definitely happen at the end of the world. These things we can know about through the inspired revelation of God. There will certainly be countless facets of these events and how they will effect each one of us. Will it occur in my lifetime? Will I be ready? What will I be doing?
Consider seven things which we know for sure will happen at the end of time as we know it now, and at the dawning of eternity.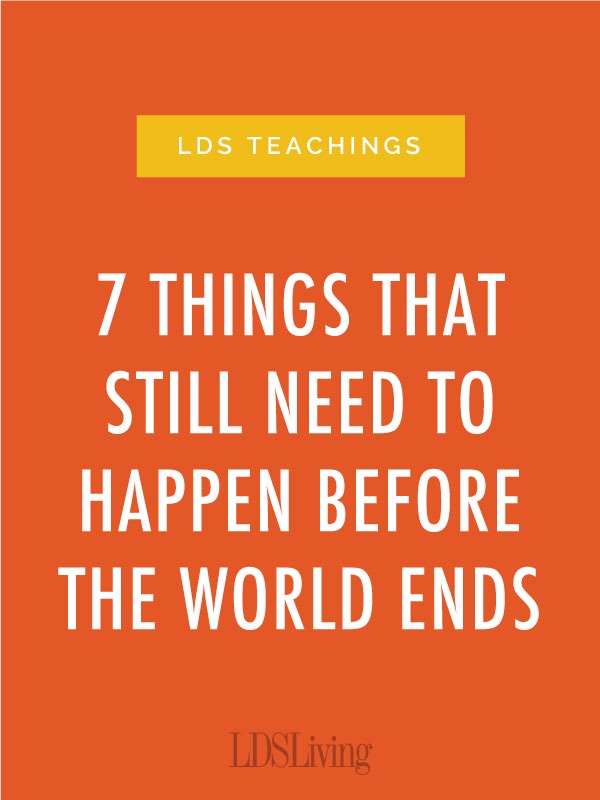 Jesus Shall Return
"But each in his own order: Christ the first fruits, after that those who are Christ's at His coming, then comes the end, when He delivers up the kingdom to the God and Father, when He has abolished all rule and all authority and power." (1 Corinthians 15:23,24). One thing Jesus will do at the end is deliver up His kingdom to the Father. Many people have the concept that Jesus is returning to set up His kingdom on earth and reign over it for a thousand years. However, the Scriptures teach He is coming back only to gather His kingdom together and to take us home.
In fact, citizens of His kingdom will rise to meet Him in the air (1 Thessalonians 4:17). As close as the Bible puts Him to the earth is the sky above. The faithful meet Him there, and He delivers us home.
Once, when people of Jesus' day also had the mistaken idea that He came to be king over an earthly kingdom, Jesus would have no part of it (John 6:15). Later, He explained to Pilate that His kingdom was not of this realm (John 18:36). He also told His disciples that He was going to go away and prepare a place for them so that they could one day go and be with Him there "in (His) Father's house." (John 14:1-3)
The Dead Will Be Raised
"Do not marvel at this; for an hour is coming, in which all who are in the tombs shall hear His voice, and shall come forth; those who did the good deeds to a resurrection of life, those who committed the evil deeds to a resurrection of judgment." (John 5:28,29). There is a place from which the dead will rise. This resurrection will be of "all who are in the tombs" both the doers of good deeds as well as of bad deeds. There will be a resurrection (Acts 24:15). When Christ returns, we will receive either life or judgment.
The Living Will Be Changed
"Now I say this, brethren, that flesh and blood cannot inherit the kingdom of God; nor does the perishable inherit the imperishable. Behold, I tell you a mystery; we shall not all sleep, but we shall all be changed." (1 Corinthians 15:50,51). There will also be living people on the earth when Jesus returns. The dead will rise from the tombs, but what of the living? They will be changed. This will be necessary because these bodies we have presently are prone to wear out. We need something new, eternal and spiritual in nature, with which to enter into eternity. We will have it. "So also is the resurrection of the dead. It is sown a perishable body, it is raised an imperishable body; it is sown in dishonor, it is raised in glory; it is sown in weakness, it is raised in power; it is sown a natural body, it is raised a spiritual body. If there is a natural body, there is also a spiritual body." (1 Corinthians 15:42-44; see also 1 John 3:2).
This Present Earth Will Be Destroyed
"But the day of the Lord will come like a thief, in which the heavens will pass away with a roar and the elements will be destroyed with intense heat, and the earth and its works will be burned up." (2 Peter 3:10; cf. vss 9-17). Nothing will be left of the earth beneath nor the stars above. We sometimes get so attached to the present system that we forget that it is temporary.
It should be pointed out that the Bible speaks of three distinct heavens. One is a spiritual place. This is not under discussion here as it is not made up of elements of matter. The atmosphere around our planet is what the Bible calls the "first heaven." It will be gone. So will "the second heaven" which is where the stars are. When the elements are destroyed, so will they be.
The Judgment of All
"For we must all appear before the judgment seat of Christ, that each one may be recompensed for his deeds in the body, according to what he has done, whether good or bad." (2 Corinthians 5:10). The final judgment will also accompany the end of time. It will be a time of reckoning and the carrying out of eternal decrees. We know about all there is to know about this judgment. We know who will be judging and who will be judged. We know what the basis and standard of judgment will be. We know what the possibilities are regarding reward or punishment. We certainly need to be prepared for this final event, for if we are not, then there simply is no other recourse or provision for redemption, forgiveness and victory (see also Hebrews 9:27; Romans 2:16; 14:11,12; John 5:22).
Christ Will cease His Reign
"For He must reign until He has put all His enemies under His feet. The last enemy that will be abolished is death." (1 Corinthians 15:25,26). At the final resurrection when death is abolished, the Lord will deliver up His kingdom to the Father, as we have already seen. Jesus is not coming again to begin His reign, but to end it. He now reigns over His kingdom from His heavenly throne as Lord (Colossians 1:13; Acts 2:30,31; Hebrews 1:8). This is in accordance with the ancient prophecies (Daniel 7:13,14).
Until that final day, when that last enemy finally yields, Jesus reigns at God's right hand. But the last enemy will yield. His name is death.
Christ Will Deliver The Kingdom to His Father
"...then comes the end, when He delivers up the kingdom to the God and Father, when He has abolished all rule and all authority and power." (1 Corinthians 15:24). We already mentioned this earlier when we discussed Christ's return and the purpose of it. "And when all things are subjected to Him, then the Son Himself also will be subjected to the One who subjected all things to Him, that God may be all in all." (1 Corinthians 15:28). No enemy of God is left unconquered. Every sin has either been punished in judgment or paid for by Christ. All the faithful are at home with their Father and share His glory. Everything is right. That is the meaning of the phrase "that God may be all in all." Everything is finished, complete, and perfect (Colossians 1:19,20).
Content created and supplied by: Vicky57 (via Opera News )