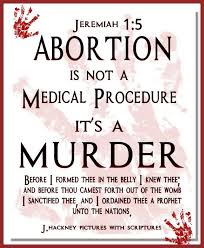 Psalm 127:3
There's been a lot of talks lately about abortion, and it's no surprise that it's such a hot topic. After all, it's an incredibly personal and emotional issue. Some people feel very strongly that abortion is always wrong, while others believe that it can be a necessary option in some cases. And then there are those who fall somewhere in the middle. Whatever your views on abortion may be, there's no doubt that it's a complex and controversial issue. And with the recent news of Alabama's new abortion ban making headlines, it's clear that the debate is far from over.
So, what do you think? Is abortion always wrong? Or can it be a legitimate choice in certain situations? Let us know in the comments below.
What Is Abortion?
Abortion is the termination of a pregnancy by removing the fetus or embryo from the uterus before it can survive on its own. Abortion is a very personal decision that should be made with the help of a healthcare provider.
It is important to understand all of your options and be sure that you are making the best decision for yourself.
Abortion can be performed in a variety of ways, but most commonly it is done through surgical procedures. There are two types of surgical abortions: suction aspiration and dilation and evacuation (D&E). Suction aspiration is the most common type of abortion performed in the United States and can be done as early as four weeks into a pregnancy. Dilation and evacuation (D&E) are usually done between 13-24 weeks into a pregnancy. Medical abortions are also an option for terminating a pregnancy. Medical abortions are done using medication instead of surgery and can be used up to nine weeks into a pregnancy. The most common type of medical abortion is done using a combination of two drugs: mifepristone and misoprostol.
It is important to remember that abortion is a safe and legal medical procedure. According to the Centers for Disease Control and Prevention (CDC), the risks associated with abortion are low. The most common side effects of abortion are mild cramping and bleeding. However, as with any medical procedure, there are some risks associated with abortion. These risks include infection, heavy bleeding, and damage to the cervix or uterus.
If you are considering an abortion, it is important to talk to your healthcare provider about all of your options. They can help you make the best decision for you based on your individual circumstances.
1 Corinthians 15:8
Facts About Abortion.
It's no secret that abortion is a controversial topic. There are those who believe that it is a woman's right to choose what happens to her body, and there are those who believe that abortion is murder. No matter what your personal beliefs are, it's important to be informed about the issue before you make any decisions.
Here are some facts about abortion that you should know:
1. Abortion is one of the most common medical procedures in the United States. According to the Guttmacher Institute, about 1 in 4 women in the U.S. will have an abortion by the time she turns 45 years old.
2. The vast majority of abortions (about 87%) are performed in the first trimester of pregnancy.
3. Abortion is a safe medical procedure. The risk of dying from abortion is less than 0.05%. That means that the risk of dying from childbirth is about 14 times higher than the risk of dying from an abortion.
4. Most women who have abortions do not regret their decision. In fact, a study published in the journal PLOS ONE found that 95% of women who had abortions felt that it was the right decision for them.
5. There are many different reasons why women choose to have abortions. Some women feel that they are not ready to be mothers, some want to avoid raising a child in poverty, and some have health concerns that make pregnancy unsafe for them.
Whatever your personal beliefs are, it's important to be informed about the facts before you make any decisions.
Abortion is a common and safe medical procedure that can help women in a variety of different situations. If you or someone you know is considering an abortion, be sure to talk to a doctor or other medical professional to get more information about the risks and benefits.
Job 3:3
What Does The Bible Say About Abortion?
The Bible does not specifically mention abortion, but it does speak about the sanctity of life. Some people believe that abortion is morally wrong because it ends a human life. Others believe that abortion is morally acceptable in certain circumstances, such as when the mother's life is in danger. There is no one answer to this question, and people's opinions on this topic vary widely.
In Psalm 139:13-16, David writes "For you created my inmost being; you knit me together in my mother's womb. I praise you because I am fearfully and wonderfully made; your works are wonderful, I know that full well. My frame was not hidden from you when I was made in the secret place, when I was woven together in the depths of the earth. Your eyes saw my unformed body. All the days ordained for me were written in your book before one of them came to be."
God regards every life as precious and believes that each person is intricately designed by Him. Abortion takes away innocent life and is therefore considered murder by God. In Exodus 20:13, God says "You shall not murder." This includes the taking of unborn life.
In addition, Psalm 106:37-38 says "They sacrificed their sons and their daughters to false gods. They shed innocent blood, the blood of their sons and daughters, whom they sacrificed to the idols of Canaan, and the land was desecrated by their blood. By such things they became unclean." When we take the life of an unborn baby through abortion, we are sacrificing them to a false god; the god of convenience or personal comfort. This is something that God hates, and it results in His judgment on those who do it.
If you have had an abortion, there is forgiveness available through Jesus Christ. He died on the cross to pay the penalty for our sins, and His blood can cleanse us from all unrighteousness. If you have never received Jesus Christ as your Savior, I encourage you to do so today. He is the only One who can give you eternal life.
Exodus 20:13
Bible Verses About Abortion
1. 2 Kings 19:3
And they said unto him, Thus saith Hezekiah, This day is a day of trouble, and of rebuke, and blasphemy: for the children are come to the birth, and there is not strength to bring forth.
2. Job 3:3
Let the day perish wherein I was born, and the night in which it was said, There is a man child conceived.
3. Genesis 9:6
Whoso sheddeth man's blood, by man shall his blood be shed: for in the image of God made he man.
4. Hosea 13:16
Samaria shall become desolate; for she hath rebelled against her God: they shall fall by the sword: their infants shall be dashed in pieces, and their women with child shall be ripped up.
5. Deuteronomy 5:17
Thou shalt not kill.
6. Jeremiah 1:5
Before I formed thee in the belly I knew thee; and before thou camest forth out of the womb I sanctified thee, and I ordained thee a prophet unto the nations.
7. Genesis 2:7
And the LORD God formed man of the dust of the ground, and breathed into his nostrils the breath of life; and man became a living soul.
8. Amos 1:13
Thus saith the LORD; For three transgressions of the children of Ammon, and for four, I will not turn away the punishment thereof; because they have ripped up the women with child of Gilead, that they might enlarge their border:
9. 1 Corinthians 15:8
And last of all he was seen of me also, as of one born out of due time.
10. Isaiah 44:24
Thus saith the LORD, thy redeemer, and he that formed thee from the womb, I am the LORD that maketh all things; that stretcheth forth the heavens alone; that spreadeth abroad the earth by myself;
11. Isaiah 44:2
Thus saith the LORD that made thee, and formed thee from the womb, which will help thee; Fear not, O Jacob, my servant; and thou, Jesurun, whom I have chosen.
12. Genesis 1:27
So God created man in his own image, in the image of God created he him; male and female created he them.
13. Job 31:15
Did not he that made me in the womb make him? and did not one fashion us in the womb?
14. Job 3:16
Or as an hidden untimely birth I had not been; as infants which never saw light.
15. Ruth 1:11
And Naomi said, Turn again, my daughters: why will ye go with me? are there yet any more sons in my womb, that they may be your husbands?
16. Psalm 139:16
Thine eyes did see my substance, yet being unperfect; and in thy book all my members were written, which in continuance were fashioned, when as yet there was none of them.
17. Psalm 127:3
Lo, children are an heritage of the LORD: and the fruit of the womb is his reward.
18. Deuteronomy 30:19
I call heaven and earth to record this day against you, that I have set before you life and death, blessing and cursing: therefore choose life, that both thou and thy seed may live:
19. Numbers 12:12
Let her not be as one dead, of whom the flesh is half consumed when he cometh out of his mother's womb.
20. Exodus 20:13
Thou shalt not kill.
21. Isaiah 49:1
Listen, O isles, unto me; and hearken, ye people, from far; The LORD hath called me from the womb; from the bowels of my mother hath he made mention of my name.
Content created and supplied by: KwadwoSarfoGh (via Opera News )
Opera News is a free to use platform and the views and opinions expressed herein are solely those of the author and do not represent, reflect or express the views of Opera News. Any/all written content and images displayed are provided by the blogger/author, appear herein as submitted by the blogger/author and are unedited by Opera News. Opera News does not consent to nor does it condone the posting of any content that violates the rights (including the copyrights) of any third party, nor content that may malign, inter alia, any religion, ethnic group, organization, gender, company, or individual. Opera News furthermore does not condone the use of our platform for the purposes encouraging/endorsing hate speech, violation of human rights and/or utterances of a defamatory nature. If the content contained herein violates any of your rights, including those of copyright, and/or violates any the above mentioned factors, you are requested to immediately notify us using via the following email address operanews-external(at)opera.com and/or report the article using the available reporting functionality built into our Platform See More