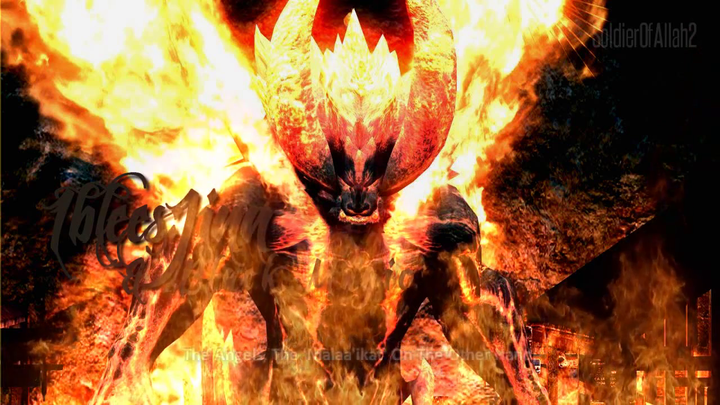 Satan is a creation of the LORD Almighty (ALLAH), just as all other creatures. He was among the Angels in Heaven and worshiped the LORD Almighty. He is viewed in Christianity as the fallen angel, one who rebelled against the will of the LORD Almighty (ALLAH) and as such was cast out of Heaven.
In Islam, it is believed that Satan was originally from among the Jinn, but ALLAH raised his rank and put him among the Angels due to his devotion to the Almighty (ALLAH). It is stated in Quran 18:50; ((And remember when WE said to the Angels; "prostrate yourselves unto Adam." So they prostrated themselves except Iblis (Satan). He was among the Jinn; he disobeyed the command of his LORD....))
Before the creation of Adam, the LORD Almighty (ALLAH) informed the Angels of HIS intention to create a human being, and commanded them to prostrate to him (Adam) after he has come to life. This honor done to Adam stirred envy and hatred in Iblis (Satan), who felt he was better than Adam and was more deserving of this honor. So Satan disobeyed the LORD Almighty and did not prostrate to Adam. When the Almighty (ALLAH) asked Satan why he failed to prostrate to Adam, he replied ((....I am better than him (Adam), YOU created me from fire and him YOU created from clay. ALLAH said: "(O Iblis) get down from this (Paradise), it is not for you to be arrogant here. Get out, for you are of those humiliated and disgraced." (Iblis) said: "Allow me respite till the day they are raised up (i.e the Day of Resurrection)." ALLAH said: "You are of those given respite.")) Quran 7:11-15.
Satan then made and emphatic declaration of his hatred towards Adam and his progeny and his determination to lead them astray and into destruction. (((Iblis) said: "Because you have sent me astray, surely I will lie in wait against them on your straight path. Then I will come to them from before them and behind them, from their right and from their left, and YOU will not find most of them being thankful.")) Quran 7:16-17.
Satan has made a pledge before the LORD Almighty (ALLAH) to mislead mankind into destruction. He coming to humans from before them means that he will prevent them from engaging in righteous deeds and doing what ALLAH has enjoined. He coming from behind means he will push humans and encourage them to commit sins and transgression. He coming from their right means he will stop them from spending their wealth in doing good while coming from their left means pushing and encouraging them to spend in what constitutes disobedience to ALLAH. He has vowed to make most of mankind ungrateful creatures to their LORD and MAKER.
Mankind can only survive these traps of Satan by completely submitting themselves to the will of ALLAH, by obeying and worshiping HIM alone. It is very important to strive to live in accordance with the commands of ALLAH and the teachings of HIS Prophet and Messenger, Muhammad (S.A.W). This is the only true way to be saved from Satan and to get admission into eternal bliss in Paradise.
The most powerful weapon against Satan is the Quran, thus, reciting it and practicing it's teachings.
The second weapon is supplication to ALLAH (prayers), for HE alone has the power to protect a person from all kinds of evil.
Another powerful weapon is the eating of seven date fruits in the morning. The Prophet Muhammad (S.A.W) stated that this is a source of protection from all sorts of evil for the whole day.
I hope this has been a useful piece of information for you. Look out for some more coming soon.
Don't forget to comment, share and follow me for more. Stay Blessed.
Content created and supplied by: Hasbiyallah (via Opera News )