Offering bags are given to all members of a church to give an amount of money given from the heart in order to help build the church. Let's get started then.
A man had no money on him and decided to go to church, to pray to God so that God will help him get money. He dressed in his best attar and off he went. It took some hours before he reached the church, he was late but not that late because the pastor just arrived, that was his first time in church.
The man sat down and listen to the preaching, the church services was almost complete and it was time for the offering or the collection of offering to take place. The man's mind was not on the services anymore but he was rather praying to God in his mind to get money.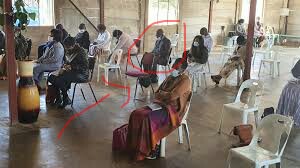 The offering bag was brought in front of the man to pay, immediately he saw the money in the offering bag. He collected it and thanked God, he thought God has answered his prayer through the church. The offering bag was collected from him and understanding took place.
The man felt disgraced, he went out of the church and went back home with a little hope of getting money.
What do you think?
Please like, share, comment and follow.
Content created and supplied by: agyemanb75 (via Opera News )