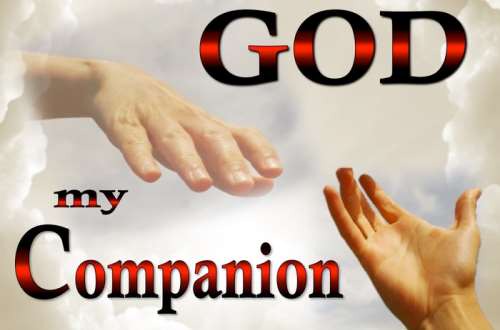 "God is not a man, that he should lie, nor a son of man, that he should change his mind. Does he speak and then not act? Does he promise and not fulfill?" (Numbers 23:19 NIV).
God is not a man. That seems obvious, and it is not about gender. Yet, God put the words quoted above in the mouth of Balaam, a non-Israelite prophet in Midian, for him to convey to Balak, king of Moab. God also distinguishes Himself from humans through the prophets Samuel and Hosea (see 1 Samuel 15:29 and Hosea 11:9).
The Israelites had been freed from slavery and bondage in Egypt and were on their way to the Promised Land. When they reached and encamped near Moab, King Balak of Moab was afraid that the Israelites might attack and defeat them just as they had done to the Amorites (see Numbers 22:1-3).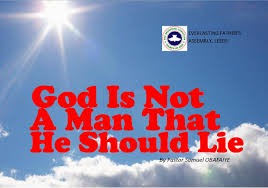 Balak wanted someone to curse the Israelites to enable him defeat them, and so he sent for Balaam, saying, "I know that those you bless are blessed, and those you curse are cursed." (Number 22:5-6 NIV). The messengers went with the king's reward for the divination. Balaam consulted God, "But God said to Balaam, "Do not go with them. You must not put a curse on those people, because they are blessed."' (Numbers 22:12 NIV). Therefore, Balaam refused to go with them to see the king.
However, the king did not give up easily. He sent people more honorable than the first group and increased the reward, but Balaam answered that, "Even if Balak gave me his palace filled with silver and gold, I could not do anything great or small to go beyond the command of the Lord my God." (Numbers 22:16-18 NIV). After giving that perfect response consistent with the unambiguous command God had previously given to him, Balaam still told the messengers to wait for him to consult God. Interestingly, God told him, "Since these men have come to summon you, go with them, but do only what I tell you." (Numbers 22:20 NIV).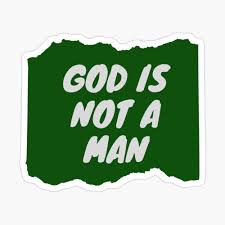 Then, the unthinkable happened. On his way to see the king, Balaam's donkey spoke to him! It turned out that "God was very angry when he went, and the angel of the Lord stood in the road to oppose him." (Numbers 22:22 NIV). The donkey saw the angel in the road with his sword drawn and she turned off and also tried to avoid the angel two more times, each time he was beaten by Balaam.
That was when God opened the donkey's mouth and she said to Balaam, "What have I done to you to make you beat me these three times?" (Numbers 22:28-30). (It is usually not a good sign when an animal carries out a conversation with a human being. Remember the serpent and Eve in Genesis Chapter 3? It led to the fall of man).
God opened Balaam's eyes and he saw the angel standing in the road with his sword drawn. The angel explained to Balaam that he had come to oppose him because the path he had chosen was a reckless one before the Lord (Number 22:32). God told him to go to Balak, but reiterated His earlier command to Balaam to speak only what He tells him.
When Balaam appeared before Balak, God put his message in Balaam's mouth, and Balaam spoke his oracle including, "How can I curse those whom God has not cursed? How can I denounce those whom the Lord has not denounced?" (Numbers 23:8). God put his message in Balaam's mouth a second time and he spoke his oracle, "Arise, Balak, and listen; hear me, son of Zippor. God is not a man that he should lie, nor a son of man, that he should change his mind. Does he speak and then not act? Does he promise and not fulfill?" (Numbers 23:17-19 NIV).
Recall when God called Abraham. Among the promises God gave Abraham were that: "I will bless those who bless you, and whoever curses you I will curse; and all peoples on earth will be blessed through you." (Genesis 12:3 NIV). In addition, God promised Abraham, "I will establish my covenant as an everlasting covenant between me and you and your descendants after you for the generation to come, to be your God and the God of your descendants after you." (Genesis 17:7 NIV).
The Apostle Paul says, "If you belong to Christ, then you are Abraham's seed, and heirs according to the promise" (Galatians 3:29 NIV). Paul also recognizes Christians as beneficiaries of these promises by stating that, "no matter how many promises God has made, they are "Yes" in Christ. And so through him the "Amen" is spoken by us to the glory of God." (1 Corinthians 1:20 NIV).
And so although Balaam had a reputation for cursing and blessing people, and that was why the king sent for him, he met his match when the targets were the Israelites, the descendants of Abraham whom God had blessed. God must have taken control of the situation from Balaam, forcing him to consult with Him for proper divine guidance.
Balaam was fortunate to have escaped divine retribution for not cursing the Israelites. In other words, Balaam could not have effectively cursed the Israelites even if he had attempted to do so because God is not a man that He would lie or change His mind concerning the promises He made to Abraham and his descendants. In fact, God turned what was to be a curse to a blessing on the Israelites.
Dear Christians, by the grace of God through faith in Jesus Christ, the blessings of Abraham are ours. God will turn curses against us to blessings in Jesus name. No weapon aimed against us shall succeed in Jesus name (see Isaiah 54:17). As He did with Balaam, God will open our eyes to see things that are hidden from our natural eyes so that we do not fall blindly into danger.
Because God is not a man, He is not limited by anyone or anything. God works in mysterious ways. To save the Israelites from a war for which they may not have been prepared at that time, God used a non-Israelite prophet and a talking donkey to accomplish His purposes.
No matter who or what we are, we should not think that God cannot use us for anything important. We are certainly more capable, intelligent, and articulate than donkeys. Moreover, God is not constrained by ranks, titles or personalities. He used a donkey to send a message to Balaam, a prophet; and then much later, he used the boy Samuel, to deliver a message to Eli, the chief priest. Don't count yourself out as a potential instrument in the service of God.
In addition, whatever powers and authorities God has given us should be used to glorify Him, and not for vainglory. King Balak tried to "buy" Prophet Balaam to curse Israel, but it did not work. In those instances, whether by divine intervention or out of his own free will, Balaam consulted God regarding Balak's requests and obeyed God's directions. We can learn a lesson or two from that. Those who speak for God must speak from God (see 1 Peter 4:11; and John 3:34).
God created man in His own image, but God is not a man. Man is generally untruthful, unreliable, and untrustworthy. Many of us have not kept our promises to others, and have, in turn, been victims of unfulfilled promises. God, on the other hand, is always truthful, reliable, and trustworthy. God is faithful. God does what He promises to do while still exercising divine prerogative of showing mercy and compassion on whom He wants to show mercy and compassion. And that is good news.
Prayer is the key. May God grant us the grace to seek Him daily through our prayers.
Content created and supplied by: Pytas-Post (via Opera News )
Opera News is a free to use platform and the views and opinions expressed herein are solely those of the author and do not represent, reflect or express the views of Opera News. Any/all written content and images displayed are provided by the blogger/author, appear herein as submitted by the blogger/author and are unedited by Opera News. Opera News does not consent to nor does it condone the posting of any content that violates the rights (including the copyrights) of any third party, nor content that may malign, inter alia, any religion, ethnic group, organization, gender, company, or individual. Opera News furthermore does not condone the use of our platform for the purposes encouraging/endorsing hate speech, violation of human rights and/or utterances of a defamatory nature. If the content contained herein violates any of your rights, including those of copyright, and/or violates any the above mentioned factors, you are requested to immediately notify us using via the following email address operanews-external(at)opera.com and/or report the article using the available reporting functionality built into our Platform See More