In the Name of Allah, the All-Compassionate, All- Merciful
'Aisha radiullahu-anha, a respected name of a noble woman who was an intelligent, brave and knowledgeable scholar of Islam. A personality who requires almost no introduction. She is renowned as a " Mother of Mo'mineen ", the beloved wife of the last messenger Muhammad ﷺ and the daughter of the first caliph of Islam Abu Bakr Siddique (R.A).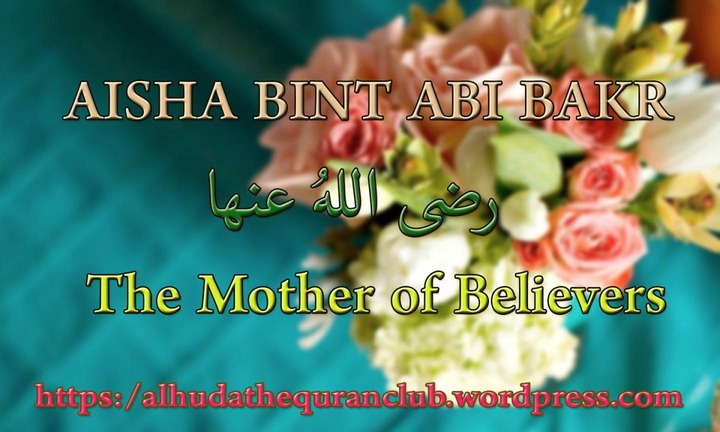 Abu Bakr (R.A) was the first Person in men who accepted Islam and remained side by side to the Prophet Muhammad ﷺ during the early times of tribulations and hardships; when Islam was going through its Introductory stages in Makkah.
She was Sister of a courageous lady of Islam Asma (R.A) who kept the secret of Prophet's ﷺ migration to Madina with Abu Bakr (R.A) and was amongst those who accepted Islam first.
'Aisha (R.A) was Daughter of Righteous Mother Umm-e-Rumman (R.A) who was praised by Prophet ﷺ. At the time of her death, the Prophet Muhammad ﷺ asked Allah (S.W.T) at her grave to forgive her by saying,
" O Allah, you know well what Umm-e-Rumman suffered for the sake of you and your Messenger"
Life before marriage:
'Aisha (R.A) was born in Makkah in around 613 or 614 CE. She had lots of significant qualities and special blessings of Allah in regards to the progress of the religion Islam. She was chosen by Allah (S.W.T) as a leader for Muslim ummah to convey correct and authentic knowledge. Since Islam was a newly grown flower that needed fresh water to keep it blossoming. It was possible due to the sacrifices and efforts of devoted people who would benefit others with their knowledge and wisdom.
'Aisha was educated in early childhood by her father. She was raised in a muslim family being born a Muslim. As the daughter of Abu Bakr (RA), she had the same strength and characteristics of leadership as her father. It was her unique virtue in early times of Makkah when people were accepting Islam. It was rare to have a complete Muslim family during that age of Islam. 'Aisha (R.A) was among those who acknowledged Islam by birth. She grew up at a time when teachings of Islam were fresh and new which is a major factor of her becoming a great scholar of Islam. 'Aisha (R.A) Narrates about herself:
'Aisha (R.A) Narrates about herself:
"I never saw my parents practicing anything other than Islam"
Thank you.
Content created and supplied by: [email protected] (via Opera News )