Bishop Dag celebrated his birthday yesterday and trust me, when you are celebrating someone whose impact is in lives of thousands, the celebration has just started, instead of ending on a day.
So I am bringing back, some of the way, people close to him celebrated him with words, which are very very powerful in the Kingdom of God, that we believers find ourselves in.
If this famous Ghanaian proverb "If a frog comes out of the water and tells you the crocodile is dead, do not doubt it," means anything to you, you will best see the respected Bishop Dag, in a light, far from the controversy, some 6 disgruntled pastors want us to believe he is.
First person to look at is Bishop E.A.T Sackey - dhmm. He is the direct assistant Bishop of Bishop Dag. Whiles Bishop Dag is a medical Doctor, He is a Lawyer and was practicing in the same law chamber with Bishop Dag's wife. Bishop Sackey was also the best man for Bishop Dag's wedding, even as he officiated that wedding. He wrote that:
"HAPPY BIRTHDAY TO MY TIRELESS , ANOINTED and GIFTED BISHOP AND FATHER ! If I had it to do all over again I will serve under you all the days of my life as my GENERAL , as we plunder the kingdom of the devil , with JESUS as our COMMANDER in CHIEF!"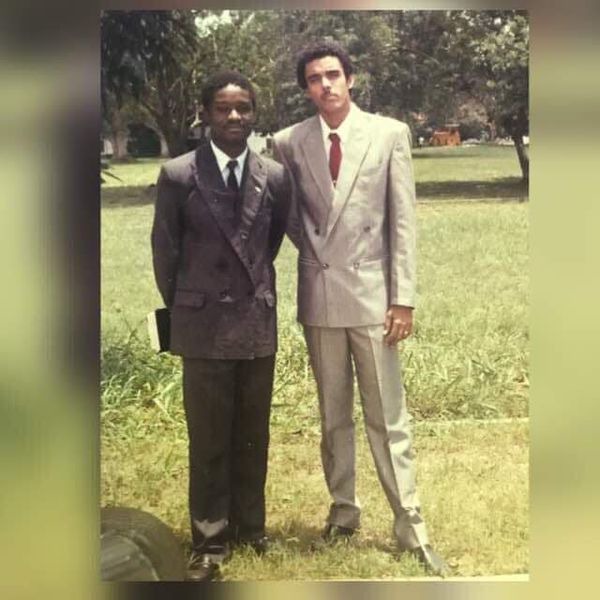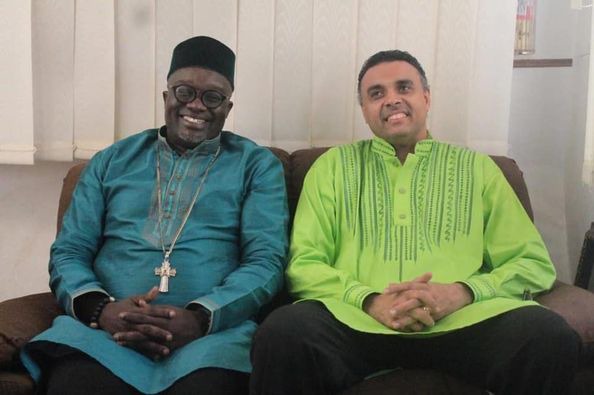 Then Bishop Dag's lovely wife. Oh, what a blessing she has been to Bishop Dag. Like all marriages, they have had their own challenges initially, but this relationship has grown stronger and they look too supportive and glorious now, thanks to respect and purpose.
Lady Rev. Mrs Adelaide Heward-Mills, who was recently ordained as a Lady Bishop, with the title of an Episcopal Sister, writes "Happy Birthday to my Pastor, Spiritual Head and Friend of 39 years, my beloved of 36 years and my husband of 32 years. Yours has been a life of simplicity and sincerity all these years. I did not just come into contact with you Dag, I have known you for a long time. The authentic thing about you in the closet is your untainted love for God, His work and His people.
I know you will never put me before this God you so treasure and cherish so much so that my own love for Him has been positively affected and greatly enhanced. My room mate of 32 years, if only there could be a sneak peak into your indubitable and unalloyed heart it will disarm many. Happy & blessed birthday. Life, health and wealth both in the temporal and ethereal.
God has been with you in a very tangible way and we have seen His amazing Grace and faithfulness towards you all these years. Keep pressing on towards the mark of His high calling! The best is yet to come and I have been privileged to share your life with you in this unique and exhilarating calling. I love Jesus more because of you.
My "Rabbi"( as I used to call you on campus ), may you flourish in the courts of our God. God keep you for His purpose and our sakes and He will! Love Always! From the wife of your youth - Maame
Psalms 92:13-14 - "Those that be planted in the house of the Lord shall flourish in the courts of our God. They shall still bring forth fruit in old age; they shall be fat and flourishing"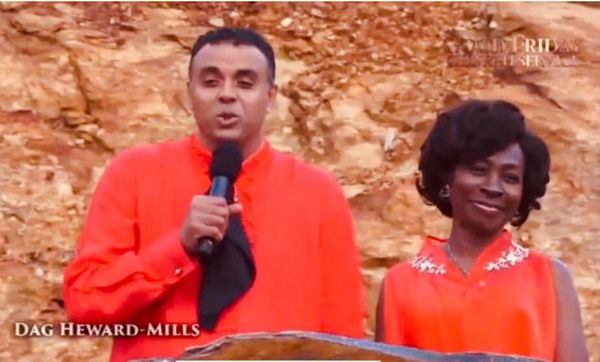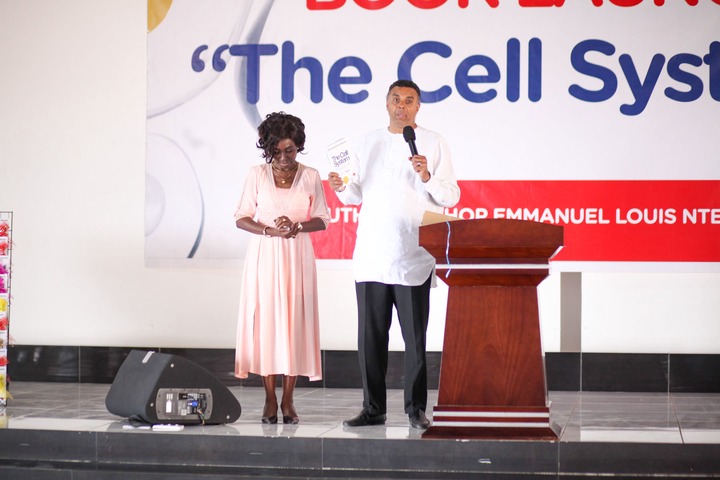 Bishop Emmanuel Nterful - dhmm is a medical Doctor as well, and has been with Bishop Dag all these years. Currently, he heads one of the 18 denominations of the church and serves as the United Denominations convener. Currently serving fulltime as a Bishop and very passionate about churches all over Ghana growing, he hosts the Church Growth Conferences and most recently last week outdoored book on "The Cell System", a Biblical strategy to practically ensure church growth. He wrote on "BIRTHDAY GREETINGS TO OUR PASTOR, BISHOP DAG HEWARD-MILLS."
Happy birthday Bishop! Thank you for selfless leadership you have modelled before my eyes for more than 35 year! Thank you for always asking us to focus on the work of the Lord! Thank you for always encouraging us to use the money of the church to build for our missionaries and full time pastors. You have always called our missionaries our heroes! Thank you for always encouraging us to help our missionaries to succeed in their life's work. Thank you for the free four-year bible school training you have provided our pastors over the decades.
Thank you for the stipends, food, medical care, free textbooks you toiled so hard to write for your pastors and church workers. Thank you for the great support including money, accommodation, church equipment you provide our missionaries and full time pastors to enable them serve God to the best of their ability.
Thank you for the numerous church buildings you have led us to put up to support the work of our numerous volunteers/ lay and full time pastors in Ghana and many nations around the world. Thank you for sending us, the bishops and senior pastors to travel around to strengthen, help, support, counsel and provide the needs of our missionaries and full time pastors.
Thank you for thinking, thinking and thinking about our missionaries. Thank you for the many camp meetings you have held to continuously teach our pastors and guide them how to build successful churches Thank you for your emphasis to our missionaries and full time pastors to work hard to build successful churches that will bring multitudes into the Kingdom of our Lord Jesus Christ, and also ensure their personal prosperity right here on earth.
Thank you for helping several of our pastors who couldn't have children to have free medical care at great cost to have babies. Thank you for your personal interest and love you've shown couples in such situations over the years. Thank you for not seeking your personal interest and prosperity while building the church in so many countries, nations , islands.
You have refused to enjoy the trappings of an executive because you have always insisted we build and put the church first in all we do. We always argue with you that it's been too long for the church not to provide you such executive privileges, but you just fend off our concerns with your usual smile. And you still have stayed your course to put the church first.
Through this great , selfless, sacrificial, leadership filled with genuine and amazing love for all the bishops, volunteers/lay pastors, full time workers, shepherds, members in more than 90 countries, nations and islands around the world, today the little church the Lord used you to start at the Korle-Bu Teaching Hospital has become one of the greatest multinational organizations! And all this at a great personal cost!
Since I started working at close quarters with you in helping govern our worldwide churches, I have noticed at first hand many persistent challenges, difficulties , worries, and pain you personally endure in your effort to help this huge organization to be led properly into more development and advancement of the kingdom of God.
You have borne with grace the burden of leading the numerous volunteers/lay workers, and full time pastors and workers in this great institution. You have accommodated the many volunteers/lay and full time staff who have simply not complied with our organization's standards, directives and administrative guidelines.
The poor work ethics, laziness, useless socializing via endless hours watching movies, engagement on social media platforms, prayerlessness, unfaithfulness, lack of focus on the difficult task of church planting; the list is endless; on the part of some of the full time pastors and missionaries, all of which lead to their inability to succeed in church planting, thus wasting the opportunity to achieve personal prosperity
The sheer disloyalty, pride, arrogance and stubbornness of many who have been given great ministry opportunities I have seen the above and more.... Your great fatherly and forgiving heart of love that always made you overlook our mistakes and thereby given many pastors and workers in the church a second, third, fourth and many more chances in ministry.
Time will not allow me to talk about your very many acts of benevolence to our volunteers/lay and full time workers, as well as many in our societies: payment of school fees for the children of our departed brothers and sisters which has made it possible for many to become doctors, lawyers, engineers and prominent people who are helping to build our societies, Hundreds of hours you spend to counsel marriage couples to stay married, stating a strong stance against divorce in accordance with the word of God, which has ensured that many of us are enjoying peaceful and blessed marriages.
Your personal payment of school fees for many of our needy children to help them acquire education both in Ghana and elsewhere, You've set up a care system for all the beggars in Accra, through which they've all been registered and receive monthly stipends and delicious food all these years, You're currently leading us to complete a modern specialist hospital to offer prosthetic limbs to the disabled in our society for free.
Your humanitarian efforts have long been extended to those suffering from blindness. You printed all the WASSCE curriculum in special textbooks and gave them freely to the School of the Blind, Not to forget your efforts at making a braille machine available freely to all blind students in Ghana, Even our prisoners have not been left out. Through your great benevolence not only have you visited them to preach to them the gospel of salvation, but have caused many prisons with very poor living conditions to be renovated both in Ghana and elsewhere, to help even prisoners to serve their terms in dignity.
BUT ABOVE ALL THESE, I HAVE SEEN AT CLOSE RANGE YOUR HUMILITY AND SERVANT LEADERSHIP!
I HAVE SEEN A MAN WHO GREATLY LOVES GOD AND HIS WORK! ( eeh... going to church on Sunday early, and leaving sooooo late..... 3am; 5am; 7am and evening later! )
A GENUINE SERVANT OF GOD! NOT A HYPOCRITE! This is what most of your ministry fathers, peers, subordinates and ordinary church members know you to be!
THIS GENUINENESS, COUPLED WITH YOUR GREAT VISIBLE AND INVISIBLE ACHIEVMENTS ARE WHAT HAS INFORMED NATIONAL AND INTERNATIONAL , CHRISTIAN, GOVERNMENT, EDUCATIONAL AND COOPERATE LEADERS TO SEEK YOUR COUNSEL, HELP AND INPUT IN THESE AREAS.
You're not perfect, like all mortals, but you've tried , and trying hard to do your best for the Kingdom to come . Bishop May the Lord Himself bless you and keep you for many years to enable you continue to win the lost in Ghana and around the world for His glory and the expansion of His kingdom. We love you dearly! We appreciate you greatly! You are a rare example of a good leader! Happy, happy , happy birthday one more time Bishop Dag Heward-Mills! May you cross 90 years with ease in Jesus name!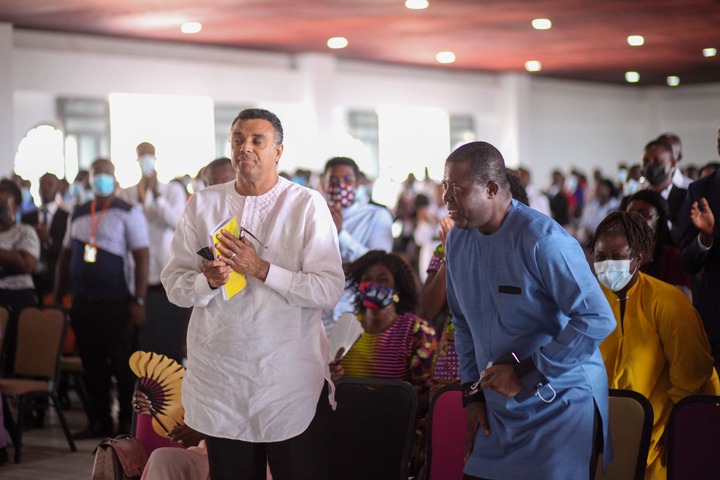 Content created and supplied by: MrsCelestial (via Opera News )
Opera News is a free to use platform and the views and opinions expressed herein are solely those of the author and do not represent, reflect or express the views of Opera News. Any/all written content and images displayed are provided by the blogger/author, appear herein as submitted by the blogger/author and are unedited by Opera News. Opera News does not consent to nor does it condone the posting of any content that violates the rights (including the copyrights) of any third party, nor content that may malign, inter alia, any religion, ethnic group, organization, gender, company, or individual. Opera News furthermore does not condone the use of our platform for the purposes encouraging/endorsing hate speech, violation of human rights and/or utterances of a defamatory nature. If the content contained herein violates any of your rights, including those of copyright, and/or violates any the above mentioned factors, you are requested to immediately notify us using via the following email address operanews-external(at)opera.com and/or report the article using the available reporting functionality built into our Platform See More