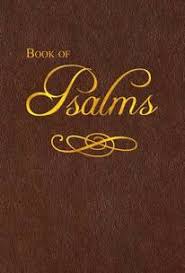 PSALM-7.PSALM-27.PSALM-34.PSALM-52.
Psalm 7:1-17
[1]O Lord my God, in You I take refuge and put my trust; save me from all those who pursue and persecute me, and deliver me,
[2]Lest my foe tear my life [from my body] like a lion, dragging me away while there is none to deliver.
[3]O Lord my God, if I have done this, if there is wrong in my hands,
[4]If I have paid back with evil him who was at peace with me or without cause have robbed him who was my enemy,
[5]Let the enemy pursue my life and take it; yes, let him trample my life to the ground and lay my honor in the dust. Selah [pause, and calmly think of that]!
[6]Arise, O Lord, in Your anger; lift up Yourself against the rage of my enemies; and awake [and stir up] for me the justice and vindication [that] You have commanded.
[7]Let the assembly of the peoples be gathered about You, and return on high over them.
[8]The Lord judges the people; judge me, O Lord, and do me justice according to my righteousness [my rightness, justice, and right standing with You] and according to the integrity that is in me.
[9]Oh, let the wickedness of the wicked come to an end, but establish the [uncompromisingly] righteous [those upright and in harmony with You]; for You, Who try the hearts and emotions and thinking powers, are a righteous God. [Rev. 2:23.]
[10]My defense and shield depend on God, Who saves the upright in heart.
[11]God is a righteous Judge, yes, a God Who is indignant every day.
[12]If a man does not turn and repent, [God] will whet His sword; He has strung and bent His [huge] bow and made it ready [by treading it with His foot].
[13]He has also prepared for him deadly weapons; He makes His arrows fiery shafts.
[14]Behold, [the wicked man] conceives iniquity and is pregnant with mischief and gives birth to lies.
[15]He made a pit and hollowed it out and has fallen into the hole which he made [before the trap was completed].
[16]His mischief shall fall back in return upon his own head, and his violence come down [with the loose dirt] upon his own scalp.
[17]I will give to the Lord the thanks due to His rightness and justice, and I will sing praise to the name of the Lord Most High.
Psalm 27:1-14
[1]THE Lord is my Light and my Salvation–whom shall I fear or dread? The Lord is the Refuge and Stronghold of my life–of whom shall I be afraid?
[2]When the wicked, even my enemies and my foes, came upon me to eat up my flesh, they stumbled and fell.
[3]Though a host encamp against me, my heart shall not fear; though war arise against me, [even then] in this will I be confident.
[4]One thing have I asked of the Lord, that will I seek, inquire for, and [insistently] require: that I may dwell in the house of the Lord [in His presence] all the days of my life, to behold and gaze upon the beauty [the sweet attractiveness and the delightful loveliness] of the Lord and to meditate, consider, and inquire in His temple. [Ps. 16:11; 18:6; 65:4; Luke 2:37.]
[5]For in the day of trouble He will hide me in His shelter; in the secret place of His tent will He hide me; He will set me high upon a rock.
[6]And now shall my head be lifted up above my enemies round about me; in His tent I will offer sacrifices and shouting of joy; I will sing, yes, I will sing praises to the Lord.
[7]Hear, O Lord, when I cry aloud; have mercy and be gracious to me and answer me!
[8]You have said, Seek My face [inquire for and require My presence as your vital need]. My heart says to You, Your face (Your presence), Lord, will I seek, inquire for, and require [of necessity and on the authority of Your Word].
[9]Hide not Your face from me; turn not Your servant away in anger, You Who have been my help! Cast me not off, neither forsake me, O God of my salvation!
[10]Although my father and my mother have forsaken me, yet the Lord will take me up [adopt me as His child]. [Ps. 22:10.]
[11]Teach me Your way, O Lord, and lead me in a plain and even path because of my enemies [those who lie in wait for me].
[12]Give me not up to the will of my adversaries, for false witnesses have risen up against me; they breathe out cruelty and violence.
[13][What, what would have become of me] had I not believed that I would see the Lord's goodness in the land of the living!
[14]Wait and hope for and expect the Lord; be brave and of good courage and let your heart be stout and enduring. Yes, wait for and hope for and expect the Lord.
Psalm 31:1-24
[1]IN YOU, O Lord, do I put my trust and seek refuge; let me never be put to shame or [have my hope in You] disappointed; deliver me in Your righteousness!
[2]Bow down Your ear to me, deliver me speedily! Be my Rock of refuge, a strong Fortress to save me!
[3]Yes, You are my Rock and my Fortress; therefore for Your name's sake lead me and guide me.
[4]Draw me out of the net that they have laid secretly for me, for You are my Strength and my Stronghold.
[5]Into Your hands I commit my spirit; You have redeemed me, O Lord, the God of truth and faithfulness. [Luke 23:46; Acts 7:59.]
[6][You and] I abhor those who pay regard to vain idols; but I trust in, rely on, and confidently lean on the Lord.
[7]I will be glad and rejoice in Your mercy and steadfast love, because You have seen my affliction, You have taken note of my life's distresses,
[8]And You have not given me into the hand of the enemy; You have set my feet in a broad place.
[9]Have mercy and be gracious unto me, O Lord, for I am in trouble; with grief my eye is weakened, also my inner self and my body.
[10]For my life is spent with sorrow and my years with sighing; my strength has failed because of my iniquity, and even my bones have wasted away.
[11]To all my enemies I have become a reproach, but especially to my neighbors, and a dread to my acquaintances, who flee from me on the street.
[12]I am forgotten like a dead man, and out of mind; like a broken vessel am I.
[13]For I have heard the slander of many; terror is on every side! While they schemed together against me, they plotted to take my life.
[14]But I trusted in, relied on, and was confident in You, O Lord; I said, You are my God.
[15]My times are in Your hands; deliver me from the hands of my foes and those who pursue me and persecute me.
[16]Let Your face shine on Your servant; save me for Your mercy's sake and in Your loving-kindness.
[17]Let me not be put to shame, O Lord, or disappointed, for I am calling upon You; let the wicked be put to shame, let them be silent in Sheol (the place of the dead).
[18]Let the lying lips be silenced, which speak insolently against the [consistently] righteous with pride and contempt.
[19]Oh, how great is Your goodness, which You have laid up for those who fear, revere, and worship You, goodness which You have wrought for those who trust and take refuge in You before the sons of men!
[20]In the secret place of Your presence You hide them from the plots of men; You keep them secretly in Your pavilion from the strife of tongues.
[21]Blessed be the Lord! For He has shown me His marvelous loving favor when I was beset as in a besieged city.
[22]As for me, I said in my haste and alarm, I am cut off from before Your eyes. But You heard the voice of my supplications when I cried to You for aid.
[23]O love the Lord, all you His saints! The Lord preserves the faithful, and plentifully pays back him who deals haughtily.
[24]Be strong and let your heart take courage, all you who wait for and hope for and expect the Lord!
Psalm 34:1-22
[1]I WILL bless the Lord at all times; His praise shall continually be in my mouth.
[2]My life makes its boast in the Lord; let the humble and afflicted hear and be glad.
[3]O magnify the Lord with me, and let us exalt His name together.
[4]I sought (inquired of) the Lord and required Him [of necessity and on the authority of His Word], and He heard me, and delivered me from all my fears. [Ps. 73:25; Matt. 7:7.]
[5]They looked to Him and were radiant; their faces shall never blush for shame or be confused.
[6]This poor man cried, and the Lord heard him, and saved him out of all his troubles.
[7]The Angel of the Lord encamps around those who fear Him [who revere and worship Him with awe] and each of them He delivers. [Ps. 18:1; 145:20.]
[8]O taste and see that the Lord [our God] is good! Blessed (happy, fortunate, to be envied) is the man who trusts and takes refuge in Him. [I Pet. 2:2, 3.]
[9]O fear the Lord, you His saints [revere and worship Him]! For there is no want to those who truly revere and worship Him with godly fear.
[10]The young lions lack food and suffer hunger, but they who seek (inquire of and require) the Lord [by right of their need and on the authority of His Word], none of them shall lack any beneficial thing.
[11]Come, you children, listen to me; I will teach you to revere and worshipfully fear the Lord.
[12]What man is he who desires life and longs for many days, that he may see good?
[13]Keep your tongue from evil and your lips from speaking deceit.
[14]Depart from evil and do good; seek, inquire for, and crave peace and pursue (go after) it!
[15]The eyes of the Lord are toward the [uncompromisingly] righteous and His ears are open to their cry.
[16]The face of the Lord is against those who do evil, to cut off the remembrance of them from the earth. [I Pet. 3:10-12.]
[17]When the righteous cry for help, the Lord hears, and delivers them out of all their distress and troubles.
[18]The Lord is close to those who are of a broken heart and saves such as are crushed with sorrow for sin and are humbly and thoroughly penitent.
[19]Many evils confront the [consistently] righteous, but the Lord delivers him out of them all.
[20]He keeps all his bones; not one of them is broken.
[21]Evil shall cause the death of the wicked; and they who hate the just and righteous shall be held guilty and shall be condemned.
[22]The Lord redeems the lives of His servants, and none of those who take refuge and trust in Him shall be condemned or held guilty.
Psalm 52:1-9
[1]WHY BOAST you of mischief done against the loving-kindness of God [and the godly], O mighty [sinful] man, day after day?
[2]Your tongue devises wickedness; it is like a sharp razor, working deceitfully.
[3]You love evil more than good, and lying rather than to speak righteousness, justice, and right. Selah [pause, and calmly think of that]!
[4]You love all destroying and devouring words, O deceitful tongue.
[5]God will likewise break you down and destroy you forever; He will lay hold of you and pluck you out of your tent and uproot you from the land of the living. Selah [pause, and calmly think of that]!
[6]The [uncompromisingly] righteous also shall see [it] and be in reverent fear and awe, but about you they will [scoffingly] laugh, saying,
[7]See, this is the man who made not God his strength (his stronghold and high tower) but trusted in and confidently relied on the abundance of his riches, seeking refuge and security for himself through his wickedness.
[8]But I am like a green olive tree in the house of God; I trust in and confidently rely on the loving-kindness and the mercy of God forever and ever.
[9]I will thank You and confide in You forever, because You have done it [delivered me and kept me safe]. I will wait on, hope in and expect in Your name, for it is good, in the presence of Your saints (Your kind and pious ones).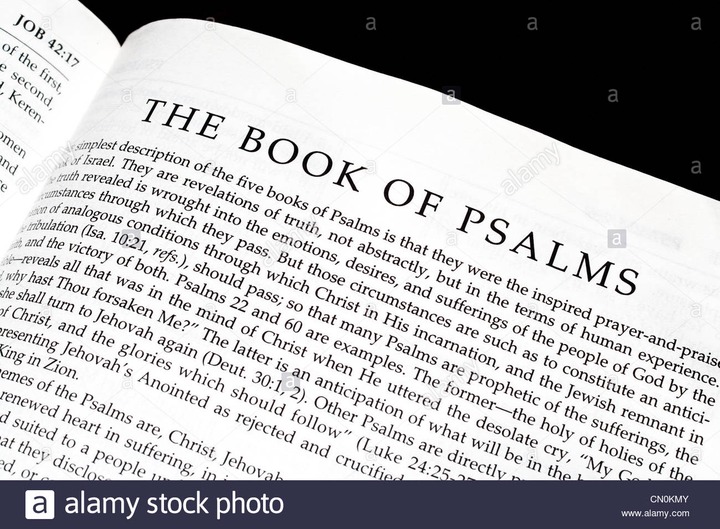 Content created and supplied by: Columbus14 (via Opera News )