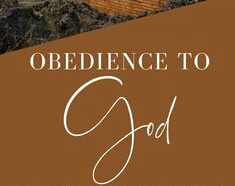 And being found in fashion as a man,he humbled himself and becane obedient unto death,even the death of the cross (Philippians 2:8).
If you are under the law,you will struggle to live a righteous life.The law has to do with your natural strength while grace has to do with supernatural ability.
The first Adam failed to obey God commandment but the last Adam walked in full obedience to God's commandment.Jesus is the last Adam and he lived a lifestyle of obedience unto God through the empowerment of the Holy Spirit during his lifetime and ministry on earth.
The Holy Spirit who is the Spirit of grace makes it possible for us to walk in full obedience to God's Word.He gives us supernatural strength to walk in Gods will.Stay connected to the vine by fellowshipping with the Holy Spirit through the Word of God and Prayer and you will be strengthened to do God's will.Halleluyah!
Jesus was tempted in every way you can possibly imagine yet was obedient till death on the cross.Jesus prayed often and was full of the Word of His grace.The same grace or supernatural ability that made it possible for Jesus to live an obedient lifestyle unto God is now at work in us through the indwelling of the Holy Spirit.Praise God forevermore.
Acknowledge this grace at work in you today and be strengthened in your innerman to obey God at all times.
God bless you.
Prayer of Salvation
Dear Lord Jesus I believe that you died and rose on the third day for my complete salvation.I acknowledge that I am a sinner.Please forgive and wash my sins by your righteous blood.Come into my heart and lead me by your power in the way of everlasting life.Amen
Please join a bible believing church and let us grow together as we look for the appearing of the Lord Jesus unto salvation.
Please like and share to bless others.Thank you.
Content created and supplied by: KennycoG (via Opera News )