Rastas, as members of the movement are called, see their past, present, and future in a distinct way. Drawing from Old Testament stories, especially that of Exodus, they "overstand" (rather than understand) people of African descent in the Americas and around the world to be "exiles in Babylon." They believe that they are being tested by Jah (God) through slavery and the existence of economic injustice and racial "downpression" (rather than oppression). Looking to the New Testament book of Revelation, Rastas await their deliverance from captivity and their return to Zion, the symbolic name for Africa drawn from the biblical tradition. Ethiopia, the site of a dynastic power, is the ultimate home of all Africans and the seat of Jah, and repatriation is one goal of the movement. Many (though not all) Rastas believe that the Ethiopian emperor, His Imperial Majesty Haile Selassie I, crowned in 1930, is the Second Coming of Christ who returned to redeem all Black people. The movement takes its name from the emperor's precoronation name, Ras Tafari.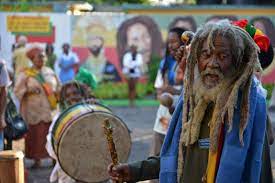 Jamaican Rastas are descendants of African slaves who were converted to Christianity in Jamaica by missionaries using the text of the King James Version of the Bible. Rastas maintain that the King James Version is a corrupted account of the true word of God, since English slave owners promoted incorrect readings of the Bible in order to better control slaves. Rastas believe that they can come to know the true meanings of biblical scriptures by cultivating a mystical consciousness of oneself with Jah, called "I-and-I." Rastas read the Bible selectively, however, emphasizing passages from Leviticus that admonish the cutting of hair and beard and the eating of certain foods and that prescribe rituals of prayer and meditation. Based on their reading of the Old Testament, many Rasta men uphold patriarchal values, and the movement is often charged with sexism by both insiders and outsiders. "Iyaric," or "Dread-talk," is the linguistic style of many Rastas, who substitute the sound of "I" for certain syllables. Rastafari "livity," or the principle of balanced lifestyle, includes the wearing of long hair locked in its natural, uncombed state, dressing in the colours of red, green, gold, and black (which symbolize the life force of blood, herbs, royalty, and Africanness), and eating an "I-tal" (natural, vegetarian) diet. Religious rituals include prayer services, the smoking of ganja (marijuana) to achieve better "itation" (meditation) with Jah, and "bingis" (all-night drumming ceremonies). Reggae music grew out of the Rastafari movement and was made popular throughout the world by the Jamaican singer and songwriter Bob Marley.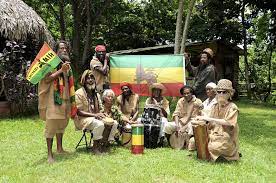 The basic tenets of early Rastafari, according to preacher Leonard Howell, included some very strong statements about racial issues, as might be expected in the religion of an oppressed people living in exile: Hatred of Whites Superiority of Blacks, Blacks are God's chosen people, Blacks will soon rule the world, Revenge on Whites for their wickedness, Whites will become the servants of Blacks, The negation, persecution and humiliation of the government and legal bodies of Jamaica, Repatriation: Haile Selassie will lead Blacks back to Africa and Acknowledging Emperor Haile Selassie as God, and the ruler of Black people.From the 1930s until the mid 1970s most Rastafarians accepted the traditional Rastafari beliefs.
But in 1973 Joseph Owens published a more modern approach to Rastafari beliefs. In 1991 Michael N. Jaggedness revised Owens's ideas, devising his own systematic approach to Rastafari theology and providing an insight into the changes in the group's beliefs.
The key ideas in contemporary Rastafari are: The humanity of God and the divinity of man, this refers to the importance of Haile Selassie who is perceived by Rastafarians as a living God. Likewise it emphasises the concept of God revealing himself to his followers through his humanity. God is found within every man, Rastafarians believe that God makes himself known through humanity. According to Jagessar "there must be one man in whom he exists most eminently and completely, and that is the supreme man, Rastafari, Selassie I." It is very important to see all historical facts in the context of God's judgement and workings. Salvation on earth and Salvation for Rastafarians is an earthly idea, rather than heavenly. The supremacy of life which Human nature is very important to Rastafarians and they should preserve and protect it. Respect for nature, this idea refers to the importance and respect Rastafarians have for animals and the environment, as mirrored in their food laws. The power of speech and Speech is very important to Rastafarians, as it enables the presence and power of God to be felt. Evil is corporate. Sin is both personal and corporate. This means organisations such as the International Monetary Fund are responsible for Jamaica's fiscal situation, and that oppression is in part influenced by them.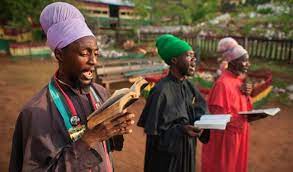 Judgement is near which corresponds to the nearness of judgement for Rastafarians when they will be given greater recognition. The priesthood of Rastafarians are the chosen people of God and are on earth to promote his power and peacefulness. To modern Rastafari the most important doctrine is belief in the divinity of Haile Selassie I. Although some Rastafarians still regard Haile Selassie as the black messiah, many modern adherents do not see this as central to their faith. Haile Selassie's death in 1975 was described by his followers as his 'disappearance', since they refused to believe he has passed away. Following his death and the increased acceptance of Jamaican culture in society many Rastafarian beliefs have been modified.
Content created and supplied by: Ginola14 (via Opera News )
Opera News is a free to use platform and the views and opinions expressed herein are solely those of the author and do not represent, reflect or express the views of Opera News. Any/all written content and images displayed are provided by the blogger/author, appear herein as submitted by the blogger/author and are unedited by Opera News. Opera News does not consent to nor does it condone the posting of any content that violates the rights (including the copyrights) of any third party, nor content that may malign, inter alia, any religion, ethnic group, organization, gender, company, or individual. Opera News furthermore does not condone the use of our platform for the purposes encouraging/endorsing hate speech, violation of human rights and/or utterances of a defamatory nature. If the content contained herein violates any of your rights, including those of copyright, and/or violates any the above mentioned factors, you are requested to immediately notify us using via the following email address operanews-external(at)opera.com and/or report the article using the available reporting functionality built into our Platform See More