Bible is a very powerful and holy book that contains the word of God or the scriptures. Every one is suppose to obey the Bible, this powerful book can drive away demons and any evil spirit if used with faith. However, a girl did something with the Bible that is indeed causing stir, let's get started then.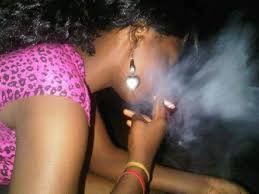 A lady was smoking in the night while reading a Bible, this is very unusual. People or should I say witnesses were like is she okay?Others were like, do she really know what she is holding or reading?
What at all is she reading that enables her or gives her the courage to smoke? Do she go to church? Is she a human or a witch, demon or an evil spirit transformed into a human? Many reactions were driven from the lady's attitude. Am also like do she know God or fear him at all?
What about you, what do you think?
Please like, share, comment and follow.
Content created and supplied by: agyemanb75 (via Opera News )