The President, H. E Nana Addo is undoubtedly loved by many and hated by some. This is true of every leader and influential person and indeed, one that even the Bible endorses when it said that: ""Woe to you, when all people speak well of you,... - Luke 6:26"
Interestingly, with such huge following of both groups of lovers and haters, each of these are eager to know more and detailed about you and that is why many bloggers have been a disservice to many, as they have produced content that has not been thoroughly researched, about the Presidents life and family.
One of such two assertions is that, H. E Nana Addo's first born daughter is Gyankroma, followed by the naturally fair coloured beauty entrepreneur, Valarie Obaze, but this widely circulated information is totally untrue. You want to know the President and be truly informed about his offspring's and this is why, this well researched and factual all-you-need-to-know about the President's first daughter, is all unpacked here, just for your reading pleasure. So here we go please. DONT FORGET TO SHARE, IF YOU LOVE THIS.
Well, President Nana Addo welcomed his first born into the world, whiles he was legally unmarried and a student at the University in the United Kingdom. He and the mother (Virginia Hesse) of his first born (Valarie Obaze) will go on and have a cool relationship, even appointing her as Ghana's ambassador to the Czech Republic from 2017 when he was elected President to 2021, when she had to retire truly, due to old age.
It must be noted that, Nana Addo initially went to England to study for his O-Level and A-Level examinations at Lancing College, Sussex, where he was nicknamed 'Billy. He began the Philosophy, Politics and Economics course at New College, Oxford in 1962, but left soon afterwards
This relationship with the ever beautiful Virginia Hesse and the welcoming of their first daughter, though they never married and in the specific case of Virginia Hesse, remained unmarried and never gave birth to another child ever again, aside Valarie Obaze, who is now doing very well and is married to a young Nigeria business mogul, Stanley Obaze.
Fast forward, between 1971 when he had passed out as a lawyer in the UK after he had returned to Ghana in 1964 for a Bachelors Degree in Economics at the University of Ghana, Legon, (completing in 1967), Akufo-Addo worked with the Paris office of the U.S. law firm Coudert Brothers. In 1979, before he would later on relocate to Ghana permanently to co-founded the law firm Prempeh and Co.
It was during his time in France, that Nana Addo, for the first time, legally got married to a Nigerian, he had fallen in love with, many years later, before he ever loved the current First Lady, Rebecca Akuffo-Addo. The woman named, Femi Atta, was the daughter of a renowned Nigerian politician now late, Adamu Atta from Adavi Local Government of Kogi State, who was the first ever, civilian governor of the now defunct Kwara State, in Nigeria.
Interestingly, this first wife President Nana Addo, will later on get divorced and move on in life, has her junior biological sister named Saratu Atta, right next to the President, as Ghana's Personal Secretary/Executive Assistant to the President.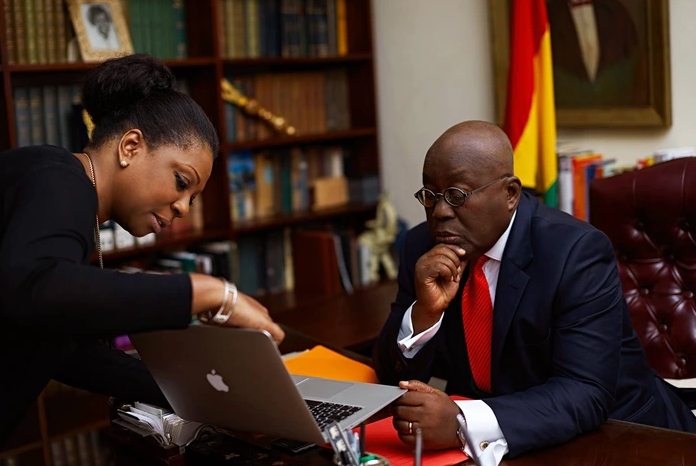 H. E Nana Addo with the junior Sister of his First Wife, Who he appointed as his Executive Assistant
Reports have it that, H. E Nana Addo Dankwa Akufo Addo had an awesome time in Paris, where he lived together for many years with Remi Atta and they were blessed with Gyankroma Akuffo Addo. Very little is known about Remi Atta's whereabouts now, but its most likely she is in France. Our President is very fluent in French and guess you now know, where he picked it u from? from his long stay in France.
Gyankroma Akuffo Addo, who is therefore officially the second born of the President is also known as Funmi, a Yoruba name, but she barely uses it now and that is why, many fake bloggers when they chanced on the first born's "Valarie Obaze" surname, rather described her as the President's daughter with the Nigerian wife, but you know its untrue now.
Many of such reports also have it that, Gyankroma Funmi Akufo-Addo (her now inactive Facebook page LINK) was born and raised in the UK, this is also untrue, as she was born in France, as I have presented few paragraph's behind.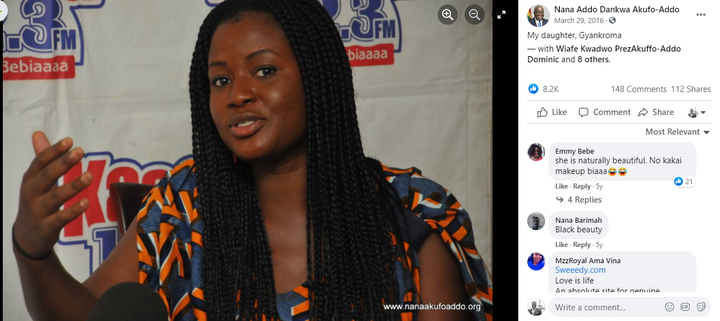 It must be acknowledged that, very little of Gyankroma Akufo-Addo is known publicly aside for instance, been the Director at Ghana's Creative Arts Council. The Council, with its plush offices located at E Kanda Road, Off Olusegun Obasanjo Way – Achimota Road, has a vision statement tat reads that, "Ghana has the potential for a thriving, dynamic creative arts industry. From music, to fashion, theatre, architecture and the visual arts and design : the Ghanaian creative vision is being recognized as a strong force to be reckoned with."
According to its website, the mission of the Ghana Creative Arts Council, which was started under the President's first term in office exist so that:
"The enlightenment and entertainment the creative arts can bring will play an important role in local regeneration and enrichment of the lives in our communities, enhance the tourism sector of the country, as well as inspire education and the development of talent and innovation among the younger generation.
Arts and culture can also influence policy: it's often the vanguard of positive social and political change. By providing employable tools and education for students and artists in the industry with entrepreneurship skills and knowledge that develops our disciplines, we can make a positive contribution to society and the economy while generating new sources of income to support our creative ambitions," it read.
It must be recalled that, her appointment as the Director at the Creative Arts Council evoked its own controversies, top among them, was the attempt by Lawyer Sammy Gyamfi, to tag it as a "Family and Friends" government, just as when Valarie Obaze, rightly got a duty free shop at Airport Terminal three (3), constructed during John Mahama's tenure, as one of his legacy projects, to operate.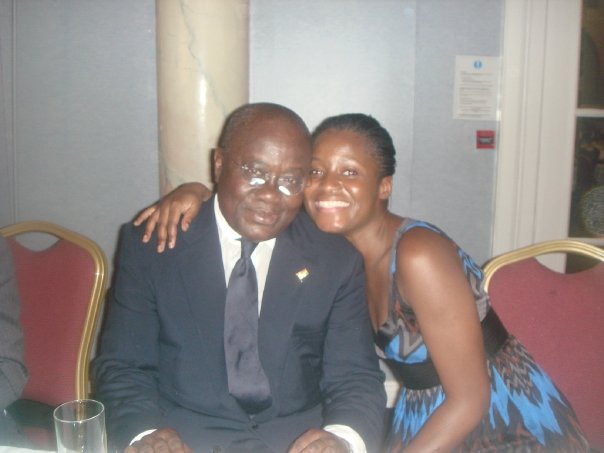 Throwback Picture of the loving father with his second born daughter, Funmi.
One of Gyankroma's famed achievements, was the fact that, under the auspices of the Council she leads, she literally facilitated the 'Arts for All' project which saw interchanges within Accra decorated with beautiful paintings. The Council, inaugurated in 2018 and was made up of Mark Okraku Mantey, Catherine Afeku, Gyankroma Akufo-Addo and Bibi Bright.
Interestingly, whereas the President's second born, Gyankroma Funmi Akuffo Addo is still at post as the Director, Mark Okraku Mantey has become the Deputy Minister of Tourism (supervising the government's creative arts industry initiative), whiles its unclear, if Bibi Bright is still at post.
Gyankroma was cited by some political persons, as engaged in corruption, in three specific instances. In the first, her name was associated with an expensive property in the UK, where she also based after leaving France. However, in a press release to address the issue head on, she wrote that: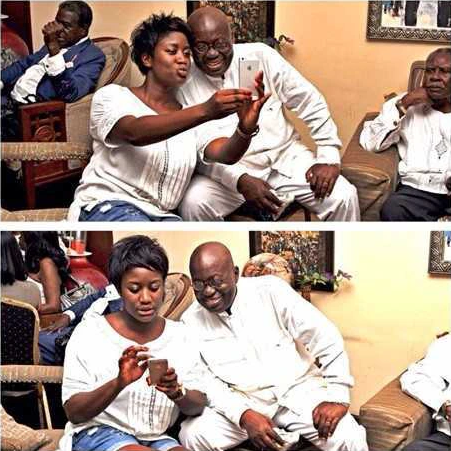 "My attention has been drawn to a story published by the website "www.thenewstateman.com" titled "Real Estate Collections: London's Property Market receives it's new top customer, Gyankroma Akufo-Addo from Ghana at a whopping £9.3m". This publication is nothing but an outright lie and a total fabrication. I do not own any properties in London or in any part of the world, let alone own a "5 bed Edwardian palatial" building, valued at £9.3 million mansion.
It is important to state that this website, purposely built for publishing falsehoods, is the same website that indicated recently that my father, President Akufo-Addo, was bringing a bill to Parliament to legalize same-sex marriage - another fabrication. Obviously the strategy by political opponents is to bandy more of such baseless stories and falsehoods around, employing the use of fake websites, with the aim of creating disaffection for the President and his administration.
I urge the good people of Ghana to ignore this and other publications from this fake news portal, and treat it with the contempt that it deserves," she wrote.
Secondly, she was rumoured to have airlifted some Ghanaian fans which left them stranded but she denied this also in July 2019. The Ministry of Youth and Sports (MOYS) had described as false and frivolous allegations that Gyankroma Akufo-Addo, the daughter of President Nana Addo Dankwa Akufo-Addo was awarded a contract to airlift members of the Black Stars Supporters Union to the 2019 African Cup of Nations in Egypt.
According to a statement signed by the then Minister of Youth and Sports, Isaac Kwame Asiamah at that time, the publications allege that Ms Akufo-Addo was contracted to airlift the Black Stars Supporters Union to Egypt and provide them with hostel and food for the period of the tournament. "The publications went on to further allege that it cost government $20,000 for each supporter to be transported, hence Ms. Akufo-Addo having pocketed a total amount of $2,400,000 for airlifting 120 supporters to the tournament," the statement had said.
However, the Ministry had said, the false reports were a well-calculated attempt to soil the name of the President of the Republic because the contract was awarded to White Oak Limited, a reputable agency with an impressive experience in the travel and tour business.
Again, with rumours that, she had abandoned her job at the Creative Arts Council in October 2019, the Ministry of Tourism, Arts and Culture had denied reports claiming Gyankroma Akufo Addo, daughter of President Nana Akufo-Addo had abandoned her job at the Creative Arts Council.
Making reference to a publication by entertainmentgh.com dated January 10, 2018, entitled Prez. Akufo Addo's Daughter Abandons job at Creative Arts Council, the Ministry said the story was false, as according to the Ministry, Akufo Addo's daughter is still at post as the Director of the Creative Arts Council.
"The Ministry, therefore, wishes to set the record straight because of the mere false allegations by some faceless and mischievous groups or individuals, bent on tarnishing the image of the President's Daughter in the person of Ms Gyankroma Akufo Addo, who is the Director of the Creative Arts Council. The publication was engineered clearly on the premise of parochial and vested benefits, which are clearly not in the interest of the Creative Arts Council which MoTAC together with the said council is working tirelessly to champion their course, by improving their lot." The Ministry said
In conclusion, very little, is known about her marriage and children, as she tries to protect their identity from the politics of Ghana, that can be sometimes very messy and rough sometimes, a game, well played by both leading parties in Ghana.
It is worth noting finally that, Gyankroma is unmarried but is blessed with a daughter as can be seen here, where she had shared a memorable picture of her some few years back at https://web.facebook.com/photo.php?fbid=10157865074425106&set=pb.832320105.-2207520000..&type=3, where you can browse through her few lovely pictures as well.
KINDLY SHARE, IF YOU GOT TO KNOW THE PRESIDENT AND HIS SECOND DAUGHTER, BETTER, FROM THESE WELL RESEARCHED FACTS, HUMBLY SHARED.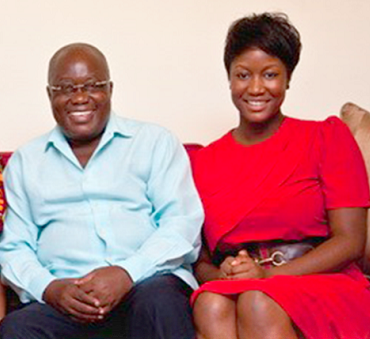 Content created and supplied by: MrsCelestial (via Opera News )
Opera News is a free to use platform and the views and opinions expressed herein are solely those of the author and do not represent, reflect or express the views of Opera News. Any/all written content and images displayed are provided by the blogger/author, appear herein as submitted by the blogger/author and are unedited by Opera News. Opera News does not consent to nor does it condone the posting of any content that violates the rights (including the copyrights) of any third party, nor content that may malign, inter alia, any religion, ethnic group, organization, gender, company, or individual. Opera News furthermore does not condone the use of our platform for the purposes encouraging/endorsing hate speech, violation of human rights and/or utterances of a defamatory nature. If the content contained herein violates any of your rights, including those of copyright, and/or violates any the above mentioned factors, you are requested to immediately notify us using via the following email address operanews-external(at)opera.com and/or report the article using the available reporting functionality built into our Platform See More