Praise be to Allah, and prayers and peace be upon the Prophet Mohammad (S.A.W.) and his sanctified and dedicated Companions (R.A.), as well as all their followers till the Day of Judgment.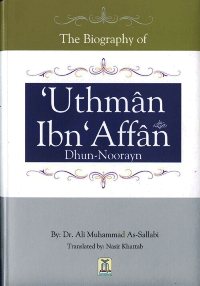 In this article, we present a brief-biography of the third caliph Uthman ibn Affan (R.A.) 'Dhun-Nurain' to extract lessons and examples from the sides of this unique character.
His Ancestry, Family and Attributes:
His full name is Uthman ibn Affan bin Al-Aas bin Umayyah bin Abdul Shams bin Abd Manaf. He was born in Makkah on the sixth year of Amul-Fil (the year of the Elephant). He was about five years younger than the Prophet (S.A.W.). His father died before Islam i-e pre-Islamic period. His mother's name was Arwa bint Kurayz and she died during the Caliphate of his son Uthman (R.A.). He became Muslim early and participated in the two Migrations: first to Abyssinia (Ethiopia) and the second to Madinah.
He married Ruqayyahh bint Mohammad, daughter of the Prophet Mohammad (S.A.W.) and she died on the night of Battle of Badr. The Prophet (S.A.W.) then married her sister Umm Kulthum bint Mohammad, to him.
His Title "Dhun-Nurain":
The scholars say that no one is known to have married two daughters of a Prophet except him. For this reason, he was nicknamed 'Dhun-Nurain' (the one with the two lights). He was one of the ten given the tiding of Paradise and one of the Companions who compiled the Quran.
Uthman (R.A.) married eight wives in all and he had nine sons from five wives.
His Physical Appearance:
He was neither short nor tall with broad shoulder and thick hair on his head. He had a long beard and was good looking. It is said that he was the most handsome of the people.
His early life in the Pre-Islamic Society:
In the pre-Islamic society, Uthman (R.A.) was among the best of his people. He was of high status, very wealthy, extremely modest, and eloquent in speech. His people loved him dearly and respected him. He never prostrated to any idol and had never committed any immoral action even before Islam. He also did not drink alcohol before Islam.
He was well versed in the knowledge of lineages, proverbs and the history of important-events. He travelled to Syria and Ethiopia and mixed with non-Arab people, learning things about their lives and customs that no one else knew. He took care of the business that he had inherited from his father and his wealth grew. He was regarded as one of the men of Banu Umayyah clan who were held in high esteem by all of Quraish. Thus, Uthman (R.A.) was regarded as being of high status among his people and he was loved dearly.
His Conversion to Islam:
Uthman (R.A.) was thirty-four years old when Abu Bakr Al-Siddiq (R.A.) called him to Islam and he did not hesitate at all and responded immediately to the call of Abu Bakr (R.A.). He was the fourth man to embrace Islam after Abu Bakr (R.A.), Ali ibn Talib (R.A.) and Zaid ibn Harithah (R.A.).
To be continue.... Pls share to your muslim brother or sister.
Content created and supplied by: [email protected] (via Opera News )