Prophetess Vivian Boakye, Founder and leader of Heaven of Yaweh Prayer Ministry at Akyem Nsutam in the fanteakwa South district in the eastern region has revealed that no Christian should be allowed to stay in the church after 7 years when poor.
The nation prophetess, Vivian Boakye (Mrs) said Christians are not supposed to be poor like we see today and therefore need to be sit up.
She made this statement yesterday at her church during the first day of their one week revival and based her interpretation on Deuteronomy 15. "At the end of every seven years thou shalt make a release.
2 And this is the manner of the release: Every creditor that lendeth ought unto his neighbour shall release it; he shall not exact it of his neighbour, or of his brother; because it is called the Lord's release.
3 Of a foreigner thou mayest exact it again: but that which is thine with thy brother thine hand shall release;
4 Save when there shall be no poor among you; for the Lord shall greatly bless thee in the land which the Lord thy God giveth thee for an inheritance to possess it:
5 Only if thou carefully hearken unto the voice of the Lord thy God, to observe to do all these commandments which I command thee this day.
6 For the Lord thy God blesseth thee, as he promised thee: and thou shalt lend unto many nations, but thou shalt not borrow; and thou shalt reign over many nations, but they shall not reign over thee.
7 If there be among you a poor man of one of thy brethren within any of thy gates in thy land which the Lord thy God giveth thee, thou shalt not harden thine heart, nor shut thine hand from thy poor brother:"
She then emphasized clearly that until they live right, they can't be rich. Prophetess Vivian Boakye urged her congregants to live right with God and surely they will not be poor.
"After 7 years in the church, if you are still poor you need to stop. Christians must not be poor." - She maintained.
Prophetess Vivian Boakye came to limelight after making a pronouncement that all women including female pastors who wear trousers shall not make it to heaven.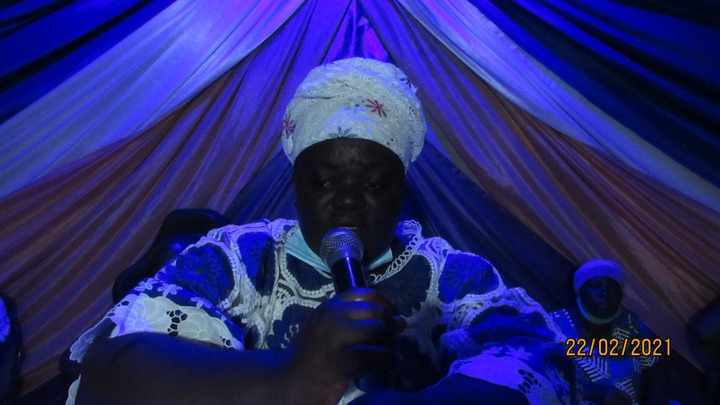 By: todayaccuracy.com
Content created and supplied by: todayaccuracy (via Opera News )