Please, open the + follow link at the top right side of your phone or laptop to read more interesting, factual, and well researched content from us. Thanks for opening.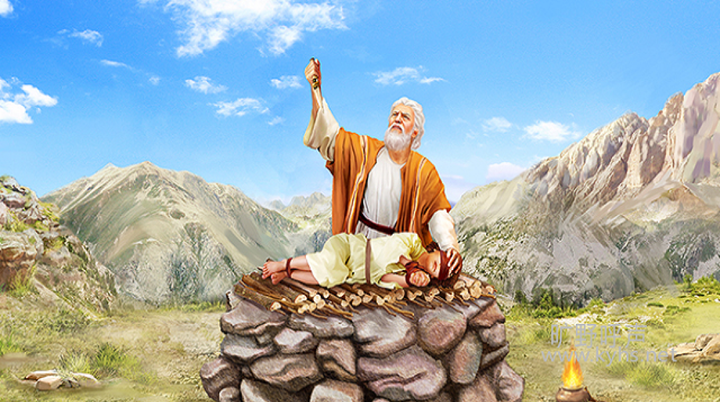 From the beginning of life, men have offered various sacrifices as a form of thanksgiving to God for the innumerable blessings received from Him. It is strongly documented and believed that God created the world and all that is in it, both visible and invisible.Psalms 24:1 (A Psalm of David) "The earth is the LORD'S, and the fulness thereof; the world, and they that dwell therein".
Plants and animals and all humanity were created by God. To show appreciation and gratitude to our creator, it is required of men to offer pleasing, spotless and acceptable sacrifice to this immortal God. Our maker cherishes better and clean sacrifices because all things were made by Him. Our sacrifice is a form of giving back a small fraction of what we have received from Him. The small fraction is expected to be spotless,decent and clean without any blemish or fault.
In the churches today, our sacrifice to God is given in the form of our personal contribution to church growth, offering, tithes, first fruit offering and other offerings, donations etc. All these sacrifices are given to God through the church and the presbytery. These sacrifices are either accepted or rejected by God. The Lord loves a cheerful giver(2Corinthians 9:6). Any sacrifice that is not given wholeheartedly to God will be rejected by Him though pastors will put them in the church treasury. God has generously giving the whole world for our dominion. He therefore expects humanity to show gratitude by offering the best as a form of sacrifice to him.
There are men in the bible whose sacrifices pleased God. They offered the best of what God had given them as a form of sacrifice. God accepted these sacrifices and blessed the givers abundantly. There are others whose sacrifices were rejected by God for reasons better known to Him because God Himself knows the heart of all men.
This short piece will talk about these men whose sacrifices were accepted by God.He did not only accept these sacrifices but also openly recognised them and blessed the givers in a special manner to encourage others to follow suit. Let's set the ball rolling.
(1) Abel, the son of Adam and Eve.
Abel was a blood brother of Cain and the two were sons of Adam and Eve. These men were the earliest settlers on the land created by God. Cain was a farmer whereas Abel was Shephered. The two siblings lived peacefully together for many years.
In the process of time, the two blood brothers decided to show gratitude to God for giving them dominion over all the creation. Cain brought the first fruit of the crops to offer it as a sacrifice to his maker. The unfortunate thing was that, God did not accept Cain offering. This changed his mood into complete worry and shame.
Abel also brought the firstling of the sheep to offer it as a living sacrifice to God. Immediately, God accepted Abel sacrifice and the aromatic smell of the smoke ascended straight into the sky to the throne of God. Cain blamed Abel for the rejection of his sacrifice and killed him. God punished Cain by making him a wanderer on the land.
Abel offered a pleasing sacrifice to God and it was accepted. Cain offered a dishonoured offering and it was outrightly rejected. An offering to God must be more honourable. Don't try to give what you don't like to God. It will be rejected and counted as sin for trying to cheat the creator and maker of all things.
(2) Abraham, the father of faith and a prophet of God.
Abraham was married to Sarah for several years without an issue. Sarah enticed her husband to sleep with her maid Hagar to give the former a child. Hagar conceived and gave birth to Ishmael but God still sent an angel to promise Abraham that Sarah will give him a legitimate son to inherit him. After 19 years, the promised was fulfilled and Sarah gave birth to Isaac.
When Isaac grew God asked Abraham to offer Isaac back to him as a form of sacrifice. It was difficult but Abraham obeyed without questioning God. He set off early dawn to mountain Moriah to offer his only son as a sacrifice to God. The altar was prepared and the child was firmly tied on it. Abraham lifted the knife to slay his son Isaac. Then God stopped him and provided a ram for Abraham to do the sacrifice. Infact, from that day, Abraham became a friend of God. God blessed him abundantly and promised to multiply his descendants as the stars of heaven. Abraham sacrifice was accepted by God and he received greater blessings for obeying the voice of God. There are people today who blatantly refused to heed God instruction to make some sacrifices to the church. These people should change and obey the voice of God like Abraham to receive manifold blessings from heaven.
(3) Manoah and His Wife, Sampson parents.
Manoah was a man from the city of Zorah and from the family of Dan. This noble man married a barren woman and they lived together for many years without a child. Manoah wife was a woman of strong faith. She prayed liked Hannah for a child and God heard her prayers.An angel from Heaven was sent to deliver a message of hope to the married couple. The messenger from heaven assured them that her wife will give birth to a son who shall bring deliverance to Israel from the Philistine captivity.(Judges 13)
The angel talked to the woman and sent her to call the husband. When they finished talking, Manoah asked for the name of the angel but was denied. Then Manoah wanted to prepare food for the angel but the angel advised him to kill the animal and offer it as a sacrifice to God which he did.
Then instantly the angel ascended in the flame of the sacrifice up to sky and disappeared into heaven. Mr and Mrs Manoah sacrifice was a sweet scented aroma in the nostrils of the lord. It climbed up straight to heaven and the angel ascended in the smoke unto heaven.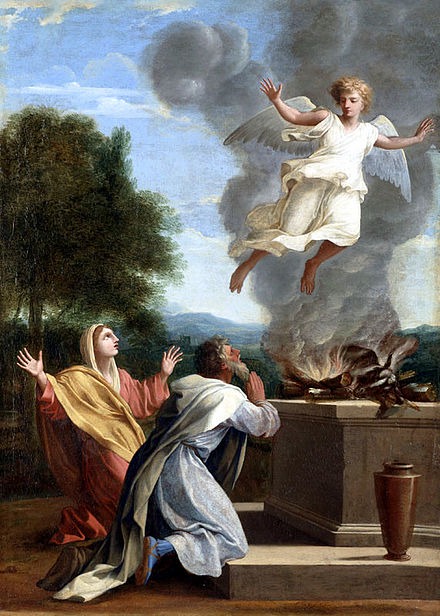 Sampson was born afterward and began to deliver his people from philistine bondage.He ruled the Israelites for over 20 year until his death.
(4) Solomon, a son of King/Prophet David.
Solomon was a son of King/Prophet David with Bathsheba as his mother. He became the heir to the throne after his father had become very old.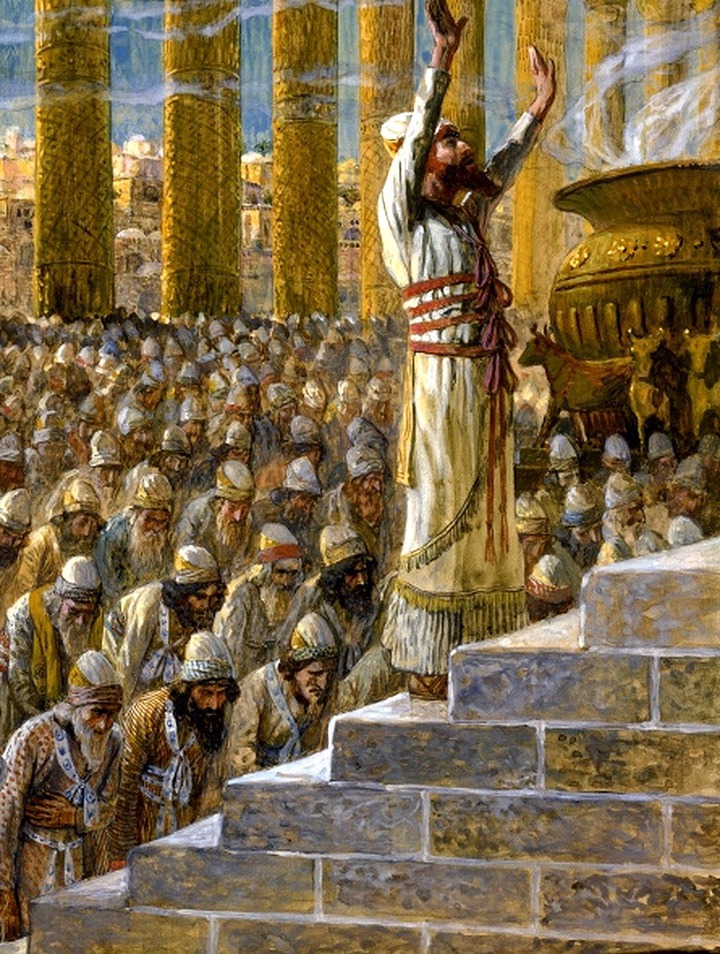 Solomon offered great sacrifice for the lord during the dedication of the temple.He built a massive ultra modern, excellently beautiful temple for the lord at Jerusalem. On the day of dedication of the temple, solomon offered twenty two thousand oxen (22,000) plus hundred and twenty thousand (120,000) sheep as sacrifices on the altar (2 Chronicles 7:5). God was so pleased with Solomon sacrifice. He revealed Himself to Solomon in the night and asked him to name his request and promised to bless him beyond his requests. Solomon asked for wisdom to rule the people of Israel. The lord blessed him with wisdom and abundant prosperity.
(5) Hannah, the wife of Elkanah and mother of prophet Samuel.
Hannah was an elder wife of Elkanah. They married for several years but Hannah was barren and could not bear him a child. Elkanah married another wife called Peninah who bore him several children. This rival mocked Hannah on several occasions due to her childlessness. Hannah was deeply troubled. She went to the temple one day and wept bitterly in prayers to the lord for a child. She promise to give back the child to God as a form of sacrifice.(1 Samuel 1&2)
Eli, the prophet mocked Hannah under presumption that she was drunk. When he saw her seriousness, he blessed her and prophesy blessings over her life.
The following year, Hannah gave birth to Samuel. She brought the young boy back to God as a form of sacrifice. Samuel stayed in the house of the lord all the days of his life. God blessed Hannah with several other children for honouring his promise.
(6) Jabez sacrificed his only daughter to God.
Jabez was neglected and ostracised. But one day he decided to make a powerful prayer request to God. He asked God to enlarge his coast and grant him recognition in his family. God answered his prayer. He led his family in a war to victory. While setting off for the battleground, he promised God that, should God grant him victory, anything he set his eyes first on his return shall be sacrificed to God. He won the battle. While returning home, his only daughter run to hug him. He was deeply sorrowful but he remembered his promise. He offered her only daughter as form of sacrifice by giving her to serve the lord all the days of her life just like Samuel. This sacrificed pleased the lord greatly.(1 Chronicles 4:10).
(7) The centurion who build a Synogue for the people of Israel (Luke 7:5).
There was a powerful and highly respected centurion in Israel whose servant was very sick. When he heard the miracles of Jesus, he sent his servants to call him to come home and heal the servant. As soon as the messengers brought the message to Jesus, the disciples of Jesus immediately charged the Lord to go with them because he is worthy for he had build a Synogue (church) for the nation. What bigger sacrifice could a person give to God than to build a whole edifice for people to assemble and worship God?. What can you do for the lord today? Do something greater for God. God will bless you abundantly. Your sacrifice today will become a memorial for you several ages to come before God.
(8) The widow's mite.(Luke 21:1-4)
As the rich men from the city of Jerusalem put their offering in the offering box, a certain poor wretched looking widow also dropped into the box all her last money. Jesus saw it and praise the woman for her great sacrifice to God. Even though her mite was just a coin, it was all her life savings and God was very pleased with it. It stands to reason that, if you have ten thousand dollars in your pocket and offers two thousand to the lord and another person has just hundred dollars and put it in the offering box, the latter has done better than the rich person with ten thousand dollars.
These are the spotless, clean,sacrifices of men that pleased God in the bible and they were rewarded handsomely.
NB: The pictures displayed in the article are for illustrative purposes only.
Thanks for reading
Like and share.
Follow and comment.
Content created and supplied by: RainbownewsGh_official (via Opera News )