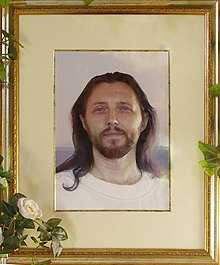 Sergey Anatolyevitch Torop was born on 14th January 1961 in Krasnodar in Russian SFSR. He is popularly known as Vissarion (he who gives new life) and is a Russian mystic and cult leader. Torop claims that on 18 August 1990 when he was 29, he had a revelation that he was the reincarnation of Jesus Christ. He first spoke publicly about his claim in Minusinsk on 18 August 1991. He founded the Church of the Last Testament also known as the Community of Unified Faith with its head church located in the Siberian Taiga in the Minusinsk Depression east of Abakan in the small settlement of Petropavlovka. As Vissarion he teaches reincarnation, veganism, and apocalypse.
He has around 4,000 followers called Vissarionites living in the settlement and a further 6,000 followers around the world. Sergey Anatolyevitch Torop was born in Krasnodar to Anatoly Torop and Nadezhda. At 18 he began compulsory service by enlisting in the Red Army becoming a sergeant working on building sites in Mongolia followed by three years as a factory metal worker in Minusinsk, Siberia. In the town, he worked as a patrol officer before losing his job in 1989. Reported to have gained nine commendations during his five years of service, he was made redundant.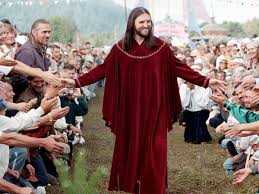 Torop claims that in 1990 he was reborn as Vissarion meaning he who gives new life claiming to be a returned Jesus Christ. In his system this does not make him God but instead the word of God. His religious beliefs combines elements of the Russian Orthodox Church with Buddhism, apocalypticism, collectivism and ecological values. Torop founded the Church of the Last Testament in Krasnoyarsk Siberia in 1991 just before the fall of the USSR. He predicted the imminent end of the world with only his followers being saved.
His followers observe strict regulations, including abstaining from meat (veganism is compulsory), smoking, drinking alcohol, swearing and the use of money. The aim of the group is to unite all religions on Earth. He replaced Christmas with a feast day on his birthday 14th January and claimed to possess an ability to heal cancer and AIDS with a touch from his hand. The calendar runs from the day in 1961 of Vissarion's birth the biggest feast day August 18 originates from his first sermon in 1991.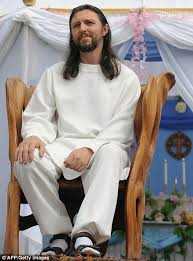 Tiberkul, the settlement in the Taiga was established in 1994 on a territory of 2.5 square kilometres (620 acres) and expanded to several nearby villages such as those of Petropavlovka and Cheremshanka at ca. It has some four thousand inhabitants following ecological principles. The central settlement also called The Town and The Mountain, has a three-tiered structure. The Town itself (Abode of Dawn), the Heavenly Abode and the Temple Peak. The churches and houses are built from wood by hand and most of the energy used originating from windmills or solar panels.
On 22 September 2020, Russian authorities arrested Vissarion on charges of running an illegal religious organisation possible physical harm to others and extortion. He was apprehended by the FSB and Russian police and taken to Novorisbirsk central district court along with two aides, Vadim Redkin and Vladimir Vedernikov.
He has been doing this for 25 years so my question is are the Russian police trying to say all those years they didn't noticed. And how on earth did he get a total of 10,000 people to believe him. Is he really Jesus?. I did a little research and I found out that he is not the only one. There is a Jesus in the Philippines, a Jesus in India and a Jesus in Ireland. How do they come up with those ideas and people believe them. Let me know your thoughts in the comments section
Content created and supplied by: Beautiful_Vero (via Opera News )