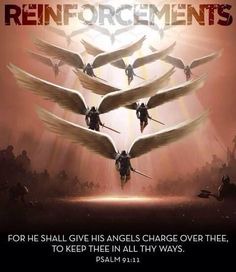 Apostle Paul in His letter to the Ephesian church exhorted them to put on the whole armour of God like a soldier who fights on the battlefield.Put on the helmet of salvation,the breastplate of righteousness,the belt of truth,the shield of faith,the Sword of the Word and the shoes of sharing the message of the Gospel(Ephesians 6:10)
We are all called unto the battlefield to participate in a war that has already been won by our Lord Jesus Christ.
Jesus Christ is our Captain and he leads us in warfare.We are not alone on the battlefied.The Lord of Angel Armies is with us.
Do not be afraid of your enemies that surround you for those that are with you are more than those that are against you.David sang that the Lord is my light and my salvation whom shall I fear.The Lord is the strength of my life of whom shall I be afraid.
God's name is El Gibor,Mighty God.Halleluyah!He fought battles for Israel and He is fighting for His people today.
Prayer of Salvation
Dear Lord Jesus I believe that you died for my sins and rose on the third day for my complete salvation.I acknowledge that I am a sinner.Please forgive and wash my sins by your righteous blood.Come into my heart and lead me by your power in the way of everlasting life.Amen
Please find a bible believing church and be nourished together with the entire body of Christ.
Please like and share to bless others.Thank you.
Content created and supplied by: KennycoG (via Opera News )