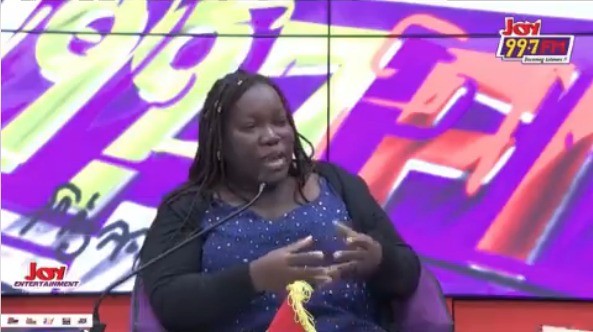 In a viral video by Joy 99.7 FM, on its Facebook page, it shows a woman making wild allegations against an unamed but obviously a big and renowned church with several braches across Accra and Ghana.
According to the lady, named Abena Magis, "There is a particular church that I will never step foot there because anytime I attended any branch I would have a pastor come after me." This sad revelation, that cannot be independently verified is a big inditement on the growing number of younger pastors and the exponential prolifferation of churches and its braches.
Comments following this viral post, seen at Watch | Facebook, have included the following:
Francis Ashong-Katai Nonsense. What is it about you that anytime you attend any branch a pastor comes after you? Anaa you are the only woman in any of those branches as the 'anytime' you go there. Ah! Not to say these don't happen, but come on... This is purely an exaggerated LIE!
Bernice Ama Kwakyewaa Ameyaw Francis Ashong-Katai just because she created a page and she has a lot of followers, she thinks is everywhere. Massa be bold and mention the name of the church. Or else we won't buy her cooked lies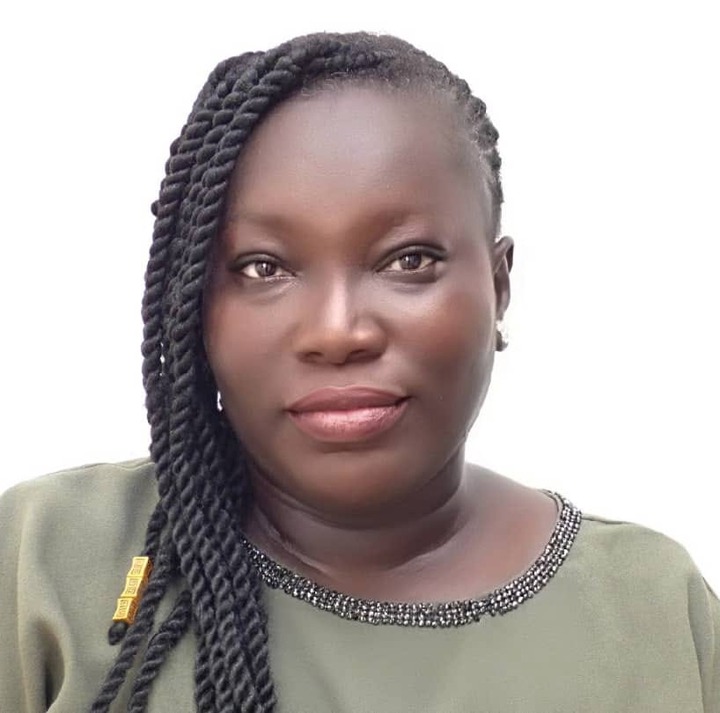 Royal Bless There is sexual Harassment ongoing in the Church, We can't pretend about it. It was and it s still is ... 1 Corinthians 5:1-2 [1]It is reported commonly that there is fornication among you, and such fornication as is not so much as named among the Gentiles, that one should have his father's wife. [2]And ye are puffed up, and have not rather mourned, that he that hath done this deed might be taken away from among you.1 Corinthians 5:1-2 [1]It is reported commonly that there is fornication among you, and such fornication as is not so much as named among the Gentiles, that one should have his father's wife. [2]And ye are puffed up, and have not rather mourned, that he that hath done this deed might be taken away from among you.
Pulpiteer Godibert K. Gharbin "Anytime I attended any branch, l would have a pastor come after me." Madam, with all due respect, let's not insult the intelligence of discerning people who come here for information. What is so special about you that ANY TIME you attend ANY BRANCH, a pastor comes after you? This is pure exaggeration!
Toks Ogunbiyi Many women consent and service the desires of those 'pastors', hence they've remained in 'business' till now!
Mark Oeter She should have stood up for us to see her body shape maybe it her shape dat is attract de pastors but wit dis face paa dea ...hmm
Napari Thomas I think people should grow beyond this; if a "pastor" of a particular church will boldly approach you a married woman and have no respect for your marital status, nothing should stop you from naming the particular church. It doesn't help to just say a certain church.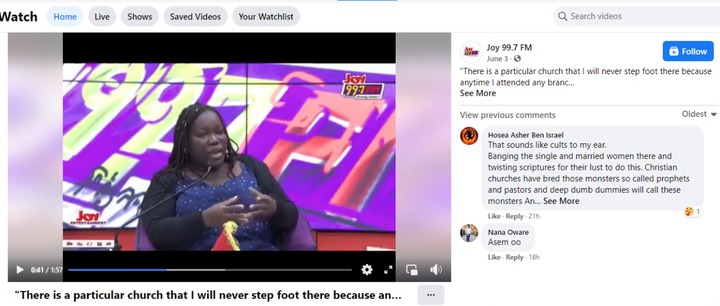 Antu Timothy Then really check yourself Madam, you have a spiritual problem. And all the pastors that come after you are all carnal men. They also have a serious problem and they like you, will need serious deliverance
Naa Atswei Adoma Sackey You will see how some "so called Christians" will come and attack her for her predicament. Christianity paa nie???Now some christians are like footsoldiers for their pastors and churches but not for Christ. Attack Christianity and they don't mind but attack their churches and their pastors and they will be in arms against you. They don't fight for the cross, they fight for their pastors.
Nii Pounds Am surprised most people acting like what she said isn't true or isn't happening... Sadly today we have Christians who prefer to defend their Pastors than Jesus or the Cross. All those saying she isn't nice blah blah blah ,meaning if she was beautiful then her claims will have been legit ryt ? Which means *some beautiful women* are suffering in the hands of men of God. I have two female friends who are experiencing this. Smh
Isaac Mensah She should boldly come out to name and shame those churches and their pastors, if what she's saying are really true.
Daniel Ofori Aboagye I don't still understand why every branch Pastor come after you. Then who are you.? True christian will not attracted this way.
Kweku-Joe Quagrainie Just asking because I certainly can't see it, what at all is about her that any branch of that church's pastors find so irresistible that they have to go after her?
Samuel Doe Kojo Afodoanyi This lady should mention the name of the church am not holding brief for the church but some of this ladies want attention and again this should also tell Pastor to be careful with the sheep of God that they are overseers
Helen Nboyine Hmmmm, just hope you are not bearing false witness, hmmmmm if it true just wondering she is not the too pretty type, hmmmm some men of God
Victus Kukubor Fiamordzi Vickukufia Shut up if u will not mention those pastor's names and the church!!! For God seek, don't tarnish the image of our faith! Heerrhhhh Gawoeooooo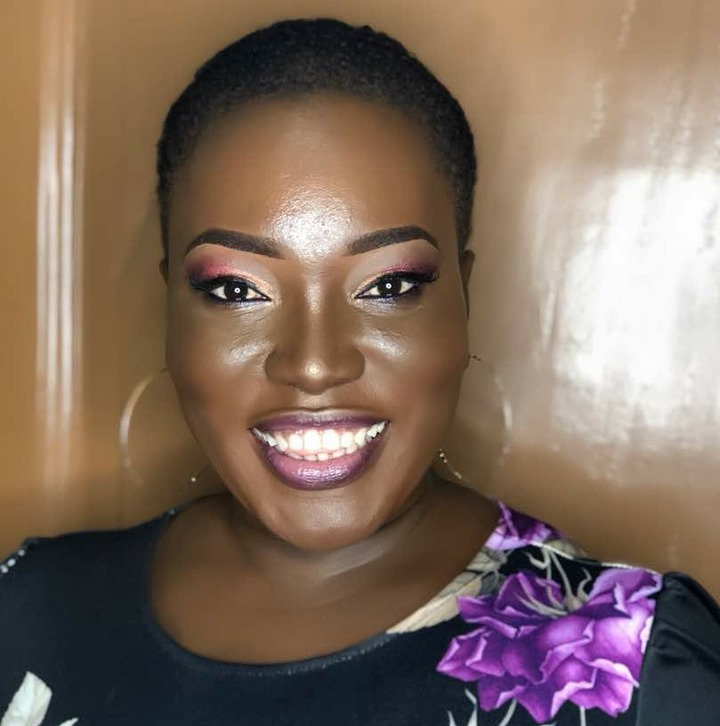 Stella Sessy Agbley Why are you some of you pretending you don't know this happens? I have had married pastors make advances obviously not because am prettier than their wives but just because they just want to try or whatever goes through their minds. I know of married pastors propose marriage to their congregant all in the name of she is single.. You people should let us breathe. That won't stop some of us from going to church. For those asking what it is about her, maybe you should go through her profile, she might not be your Nadia Buhari and co but they know her calibre and something just that alone is enough, just to say they have done that with her
Maame Yaa Abena Manokekame is helping a lot of people in so many ways. it's the inner beauty that makes someone fall in love and you wonder why you have a pretty face but no one gets attracted to you. She is beautiful inside and out.
Thomas Frempong Badu story of this lady is curious. If u want reason to stop going to church, you can create one for yourself. Fight for your own salvation with fear and trembling
Kaba Emmanuel Is the Character of Pastor not the Church.... No religion tell people to do wrong things is the character of the people which still follow them to the church with unchanged heart
Joyce Okraku Am not surprised for in this end times these are some of the tricks that the devil is using to stop people for knowing the truth....for will build my Church and the gate of hell will not prevail against it. Amen
Eliana Hertty Foolish people parading themselves as wise. What has her face got to do with attraction? If she's not your type, waka pass is allowed. Are pastors supposed to be above getting attracted to the opposite sex or what? Y'all spew nonsense just because you can. You resort to body shaming when y'all have nothing to say.
Dennis Osei Instead of people (supposed to be of sound mind) to talk about the fact some Pastors hide behind the pulpit to do all manner of unworthy things, people (supposed to be of sound mind) are insulting the woman for sharing her experience? How do we deal with the canker then, by insulting her? Or we want to deny the fact that this actually goes on.
Nana Kwame Ah if true then the likes of Nadia buari and Yvonne Nelson thems can not step foot in any church ooo. This junior elephant paaa... She has heard women talk this and she wan say some. Sister, Wei nkoaaaa de3 I can defend those pastors na wo paaa s3 wo te3 yi de3 forget. Ad3n mmaaa Asa?
Jacob Newson There are Churches belonging to Jesus Christ. By their fruits you will know them and there are churches belonging to the devil. They too by their fruits you will know them. Do you think the church you talking about is the Church Jesus Christ suffered on the cross to birth? Judgement is coming, it won't be long ooooo!!!!
Nelson Boateng Frimpong Then you have a seductive spirit, which attracts so-called pastors who have not been called...
Robert Worlanyo You're not serious. We have churches whose pastors walking in holiness. About 99% of pastors and churches in Ghana walk in holiness. Don't be deceived
Dadaavi Emefa What some people don't know is that , beauty isn't all about facial or stature. Reading comments and some people are like, " she's not pretty too". Interesting have you also pause to think that those men might be attracted to her intelligence?? Abena Manokekame is very intelligent and those men know what they saw. There's more to beauty than what some of you are saying. Just listen to how she talks.
Plance Victor Raul Puobabangna When will journalist start asking very good probing questions? How will someone make such an allegation and no such follow up questions? We need to be critical
Mavis Owusuaah Hmmmm sometimes I don't get it we the beautiful ones pastors don't like us ,another man will come from another church or even Europe just to marry us .but you see the ugly ones they are the ones who always complain I don't get it cause is only those people who always says my pastor want to sleep with m
Kwame Spêc Until she boldly comes out to mention names, let's treat this with all the contempt it deserves. We are tired of people coming and throwing accusations into the air. And see how the co-panelists ridiculed the church because of this comment from her. I understand the church has become an easy target for you people, but do not cast unfounded accusations against it, and its pastors. Where has she sat ever to talk about all the good the church has been to her. But she's so quick to come and say this. Ah! Then the likes of Jackie Appiah and Martha Ankomah de3 they should hide in their rooms oo.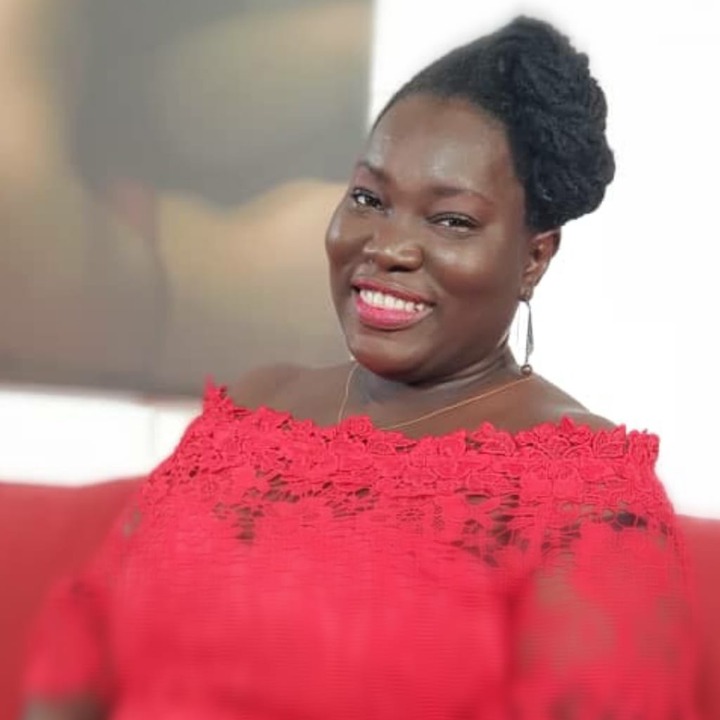 Content created and supplied by: iNewsCorporation (via Opera News )
Opera News is a free to use platform and the views and opinions expressed herein are solely those of the author and do not represent, reflect or express the views of Opera News. Any/all written content and images displayed are provided by the blogger/author, appear herein as submitted by the blogger/author and are unedited by Opera News. Opera News does not consent to nor does it condone the posting of any content that violates the rights (including the copyrights) of any third party, nor content that may malign, inter alia, any religion, ethnic group, organization, gender, company, or individual. Opera News furthermore does not condone the use of our platform for the purposes encouraging/endorsing hate speech, violation of human rights and/or utterances of a defamatory nature. If the content contained herein violates any of your rights, including those of copyright, and/or violates any the above mentioned factors, you are requested to immediately notify us using via the following email address operanews-external(at)opera.com and/or report the article using the available reporting functionality built into our Platform See More