Lovers of Date Rush are always entertained to their each and every Sunday night. Since its inception, Date Rush has been successfully aired for about 4 seasons already. Many guys have been fortunate enough to land on their dream girls whiles others have been quite unfortunate till now. One of such unfortunate ladies is non either than Fatima "girls dem boss". She's been unlucky to find a date up until the end of this season.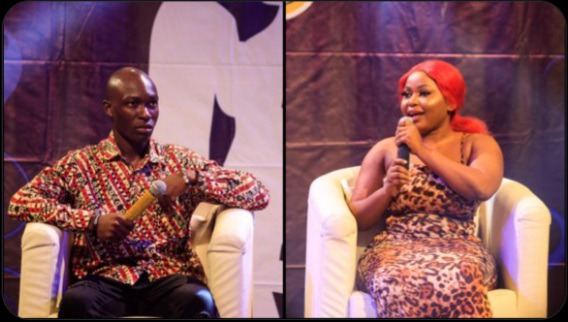 But call it luck or otherwise, some of the ladies who got hooked up to their guys have finally found themselves saying goodbye to their dates after a couple of weeks being together. One of such girls is Ruby. Ruby has been with his date for some time now and by the look of things they really did enjoy themselves. Ruby's confession of giving Powderguy several styles in the bedroom confirms beyond all doubt that their relationship went beyond just friendship to a platonic one. But on last Sunday's show, Ruby surprisingly revealed that she was no longer interested in dating @thepowderguy. Her reasons were that @thepowderguy didn't have much time for her when she needed him. Additionally, she keeps getting messages in her DM from people asking her why she's even still dating the powderguy with their reason being that he's not in the same class as she is, he's not her type.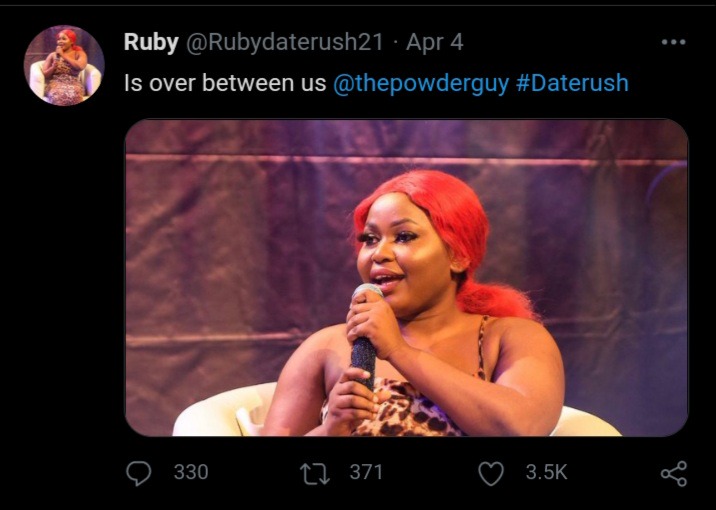 She was dressed in a spaghetti straight dress with black and brown leopard-like spots all over the dress. She was also seen in a red hair do which complimented her dress. Sitting opposite to thepowderguy, she complained bitterly about an experience she had with her date who blatantly cancelled an appointment he had with her without giving her any prior notice to the cancellation, and neither did he offer her any reasonable explanation as to why he couldn't make. Thepowderguy realising his mistake went ahead and apologised to her for having ignored her earlier, but Ruby would still not have any of that as an excuse. Despite all that, she went ahead to break the icy news of the breakup on live TV.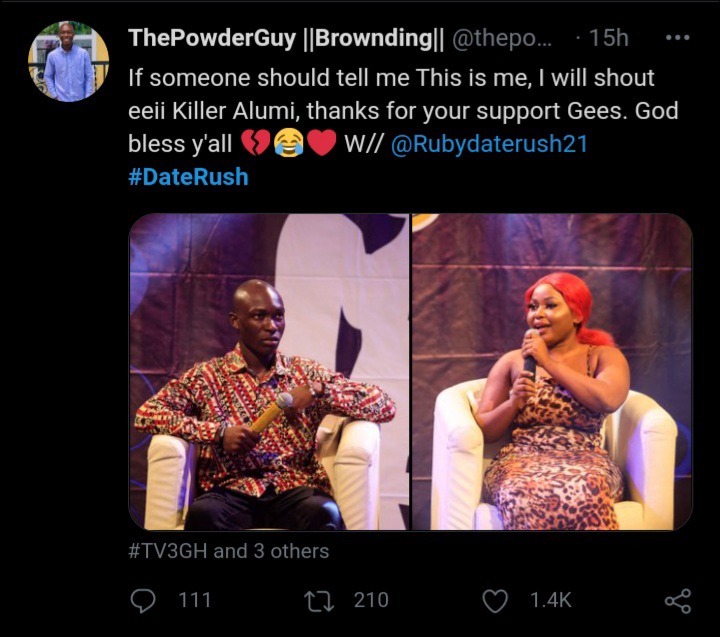 The news though came as a big unwelcoming surprise to thepowderguy as he looked dumbfounded after he heard of the breakup. He looked even more stories m surprised and confused because. Her complain about the styles she gave @thepowderguy caught the attention of all the studio quests who shouted in admiration about the fun both dates had had in the past. Responding to the breakup on his Twitter page, the powder guy tweeted "if someone should tell me this is me this is me, I will shout eiii, killer alumni, thanks for your support gees. God bless you all" . He ended the tweet with a broken hearted emoji and a teary laugh.
Content created and supplied by: Win_2020 (via Opera News )