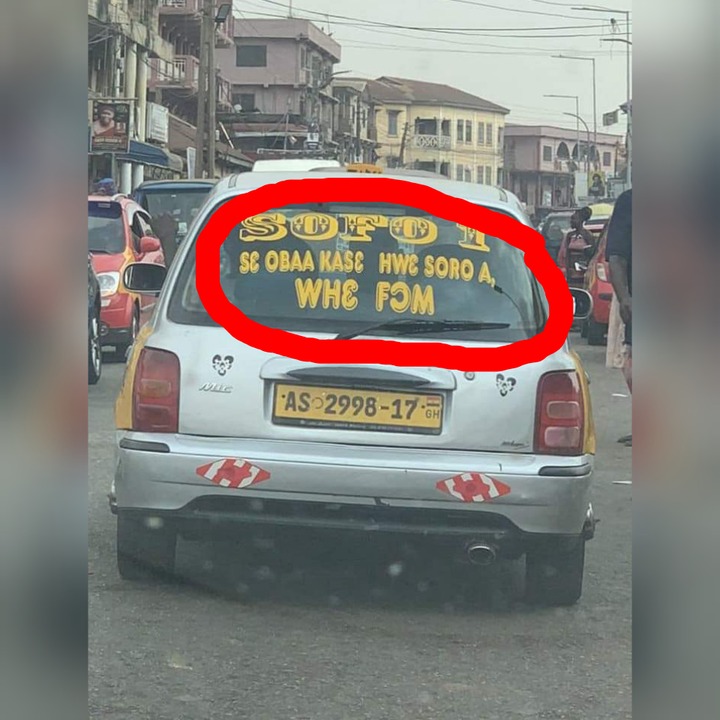 A commercial driver who carries his activities in the Ashanti Region has given a sarcastic advised to all men which sounds as if an attack to womanhood but this isn't a personal attack on women.
The taxi with registered number AS 2998-17 had an inscription on his car that say; "SE OBAA KASƐ HWƐ SORO A, HWƐ FƆM", 'which literally means If a woman tells you to look on top, look down'.
I'm of the opinion that, the write-up is a compound advise the world most intelligent and experienced men give to the youth of today and guys shouldn't get it twisted, ladies of these days hardly love men sincerely any more.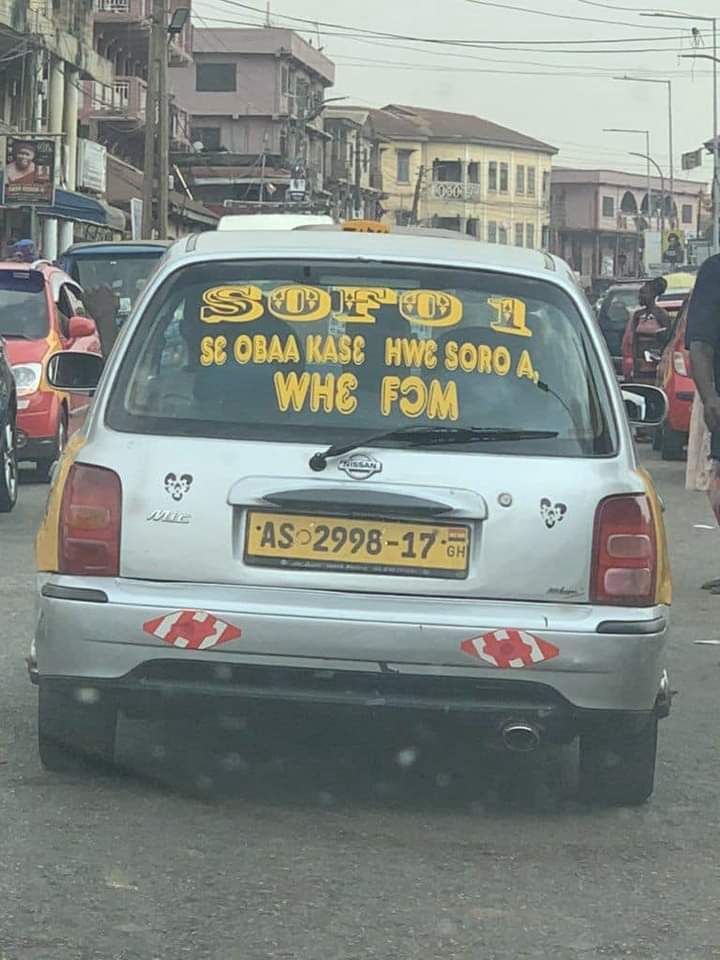 Has anyone ever told you to be extra vigilant about women? If so what came into your mind at that very instant? There's something interesting every guy must know about. As beautiful and soft a woman could be, she could also be a weapon of mass destruction, why wouldn't you be extra careful about women and save your life as a young gentleman?
Moreover, this world has felt and seen the power of some women who distinguished themselves as agents of destruction, menace, and pains. Not forgetting Biblical characters such as Delilah and Jezebel. To a larger extent the mediocrity of the first woman ever created "Eve" makes her one of the agents of curse and pains.
A guy may love a lady with all his heart, go all out to build a solid foundation that will help both enjoy a decent life. But she may have a bad motive towards the affair and what many of them are after is how to "control" you.
It's a sad reality and in many cases, the man is more likely than women to experience a mistrust of the woman.
Women on the other side, I think shouldn't be offended with this advise, anytime their own brothers faced the ugly, in the hands of ladies, they also receive the sentiment, after all the disgrace of tapioca is cassava stick.
A word they say is enough for the wise.
Content created and supplied by: Wolibismark (via Opera News )