How nice it is to be in a relationship with the guy you love only to find yourself in one with a dadabee; the kind of guys who have been pampered throughout their lives and as a result rendered them to be lazy, immature and not fit for the outside world. As a result, making your desire remain only a fantasy. 
He may be the richest guy in town and even be a fun guy to be with. That's fine if you're just looking for something casual but if you're not, your romance may get lost at sea when you find yourself playing the motherly role in your relationship.
They say love is blind but this article intends to give you lots of insights to be able to identify a dadabee and avoid them as much as possible when searching for a real serious life partner. Let's get the ball rolling. Below are 10 obvious signs you're dating a dadabee (the ones in the advanced stages).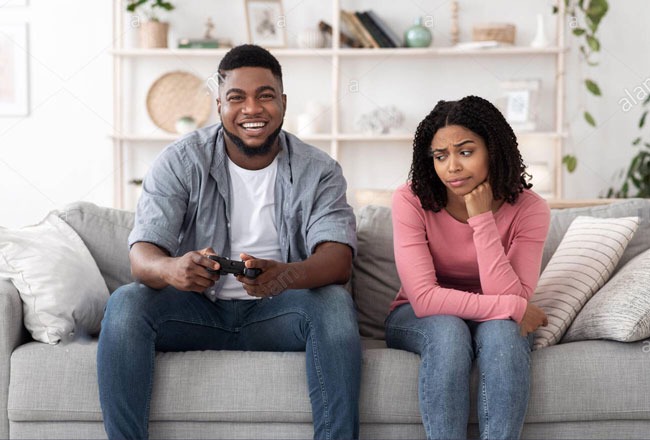 1. He Always Wants To Be Taken Care Of
While it's natural to take care of your partner at times, a dadabee wants you to be like his mom rather than his girlfriend. Because he's lazy, he'll often act completely helpless so that you just end up doing everything for him. God help you if he gets sick.
2. He's Obsessed with Video Games
Playing video games can be a fun distraction but if it becomes a way of life, it's a problem unless you're getting paid to play of course. But if you're dating a dadabee you're probably familiar with a struggle of competing with a gaming console for time and attention 
3. He Has Poor Eating Habits
A dadabee is often more interested in fast foods and junk foods like pizza than in fruits and vegetables. And unless he lives at his mother's, his dishware is saturated with paper plates and plastic utensils. 
4. He Doesn't Care About His Environment
Particularly if he lives alone or at his parents' house, a dadabee's environment can be downright disgusting; empty pizza boxes, dirty clothes everywhere, half-eaten foods and crunched-up beer cans. These are just a few of the treasures you might find in his natural habitat. And even if you're assertive enough to get them to clean they won't have a clue what to do, they'll keep messing things up until you conclude that it's easier if you just do it and that's exactly what a dadabee wants.
5. He Can't Handle Conflicts
While no one likes to fight in their relationship, it's a healthy part of it as long as it's ultimately constructive and provides resolutions to problems. However, a dadabee can't handle conflict at all and is likely to cry and run home to mummy after every fight or conflict. 
6. He's More Concerned About His Happiness Than Yours
Given where he's coming from, he has no emotional intelligence to care about other people. If both of you had a bad day, he'll only be thinking about himself. And certainly, don't expect much romance and any grand gestures. It's far too much work for a dadabee.
7. He Doesn't Engage You in Serious Conversations
A relationship isn't always fun and games, sometimes you need to engage in serious conversations and talk about deep topics but don't expect to any with a dadabee. They take everything for granted. If a serious topic comes up they'll likely crack a joke, stare at their phone, make a quick exit or even change the subject. My sister, take your lorry fare, leave and never come back.
8. He Doesn't Plan Dates 
If you're dating a dadabee, you'll likely find that you're the only one who makes all the date plans and probably pay for it. if it's anything fancier than a fast food meal, his idea of a date is likely something like ordering a pizza and coke and having you watch him play video games all night. That's fine if both of you are into it otherwise it's time look elsewhere. 
9. He's Green In The Relationship Market
A dadabee probably hasn't been in any real relationship and might not even know how to rap a lady. Even if an opportunity presents itself, he doesn't see it let alone know what to do with it. He's all about keeping things casual and pushing people away due to their lack of commitment.
10. He's Selfish
A dadabee will always put himself first and he expects others to put him first as well since that's what he's used to. He's not a fan of your favourite TV program and don't expect him to give up the remote anytime soon when he's watching his. Unfortunately, this selfishness usually extends to the bedroom as well; a true recipe for disaster.
If any of these signs are present in the man you're dating, it's time to look elsewhere for something real. And trying to fix him would be a waste of your time since he sees nothing wrong with how he is.
Are there any other signs missing from the list? Kindly share them in the comment section to educate others. If you like this article, kindly hit the like button and share it with your friends.
Thanks for spending your time here and see you again.
Content created and supplied by: InfoLab (via Opera News )