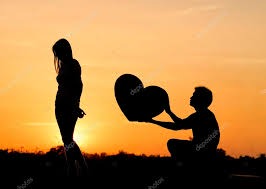 There in a beautiful garden, I saw her afar 
She was as beautiful as a blushing Queen hiding behind a veil that could not hide its radiant glow.
I couldn't question this chance nor let this moment pass by
With sheer nervousness, I approached her. It was a crystallization of my every romantic dream.
She smiled, my heart was full
It brought an overwhelming sense of gallantry.
I wish I could liken her to a celestial being, for she smelled like heaven.
The joy in my heart clustered the need for introduction.
She understood the wink I gave her and opened her arm for a hug.
My heart pumped love.
The flutter of my heart yearned even to fly to the celestial lights for her.
A scarcely ubiquitous soul I've ever come into contact with
Her smile could calm turbulent storms.
We sat, watched the beautiful skies, and talked
Her social reception was at a level of apotheosis.
Her random smile incapacitated my infelicity into blissfulness.
It was love at first sight. A love that never asked, "why?"
Looking at her was exquisite
Time revealed she had a heart that harnesses insurmountable love, lofty and rarefied.
Her touch made me feel like a hero
I felt each move she made as we held each other.
Time went by, darkness began closing in on our love posterity.
The occupied love shape in my heart seemed empty.
We didn't talk anymore as we used to.
I overheard she had settled down with someone.
She hid behind a lie when I confronted her.
The irony of the insurmountable heart of love was playing out.
I wish I could do the impossible to bring back my love.
I wish I could change the world if only it meant bringing her back.
Goodbye was the saddest word I didn't want to hear.
It hurt so, that something so strong someday will be gone.
I wish I could call down the stars from the sky to convince her.
But all that I could offer was the promise of lifetime love.
She finally spilled it out "it's over between us"
I couldn't hold back my tears
Days I couldn't see her were like decades
I wished she saw my face and be reminded that for me it isn't over.
My heart became a storm, clouds raged deep within
Seals of love, sealed in vain
Who would have known how bittersweet love will taste?
The love I thought will last hurt instead.
Love just whispered from a distance, but it didn't think twice.
I kissed "love" goodbye.
Content created and supplied by: enoch_ritz (via Opera News )