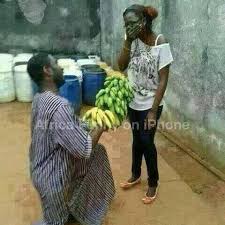 This is the best proposing style I have ever seen in my entire life. Maybe you will shock me with yours, but for now, let dig into the current and the lively one. There are things that you should know about the proposal.
1.Where do you think the guy comes from?
2.Why do you think the lady has covered her mouth with her hands? I hope you are not thinking what am thinking?
3.Which tribe do you think they come from?
4.Lastly, why didn't the guy add cassava to it, so that the girl can pound fufu easily?
Comment your answer below and also share for others to bring on their views.
This love will be sweet like Aleguintuguin, no money issues, only food. Wow, what a relationship. I pray to God a woman will propose like this to be like that day will be my sacred day. It will be good if she even comes and uses gari to propose to me because that signifies that food will be abundant in my house, even if we are a shortage of food, it will not be gari soak with sugar. You do not like this, then what at all do you like?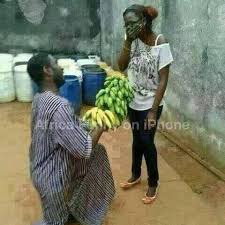 Follow me for amazing jokes.
Content created and supplied by: fashionHub (via Opera News )