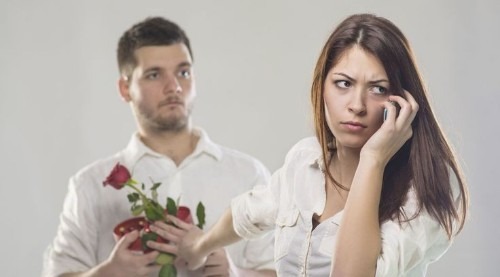 Love is sweet, love is beautiful and finding a true love might be one of the luckiest moments in one's life. As sweet as love may be, finding one is not on a silver platter. Many guys see this as a very difficult task because of the countless rejections they have faced in making their intentions known. 
There's nothing wrong with being "bounced" or rejected by the woman or girl you dream to be with. It happens to all of us. Who knows the number of times Juliet bounced Romeo before they finally became love birds?
If you have given up on finding your love mate because of the fear of rejection, then, this article is meant for you. Get back on your feet, see what you can improve upon and change your luck with women.
The most important thing is the lessons you learn from each rejection. Why did she turn down your approach? What went wrong? How can you improve? These are the lessons your must learn from.
Below are some of the five most common reasons she turned you down, with ways you can work around them:
1. She's already in a relationship.
Making your intention known to a girl should not take place overnight. Guys who get bounced make the mistake of not doing a background check on her before approaching. You must first and foremost find out if she is in a relationship. As you get along with her, ask her if she is in a relationship. Never propose to her without you knowing her relationship status.
Whether she has a boyfriend, a crush on someone or is stuck on her ex, she won't give you a second glance if she's emotionally committed to some other guy. 
Sadly, for this type of rejection, there's nothing you can improve on. Yet, you can avoid it by following her social behavior for a while. If she seems uninterested in all the men around her and focused on something else – like her phone or the door – it's pretty clear she's not open to any approach.
2. Your looks don't match her
other words, you are her "type" of guy? The truth is, physical appearances matter, especially when you first meet someone.
No, you don't have to be George Clooney or Brad Pitt to blow her away. But, you do have to dress well, smell good and stand up straight. Make an effort to dress well, look clean, have a fresh haircut and smell good.
3. She has sensed you're just in for sex.
There's nothing worse than making a woman feel like she's simply another notch in your bedpost. If she already saw you hitting on other girls and getting shut down, she's already smelled your desperation. There is no way she will accept your advances.
When you approach a woman, you need to make her feel like you're genuinely into her. If possible let the subject of sex be the last topic of discussion unless she raises it herself.
4. You can't make her feel special.
If the woman is already talking to you, but you see that with each passing moment, she's losing interest, learn that rejection is about to hit you. 
The success of your approach is vastly influenced by your ability to make her feel special. She is not solely interested in learning about you. It is human nature. If you make a person feel good, he or she will let his or her guard down. Make her feel interesting and appealing, and she will be interested and attracted to you.
5. You have a bad reputation.
When a negative reputation foresees your intentions, it is hard to show them. This is one of the main reasons addicts of all sorts find it hard to change their lives.
The easy way out of this badly reputed zone is to change your social circle. Find new venues, dare to go out alone and try new approaches.
Prove to everyone you have standards, principles and virtues, and that you're able to pull yourself up from whatever vicious circle you're in.
In the end, the essential thing is to turn a negative experience into a positive lesson. Never get stuck on failure. Stay optimistic and adopt the saying, "What doesn't kill you only makes you stronger."
The truth is, success is within your power. You just have to put in the effort and go for it. The only way a baby learns how to walk is by learning to rise after each fall. Let the lessons you learn in each fall guide you in your search.
Share if you find this helpful.
Content created and supplied by: ProfMattey (via Opera News )