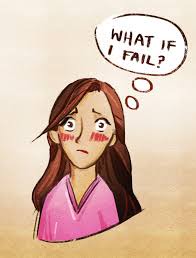 Self-doubt brings fear, such as fear of failure,of the dark, of being out of control, of not being good enough. Here are some of the reasons why you should never doubt yourself.
1. Everyone else doubts themselves too! Even the people who appear to have their lives together. So stop letting other people's success make you think, "He's one in a million" or "That could never happen to me." Because that person was thinking the same thing all along—he just didn't let it get in the way.
2. Doubt hangs from the family tree of Worry and Fear. And it's a tree that never bears fruit.
3. Anyone who ever tells you that you can't accomplish something has already succumbed to doubt in his or her own life. They're trying to infect you.
4. Belief prevails, either way. You may as well use it to your benefit.
5. It takes courage and tenacity, a steadfast work ethic, an ironclad will, the sincerest passion, clarity of vision, and a mission you truly love to work up the nerve to face down self-doubt. So as soon as you get past it, you've already got all those other assets going for you.
6. If you allow it, doubt will kill your dreams before failure ever gets a chance.
7. Doubt is the medium we use to draw our limitations. Without it, the future is truly a boundless canvas.
8. No matter the material outcome, when you overcome self-doubt, a process of growth and strengthening takes place that quiets the voice of fear. This makes it a little bit easier to overcome the next hurdle. And the next. And the next…
9. If you allow yourself to be crippled by doubt, you'll never get the chance to say, "I told you so."
10. Taking a risk may make you look foolish in the end, but yielding to doubt will make you look…well, you'll never know, will you?
11. I suppose some of us have to surrender to doubt, to make way for those who will reach their goals. So you're either getting pushed out of the way, or you're pushing your own way through. In either case, pushing is happening. And in either case, you're going to get some bruises.
Comment, like and share this article
Content created and supplied by: Pascal90 (via Opera News )