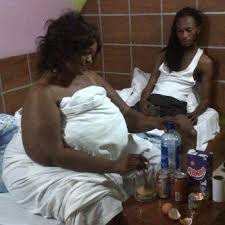 Many guys in the world don't have feelings or affection to their co-equals ( fellow ladies). Instead, they go in for women who are sometimes old enough to be their mother. These old women have been tagged with a name called 'sugar mummy or Mommies'. There are several reasons why young guys or men go in for these old ladies. Check these out.
There are many more pros to dating an older woman than you may think, Sugar Mommas might be older but that does not make then any less worthy than their younger counterparts. A few benefits that come in a relationship with an older woman dating younger men include: Knowledgeable In Safe Sex Due to their number of romantic encounters and experience, a cougar knows more about the sexual world than a naive 20 year old. They know what works and how to use it and aren't afraid to offer you up a condom in the heat of the moment. Additionally they are far less likely to get pregnant by accident so that can help you spend less time worrying about the future so you can better focus on the experience. They're Experienced
2. Sugar Mommas have dated a lot so they have a wealth of good and bad dating experiences with people. It is unlikely that you will scare her off as she's probably seen worse so she's more likely to tolerate any shortcomings that you may have. They know what they want and aren't ashamed to go after it. Maturity of Mind They know very well what they want out of their relationships and would rarely anger and fall victim to trivial issues and petty arguments like a young woman would. If they want something, they will be straightforward about it and will know how to get it from their partner. They are not easily disappointed and don't expect anything fancy or pointless like spotless grooming, gifts, money, etc. They'd rather appreciate the quality of the time that is spent together and posses important qualities like honesty and humility, because they are wiser.
3. No Drama, No Baggage, No Regrets The whole idea behind cougar dating is to live in the moment and not be held down planing a future with mortgages,college, work or a house full of kids. You are just two people in the night enjoying each other's company. Women feel more relaxed dating younger men because they are less likely to have baggage like ex wives, children or financial issues to carry. Men know that they don't have to propose, meet her parents and live in constant fear of her asking things like "Where is this relationship going?". Cougar women won't force their partners to either propose or face them disappearing from their lives. Their Confidence Sugar Mommas know what they want and have. They don't need someone to help with finances, work or anything else because they've already dealt with these things. Their body language is that of a confident woman who has conquered life and is simply looking to enjoy it now and that can be a very seductive quality during a date with a younger man.
Content created and supplied by: Kwadwo-Manu (via Opera News )