Most men in this our world have different reasons for engaging themselves in both platonic and romantic relationships. Some of these men go into relationship to find the right woman to settle down with others also go in to have fun and then move one with their lives.
A man whose name is withheld, took to one of the relationships platforms on Facebook to ask for help from the relationship coach. From his chats with the relationship coach, he made it known to the coach that, he has a problem and he wants the coach to help him solve it for him.
He went ahead to introduce himself of which he revealed his age that he is 28 years old. And he later added that he is currently dating five ladies at the same time and recently one nearly caught him.
Further on, he said that he loves them all and he cannot stop having sexual intercourse with them all. He also revealed that he is not ready to settle down and he wants the coach to help him with his ideas to play his cards well.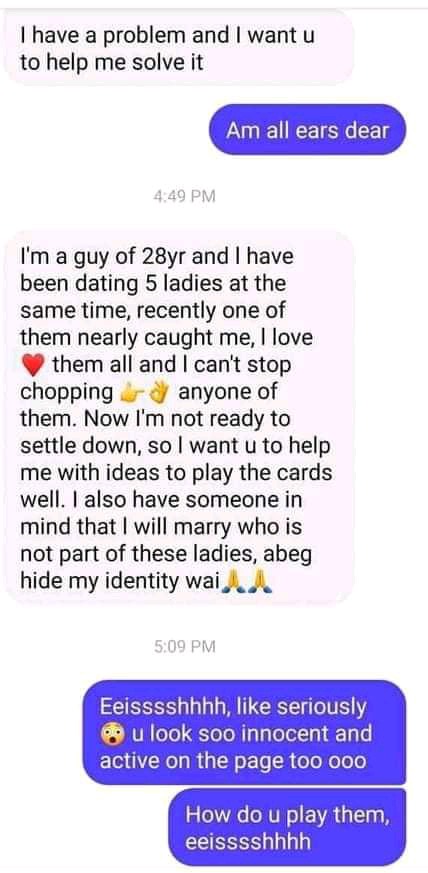 The most shocking aspect was when he said "I also have someone in mind that I will marry who is not part of these ladies."
The coach in response to his plea or confess said you look so innocent and have also been active ob this page.
So the above chat and confession from this 28 years man claims that every man has his own reason for entering a relationship.
The picture used is only used for illustration purpose.
Content created and supplied by: Allliveentnews (via Opera News )