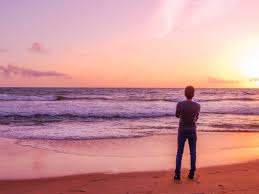 Happiness is not about being committed in a relationship. Happiness depends upon ourselves.
To be single is not a weakness of being unable to find a relationship. Hence it is a strength of having the patience to wait for the right one. Never let yourself be confused about being single with being lonely because your happiness does not depend on your relationship status.
Being Single Or In A Relationship
Love can be a bloodcurdling road to venture down, yet many people still love to stride on that course because they all believe that Love is patient. Love is kind…It always protects. Always trusts. Always hopes. Always perseveres. And Love never fails.
And even if you know you would get crash at the end, you wouldn't bother to think twice, but still get in the car with the one you love all over again because love is a combination of bitter and sweet sensations.
That even if you get hurt a million times, even if your heart got crashed shoddily or even if you stepped on that aisle full of thorns to be with the one you love. You will never get tired, never be afraid to love and get hurt.
That is the cycle of love, we may have different reasons why we chose to stay single, but time will come when we are all ready to face the consequences of love.
Stay Single Stay Happy
There are many great things about being single. You have fewer responsibilities and more freedom.
Most people get into a relationship just because they think that it will increase their happiness levels. It might help them feel complete if they start a relationship with someone right for them.
But you will be happier to stay single than got into a wrong relationship.
Stay single, and you will be happy if you take care of your happiness.
You have time for yourself and your activities, so don't waste it feeling sorry about being alone. This is the perfect opportunity to do the things you couldn't do when in a relationship.
Be Single, Be Happy
Stay happy while single doesn't mean that you must not try a relationship again; it means that you do not need to obsess over finding someone
Be happy while single and welcome the right relationship in your life, but you do not need a relationship to feel happy.
Don't let people convince you that being single means something wrong with your life or personality.
If somebody makes a negative comment about your life, let it go because they are not the ones who make decisions in your life. You do what you want and need for yourself!
1. Practice Self-Love.
People who love themselves are more confident and happier.
Self-love is important because it can help you feel less lonely and more confident in your ability to cope with life. Loving yourself also makes you more open to receiving love from others.
You deserve to be loved not only by those people around you but, of course by Yourself as well. Being single is an opportunity to focus on yourself and to look deep inside yourself.Falling in love with yourself first is actually the most important relationship you need to deal with. So do yourself a favor, give yourself a little hug and start to love yourself more. How? Here are some basic tips on how to practice self-love.
2. Practice Self-Improvement.
Take time every day to improve yourself. Self-improvement is about learning, growing, and being your best self. It's essential for staying happy in every area of life, especially love and relationships.
3. Consider The Financial Benefits Of Being Single.
Being single isn't stressful because you no longer have to worry about a partner's needs or desires. You don't have someone to buy chocolates, flowers or teddy bears on special occasions not unless you want to buy them for yourself. Thus, you can really save money while you are single compared to those in a relationship.Instead of spending money on a significant other, why not just spend it for yourself or save it for the future.
4. Serve God.
Instead of complaining or being sad about your relationship status, why not just fix your eyes on Jesus. Remember that until God is the obsession of your heart, you'll always be looking for mere men to meet needs that only He can fill.Only when you make God your first love will you be ready for a love story that reflects His glory. If you get bored, feel unhappy, or lost in life, just serve God, and he will surely lead you to the right path.
Learn to love yourself and God first, for he will surely lead you to the right man.
5. Spend More Time With Your Family.
Surrounding yourself with supportive people will help you feel happy. Always remember that you don't have to be in an intimate relationship to be happy. The love and support of your family are already enough to keep you happy. They are the ones you can trust and rely on when you need someone to lean on.Probably, while you were in a relationship, you ignore and forgot to spend more time with them. You got too attached to your significant other and forgot that you still have your family who truly loves you more than anyone else could do.
Instead of looking for a date, why not just hang out with your family, date them, spend your time with the people who are always there for you. The love of your family is life's greatest blessing.
6. Keep In Touch With Your Friends.
Surround yourself with those who make you happy. Aside from your family, you also have Friends whom you can count on. But of course, make sure to choose friends who are worth it and real.
There are probably things you can't share with your family that's why you have your friends with you. Your friends are the medicine for a wounded heart and a shoulder to lean on. So hang out with your friends and make the most of your time. It's not how much you have but how much you enjoy with them that makes Happiness.
7. Improve Your Physical Appearance And Mind
Be your own best friend even when you're not with someone else. Treat yourself like your very own soul mate or best friend!
Spend time pampering yourself with self-care activities such as getting regular manicures and pedicures, enjoy massages, eating healthy foods that would make you look better and healthier than ever before.
8. Focus On Your Career.
Instead of ranting about how unlucky you are in a relationship, why not just focus on your dreams. The harder you work for something, the greater happiness you will feel when you finally achieve it.
If you keep on focusing on your problem about your relationship status, the more you will feel bad about it. But if you focus on your career, you will surely have more opportunities. Your success is your happiness, so if you really want to be successful, invest in yourself.
9. Be Open-Minded To New Things.
So many new things can help make your life easier, more enjoyable, and most importantly, happier than ever before! Travel to new places and experience something you've never done before, like scuba diving, zip-lining, snorkeling, kayaking, and others.
Get out of your comfort zone and step into the world where opportunities lie. It's always better to try something new than to stay in one place or doing the same thing all over again.
10. Achieve Independence.
Being independent could help you in the future compared to dependent people who rely more on a relationship. Happiness should never be completely dependent upon another person. Happiness should depend upon ourselves.
Remember that if your relationship ends, you become so lost because you've been too attached to that person. It is an empowering feeling, knowing that you can get through life without being dependent on others. Thus, you should not only recognize how to be happy being single, but you should also realize a good idea to choose to spend more time loving yourself.
11. Enjoy Your Freedom.
When you are single, you have the freedom to do whatever you want. You are free to be spontaneous without considering your significant other. It is still a blessing to have your own time for yourself, although having someone to share your experience with is a joy.
Content created and supplied by: KwadwoSarfoGh (via Opera News )
Opera News is a free to use platform and the views and opinions expressed herein are solely those of the author and do not represent, reflect or express the views of Opera News. Any/all written content and images displayed are provided by the blogger/author, appear herein as submitted by the blogger/author and are unedited by Opera News. Opera News does not consent to nor does it condone the posting of any content that violates the rights (including the copyrights) of any third party, nor content that may malign, inter alia, any religion, ethnic group, organization, gender, company, or individual. Opera News furthermore does not condone the use of our platform for the purposes encouraging/endorsing hate speech, violation of human rights and/or utterances of a defamatory nature. If the content contained herein violates any of your rights, including those of copyright, and/or violates any the above mentioned factors, you are requested to immediately notify us using via the following email address operanews-external(at)opera.com and/or report the article using the available reporting functionality built into our Platform See More