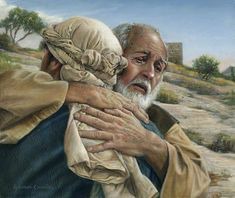 Luke 15:11-32
Jesus told a parable of a younger son who left his father's house with all his share of inheritance and squandered it in a far away country.
In this country he wasted everything he had in riotous living till he did not even have food to eat.He ended up eating pigs food then he remembered the love and goodness of his father and came back to his mind.He coming back to His mind can be translated as he repented.He decided to return back to his father's house and become a servant in his house for he thought he was not worthy to be called a son.The devil accused him that he was not worthy.
The prodigal son returned home and when the father saw him he run and embraced him.The father was so happy that his son had returned home and he sent for His servants to make a party to celebrate his sons return.The son did not expect this treatment from the Father because he sinned against his father.
The love of God does not change because we changed.God does not love us any more or less because of what we did or did not do.His love for us is unconditional.When we truly repent of the bad things we have done, God does not remember our sins and shows us his love and goodness.
The pleasures of the world are temporal but the blessings of God is eternal.Let's return to our loving heavenly Father from the far country of the world and abide with Him forever enjoying His eternal blessings.
Prayer of Salvation
Dear LORD Jesus I believe that you died for my sins and rose on the third day for my complete salvation.I acknowledge that I am a sinner.Please forgive and wash my sins by your righteous blood.Come into my heart and lead me by your power in the way of everlasting life.Amen
Please find a bible believing church and let's grow together as we wait for the appearing of our Lord Jesus Christ.
Please like and share to bless others.Thank you.
Content created and supplied by: KennycoG (via Opera News )