Marriage is a union between a man and woman who wish to become a husband and wife and have performed the necessary rites recognized by the society.
The Akans like most other African tribes have a very rich culture which they still hold on to of which marriage is not an exception.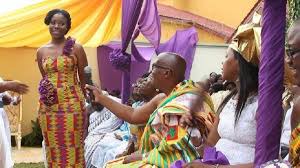 The process of Akan marriage begins with a secret meetings between the would-be husband and wife during which the man expresses his intention to marry her. This process is called "Kasasie".
After this stage, the man informs his family who then calls on the girl's family with a pot of palm-wine, schnapp, and money. This is the official occasion on which the family of the would-be husband officially asks for the hand of the girl in marriage for their son. This process is called knocking or "Kokooko" in twi.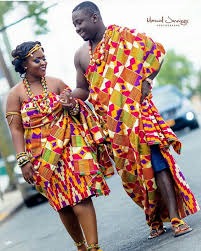 Upon consent by the girl's family, the two families then proceed to investigate each other's suitability for the marriage.
Areas of attention are how industrious each other is, whether there are family curses, congenital diseases among others.
When both families are satisfied, the girl's family fixes a date when the groom's family is to come and pay the dowry or "tiri ade3". The dowry usually include cash, clothes and others.
Before that day, the would-be husband sends dresses, jewels etc to his would-be wife to be worn on that day.
On that day, both families together with their loved ones meet at the bride's father's house.
The groom's family pay the bride-price. The bride-price serves as a token of appreciation to the girl's family. Libation is then poured to ask for blessings for the new couples.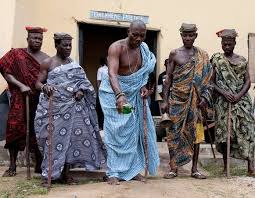 If she has brothers, an amount termed as "akonta sekan" is paid to them for the protection they offered her.
Then the girl is escorted to her husband's house.
By: jmahama
Content created and supplied by: Jmahama (via Opera News )