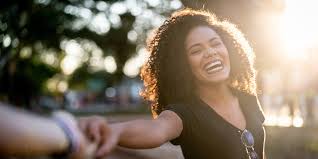 After reading, please share this article for others to see.
While every guy out there worth anything, dreams of that skinny, hot girl to be his for the rest of his life, that isn't quite how you determine the best person to spend your life with. A wife isn't a temporary girlfriend (not that one can't emerge to be one!). When talking about lifetime, potentially the woman around whom your home and family would be built, there is more than what meets the eye which needs to be accounted for.
The choice isn't easy. There are several things which you adore, there are other things you admire in the significant others of some of your friends or family that you'd like your woman to have and then there's the question of principles and beliefs which you need to share.
We try to do a rough outline of the qualities to look for in your potential life partner:
Character – Like any guy, the woman must also have a character. That's what sets her apart, that's what makes her trustworthy and unique. That is one valuable quality you simply can't trade with anything else. You shouldn't have to deal with frayed nerves every time you delegate something to her, share a secret or assign a responsibility. And you definitely should not feel insecure in your relationship. A trustworthy wife of good character eases your worries and makes you feel like the best person, as well as remains the best for you.
Principles – A good wife shares your vision, your ambition and your belief system. How often do you come across a lady who is all good and nice, until you realize she is willing to bend any amount of rules to get to the top, or agrees blindly with you to get in the good books? A good wife must not be afraid of sticking to a set of ground rules which she believes in. It earns respect. Regarding the general moral compass of a family, there is no better indicator than the woman who is at the center.
You grow as a person – If staying with her sucks the joy out of your everyday, that may be the wrong person to consider as a wife, no matter how stunning the looks. An ideal wife makes you a better person, helps you inculcate good habits and grow as a person every day. She
Ambitious – So all those agreeable qualities shouldn't mean she doesn't have strength in character and or cannot carry herself with confidence. As a man, you are expected to lead a relationship, but for don't feel justified to be the dictator; we're talking servant leadership! You don't want a 'yes' woman either. Your wife needs to have plans for her life, her identity and her professional and personal life must reflect those. Doesn't mean she has to grace a corporate paypacket shelling chair, but just that she has direction, she wants to improve, she has something to do and engage herself.
Unafraid – A good wife shouldn't be afraid to correct you or own up to her mistakes. A genuine, non defensive person can convey even the worst mistakes you did, forgive them but ensure you are ridden clean of the effects. That can happen only when she is not afraid of the fact that you may judge her, see her in bad light or even be downright vitriolic. She sees the greater good and is willing to put her image on the line for it.
Selfless – A marriage or a relationship goes beyond merely caring about yourselves. It is a family, a circle of friends and extended relations. Kids and pets come into equation. She should care about others without having to make an effort at it. Even how she treats her family and her friends would give you a clue. If she doesn't feel comfortable building and making social relationships work, it might not be the best option anyway. As a subtle subtask, you may also question if she cares about volunteering or pitching in for a cause? Does she give empathize or try to help out the needy or buy them a meal? These are important as qualities
 Attractive and Intelligent – If your wife is attractive in your eyes, beautiful down to her soul , rest assured her beauty would last forever. That's the kind of attraction you want to have for your wife. You can end up with downright ugly people who were 'hot' when you started dating them. Vicious and harmful personalities ensure that not only is your relationship a hell, but potentially the future too. A beautiful person charms you inside and out, appeals to your soul and keeps you in love all along. Most of all, her mind must appeal to you. Her inherent intelligence and ability to strike up a conversation would often last beyond the initial lust.
Unconditionally Loving and Caring – this one may be a touch too ideal, but important nonetheless. A good wife loves her husband unconditionally. She doesn't set barriers or benchmarks for general behavior, doesn't judge the guy and doesn't ditch him in times of strife, despite her own problems. Even if she's wronged, she tries to resolve the issue than blame the person. These are vital qualities which make a good wife and build a relationship of faith and trust. Caring also branches out to evaluating whether she gets along well with your friends, family and extended relatives. At the end of the day, she marries you to buy into your lifestyle and not alienate you from the people who make your being.
The above qualities are in no way something out of this world, but not easy to find in one person either. The proportions of each of these vary but your ideal person must have the right amount of each of these to make it work for you.
Content created and supplied by: Pascal90 (via Opera News )