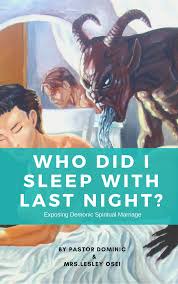 Spiritual marriage is a process by which a spirit husband or wife sexually manipulates the human partner when asleep.
The issue of spiritual marriage is a problem of many in our society. These sexual spirits torment their victims sometimes to the extent of causing depression to them. The victim wakes up by various forms of list inducing stimulations.
Victims do not find it easy discussing this issue with others. Once this spiritual husband or wife entrenches his or her dominion on a victim, it does not care whether it pleases or not, it increases its stimulations.
How does this problem come about
Spiritual marriage is contracted in so many ways as discussed below.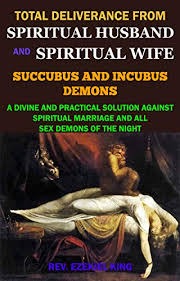 1. Spiritual marriage can be contracted by getting too fond of sensual scenes. People who are interested in watching pornographic movies, reading pornographic magazines, listening to sexual programs etc are very susceptible to spiritual marriage. As sexual spirits wander around, they look for people whose minds are corrupted with sexuality to take over.
2. Immoral dressing is one of the ways by which spiritual marriage is contracted. Some people especially women put on dresses that reveal their private parts. These women are very likely to be married by spirit husbands. Sexual spirits just like humans also get aroused when they sight revealing parts of the opposite sex. This is true for both sexes.
3. Illicit sexual acts. And individual who indulges in sexual acts with multiple partners are susceptible to spiritual marriage. People are therefore advised to desist from illicit sexual acts.
4. Idol worship is also one way by which one contracts spiritual marriage. Idol spirits form special covenant with their worshipers including marriage covenant.
5. Spending ones time with the immoral people. A person who befriends and fancies the immoral and everything about them end up facing spiritual marriage. This is why the Bible admonishes us in Psalm 1 not to sit in the counsel of the ungodly.
Your comments are welcome
Follow for more stories.
By - jmahama.
Content created and supplied by: Jmahama (via Opera News )