Accidents keep rising these days with one incident of accident after another. And the saddest thing is that drivers and passengers alike seem careless about the devastating situation which is claiming a number of innocent lives every day.
Just this morning, at about 7am on the Accra to Hohoe road, A man named Perez Agyekum Kuffour was involved in a ghastly motor accident while he was traveling to the Volta Region as part of his business trips.
From enquiries, Perez Agyekum Kuffour was actually traveling to Nkwanta in the Oti Region of Ghana when when he ran into a heavy weight tractor that was traveling the opposite direction, colliding head-on with each.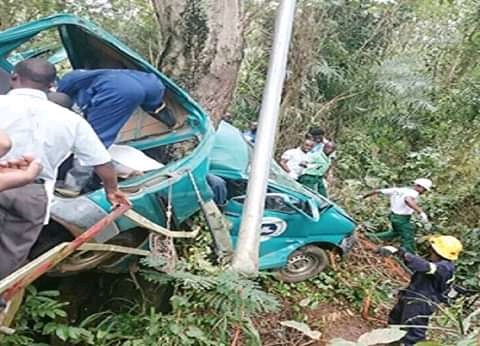 The collision was so serious that Perez Agyekum Kuffour's toyota corolla diverted off the road and landed somewhere near the bushes around the road. He was then rescued by residents who were around the area before the incident occured.
He was carefully taken out of the car as he couldn't do that by himself because he got stucked. After he was rescued, it was discovered that he sustained various injuries mainly on his legs, head and sustained other minor injuries on other parts of his body. He was then transferred to the nearest health facility (Peki Government Hospital) by the ambulance service.
The driver of the tractor, however, didn't have any serious issues. But for him to be on the safer side, he was also taken to the hospital for check-up. The scene wasn't pleasant to behold at all. It was very serious.
Something surely must be done to curtail the frequent occurrence of accidents on our roads. Statistics available from the Ghana Statistical Service website shows that the number of fatal accidents continue to double every year.
Drivers have their parts to play, likewise passengers. Drivers should always make sure they keep their speeds as normal as possible, whilst observing all road signs. Passengers, on the other hand, have the right and audacity to tell the drivers to slow down when they are speeding too much.
Content created and supplied by: Discoverers_Gh (via Opera News )