A Motorking driver and his passengers escaped Death this morning at Bakpaba community in the Bimbilla municipal of the Northern region today Thursday, 1st April 2021.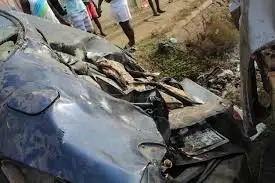 This happened when the wires on the Motorking grand and it started burning with fire from the tank to the seat and they quickly escaped from the fire and run for their lives.
The Motorking belongs to Mr Wajah Ndosun a resident in the Jinjinabani community.
According to the driver, they were going to Bofoyili in the Mion district early this morning to load some goods but unknowingly to him there was no engine oil in the Motorking.
He therefore suspected that, this may be the real cause of the Motorking accident. Everything from the tank to the seat got burnt leaving only the metallic parts since they were unable to quench the fire.
But the passengers in the Motorking blamed the driver for his careless deriving. They said the driver was on a high speed knowing very well that there was no enough fuel in the Motorking.
The accident occurred at Bakpaba community closer to the church of Pentecost in the Bimbilla municipal.
Content created and supplied by: Zy0z (via Opera News )